Ghana's fledging gas industry could soon receive a technical boost with the construction of a terminal facility at Tema in the Greater Accra region to receive Liquefied Natural Gas (LNG).
Offshore terminals are among the hottest assets in energy. Known as Floating Storage and Regasification Units (FSRUs), a special type of ship that helps transfers LNG through Oceanic channels.
The offshore facility has an advantage over land-based LNG terminals because they allow buyers fast access to the LNG market, can be built faster and are typically smaller.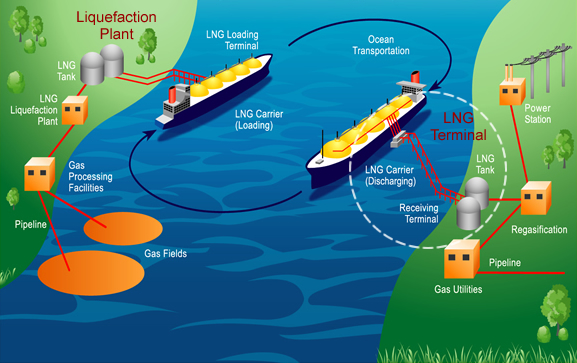 Regional Maritime University has partnered a world-leader in the construction of floating vessel which receives liquid natural gas (LNG) offshore.
The Bermuda-based company Höegh LNG and Quantum Power has signed a Memorandum of Understanding (MOU) with the university to have the facility in Ghana.
The partnership is also expected to help improve the competencies of Ghanaian players in the liquid and gas segment of Ghana's maritime industry.
Ghanaian seafarers, RMU lecturers, Ghanaian pilots and tug masters will be trained to safely and efficiently operate advanced gas carriers.
Representing RMU for the signing of the MOU was the Vice Chancellor, Professor Elvis Nyarko. Hoegh LNG was represented by Mr. OeyvindStaerk of Höegh LNG AS, the Norwegian management company of Höegh LNG, while Quantum Power Ghana was represented by Ruben Atekpe.
LNG is seen as a vital part of a long-term solution to Ghana's seasons of power crisis.
The use of natural gas in Ghana started with imports of gas from Nigeria through the West Africa Gas Pipeline (WAGP)
But significant domestic gas reserves has been discovered, changing the gas supply dynamic in Ghana.
Gas reserves are concentrated in three large offshore gas fields.
The Jubilee field with reserves estimated at 490 billion cubic feet (Bcf), the TEN fields with a reserve of 36 Bcf and the Sankofa field with reserves of 1,107 Bcf.
Share this story
Leave a comment