The Syrian man who blew himself up in Ansbach, Germany, on Sunday made a video pledging allegiance to the leader of so-called Islamic State, Bavaria's interior minister says.
Joachim Hermann said two phones, multiple SIM cards and a laptop were found with the body of the 27-year-old asylum seeker or at his accommodation.
The man threatened a "revenge attack" on Germans in the video, he said.
IS has claimed it was behind the attack and the Syrian was an IS "soldier".
Fifteen people were injured, four of them seriously, when the man's explosive device went off close to a music festival in the small town, which is near Nuremberg.
The attacker announced in the video "in the name of Allah that he pledged allegiance to [IS chief] Abu Bakr al-Baghdadi... and announced an act of revenge against Germans because they were standing in the way of Islam," Mr Hermann said.
Germany was already reeling after five people were wounded on a train in another part of Bavaria a week ago by an axe-wielding teenager from Afghanistan who had pledged allegiance to IS.
On Friday nine people were killed by a teenage gunman in the state capital, Munich, who then shot himself dead. That incident was not believed to be jihadist-inspired.
Bavarian authorities said that the bomb which exploded in Ansbach was constructed in such a way that it was clearly meant to kill as many people as possible.
Further bomb-making equipment was found at the asylum seeker accommodation where the man was living, including a fuel canister, hydrogen peroxide and batteries, they added.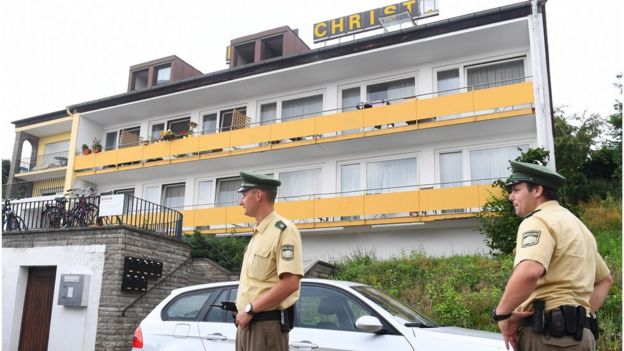 A detailed analysis of the content of the videos was ongoing, Mr Hermann said.
"I think that after this video there's no doubt that the attack was a terrorist attack with an Islamist background," he said.
---