15:13
Jammeh and presidents break for prayers
BBC's Umaru Fofana reports
With talks still ongoing between Yahyah Jammeh and the visiting presidents of Guinea and Mauritania, I have been waiting at State House, the seat of the presidency.
When it was time for Friday prayers and as there was no sign of progress I went to the Chairman Jammeh Mosque inside the grounds of State House.
The soldiers were great. They welcomed me there and looked pleased to know I was a practising Muslim.
Imam Alhaji Jallow was preaching about faith and following the right path. Interesting theme if you ask me, in view of the times.
Midway through the sermon, we were asked to leave the four front rows. We shifted.
As the sermon proceeded I was called outside the mosque. Confused, I asked why. No answers. My colleague and I were driven out of State House. Very respectfully I must say.
As we left a member of the presidential guard whispered to me the obvious: Mr Jammeh and his guests would be coming to the mosque for prayers.
They were perhaps worried that I would get an insight into how talks were going if I remained.
14:17
Barrow 'says Jammeh should leave The Gambia'
Dakar-based journalist Nicolas Haque says he has spoken to internationally-recognised President Adama Barrow who has told him that Yahya Jammeh should now leave the country.
Last week he told the BBC that there was no need for Mr Jammeh to go into exile and he would not be prosecuted by the incoming government over abuses he is accused of ordering during his 22-year rule.
14:01
'All calm' at The Gambia's State House
Journalists in The Gambia are tweeting photos showing a calm situation in the capital, Banjul, as regional forces wait for long-time leader Yahya Jammeh to relinquish power and mediation efforts continue: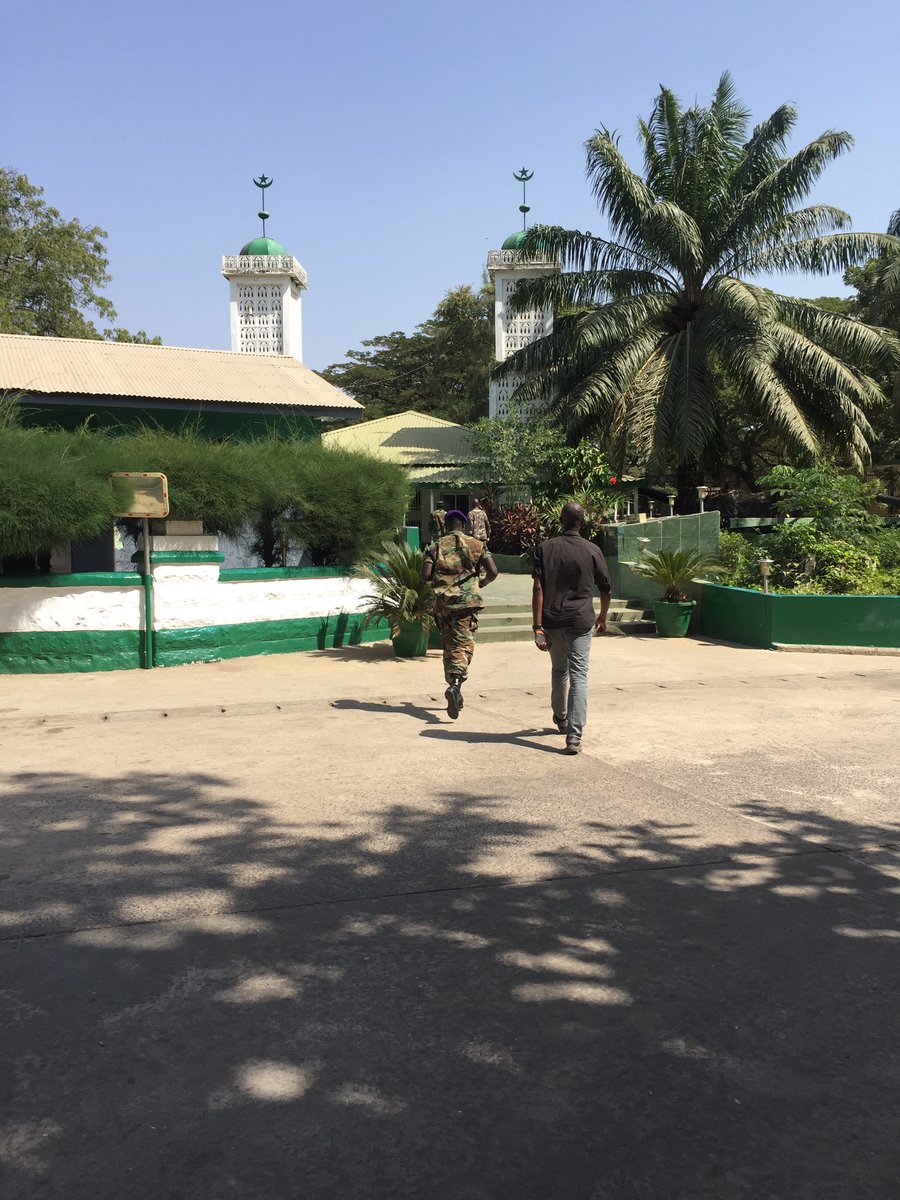 13:21
Jammeh asks for extension of deadline to stand down
The Gambia's long-time ruler Yahya Jammeh, who lost elections in December, has asked for an extension of the deadline to stand down to be extended to 16:00 local time.
13:00
The Gambia's First Ladies?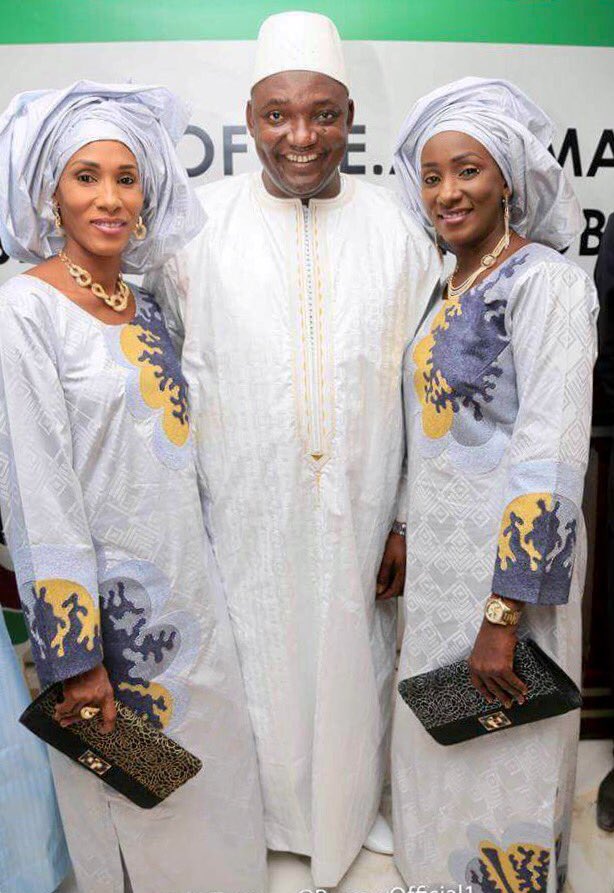 Photographs of internationally recognised Gambian President Adama Barrow and his two wives, taken at Thursday's inauguration in Dakar, are being widely shared on social media.
It raises the question of whether both wives will be known as "First Ladies" or whether one will take precedence.
Mr Barrow will not be the only male African leader to have more than one wife.
Longtime Gambian leader Yahya Jammeh has married three times. He married the official First Lady, Zineb, in 1999 after divorcing his first wife.
According to The Gambia's privately owned Point newspaper, he then married his second wife, Alima Sallah, in 2010 but Mr Jammeh's office issued an instruction that she should not be referred to as First Lady.
In South Africa, President Jacob is a proud polygamist - following a Zulu tradition - and currently has four wives, all of whom are known as First Ladies.
In South Africa, polygamy is a protected traditional right within the constitution for communities who practise the custom.
Swaziland's King Mswati is believed to have at least 15 wives.
12:52
Streets empty in Banjul
Reporting, BBC's Thomas Fessy
The streets of Banjul are still empty; shops and markets are still closed.
There's an anxious wait here though people feel the end of this political crisis is near.
It now seems clear that the Gambian security forces will not defend Mr Jammeh, leaving him no other prospect but to end his 22-year rule.
12:48
Jammeh 'highly likely to leave for Conakry today'
Reporting, BBC's Umaru Fofana
I have just arrived at Gambia's State House with the presidents of Guinea and Mauritania.
The Ecowas deadline for Jammeh to leave has been extended to allow for this last negotiation.
A source tells me he is "highly likely" to leave for Conakry today. People lined up waving and chanting "peace".
12:20
'Mediators arrive at Gambia talks'
Gambian journalist Saikou Jammeh has tweeted the latest from the showdown in Banjul:
"Mediators have just arrived. Going through ceremonial niceties before leaving for State House shortly."
12:15
No sign of Jammeh
The West Africa correspondent for the Guardian tweets:
"Jammeh didn't meet Mauritanian president Aziz off the plane. UN's Chambas, who so far Jammeh refused to meet, prob here already. #Gambia."
12:13
Presidents touch down in Banjul
BBC's Omaru Fofana
"All set at the #Gambia now. As deadline clocks for Jammeh, aircraft just landed with Guinea & Mauritanian presidents."
12:06
West African military 'waiting for talks before intervening'
The deadline for Yahya Jammeh to relinquish power has now passed.
But Reuters news agency says Ecowas Regional West African forces will wait for talks between Yahya Jammeh and the Mauritanian and Guinean presidents to take place before resuming their military operation.
Meanwhile a BBC correspondent says that a Mauritanian Airlines plane used by the president has now landed at Banjul International Airport.
---