How do you avoid the throngs of sun seekers when you just want a waterfront vacation away from it all?
A private island, where you're secluded from all but a handful of staff and fellow guests, may be just what the doctor ordered.
Here are four tropical, and one not-so-tropical, island getaways where you can escape and unwind.
Necker Island, British Virgin Islands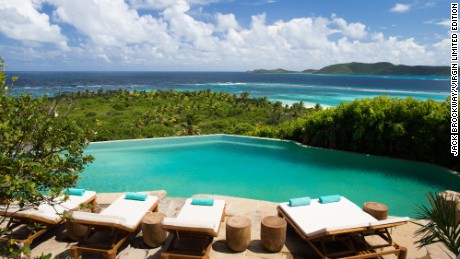 One of the most famous and over-the-top private islands is this Caribbean compound owned by Sir Richard Branson.
The 74-acre Necker Island retreat is where the Obamas vacationed after leaving the White House back in January. (You probably even saw the pics of the former president having a kite surfing battle with Branson.)
You, along with 33 of your best friends and family, can live it up here as well for a cool $80,000 a night.
For that sum you'll have access to the island's 17 guest bedrooms, along with the bunkhouse that sleeps up to six kids; multiple pools; tennis courts; spa; a full staff, including Michelin-trained chefs; all sorts of recreational toys and watersports (there's even a zip line); and more.
If the entire island is a bit out of reach, you can also sign up for one of what they call their Celebration Weeks, when you can rent out an individual room for three to 10 nights.
The Meridian Club, Turks and Caicos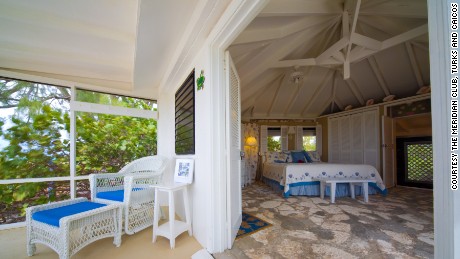 One of the most attractive components of a private island retreat is, of course, the beach, and the dreamy Meridian Club on its own 800-acre plot called Pine Cay boasts some of the prettiest stretches of sand in the Caribbean, not to mention calm, clear waters that are ideal for snorkeling and diving.
All of the rooms here look out onto the water and feature a screened-in porch where you can sit back and savor the view.
Another major perk of a stay here is that the Meridian Club is all inclusive, so everything from your meals to your equipment rentals is included. Heck, even the postcards are included.
Petit St. Vincent, St. Vincent and the Grenadines
No shoes, no phone, no TV, no Internet, no problem. That's the thinking at Petit St. Vincent, an unspoiled 115-acre paradise in the southern Caribbean boasting just 22 luxe cottages and villas.
The way you get the staff's attention here is with flags; hoist up the yellow flag to let them know you need room service, transportation somewhere or have some other request, and let the red flag fly when you just want to be left alone.
Here, amid the miles of white-sand beach and tropical woodland, you can fully unwind and take a break from all of the texts, emails and phone calls that bombard our daily lives.
Your only tasks involve sampling some locally caught seafood at one of the weekly beach barbecues, enjoying an alfresco massage at the hillside spa and taking a leisurely barefoot stroll under the starlit sky.
Renaissance Aruba Resort & Casino, Aruba
How do you avoid the throngs of sun seekers when you just want a waterfront vacation away from it all?
If the thought of unplugging entirely or having an entire island all to your lonesome brings up a whole scary Tom Hanks in "Castaway" scenario for you, you can always opt for a stay at a resort like the Renaissance Aruba, which isn't on its own private island, but which has its own private island that you can zip off to whenever the mood strikes.
Just head to the boat dock on the lower level immediately below the lobby for the eight-minute ride to the resort's 40-acre private enclave, where you can feed the flamingos, go snorkeling, grab lunch and a cocktail, or simply kick back in a hammock with a good book.
The island is even separated into two distinct sides — one for families and one for adults only.
Spruce Island, Stonington, Maine
Of course, not all islands have swaying palms and sandy beaches. Take this remote 80-acre refuge in the heart of New England. Its landscape is mostly spruce forest, surrounded by a granite shoreline and clusters of small neighboring islands almost as far as the eye can see.
A vacation here reminds you a bit of summer camp, with sailing and fishing, horseshoes, badminton and roasting marshmallows over a toasty fire.
Proprietor Colie O'Donnell, who bought the island back in 1986, says that kids who stay here often just pitch a tent and sleep out by the water's edge, despite the fact that the property has a total of 18 beds in both the big main house and the bunkhouse.
Also like camp, its time is limited; Spruce Island is only available for rent late May through mid-October.