Hollywood star Angelina Jolie says she's had a "difficult" time since splitting from Brad Pitt last year.
She told the Telegraph: "It's been difficult. I don't enjoy being single. It's not something I wanted. There's nothing nice about it. It's just hard."
In another interview with Australia's Sydney Morning Herald, she said she had spent much of the last year "just taking care of my children".
"I can't pretend this isn't a tough time in my life," she added.
"But I'm trying to get through it by just moving forward and knowing it's part of being human.
"Maybe sometimes it appears I am pulling it all together, but really, in fact, I am just trying to get through my days.
"I will eventually balance more and do more work, but because of family issues it's been extremely tough."
The actress turned director has been giving interviews about First They Killed My Father, a fact-based drama that premieres on Netflix this month.
Set in 1970s Cambodia, it tells of the survival of activist and lecturer Loung Ung under Khmer Rouge leader Pol Pot.
In another interview with The Hollywood Reporter, the 42-year-old said she had been "needed at home" and would go back to work "when I feel it's time".
The star said she would do some acting first because she didn't "have anything to direct that I feel passionate about like" her latest film.
Jolie said her first role after taking time off would "most likely" be the sequel to her 2014 fantasy Maleficent.
First They Killed My Father had its premiere this weekend at the Telluride Film Festival in Colorado.
A few reviews have started to trickle through, among them a positive one from The Hollywood Reporter's Scott Feinberg.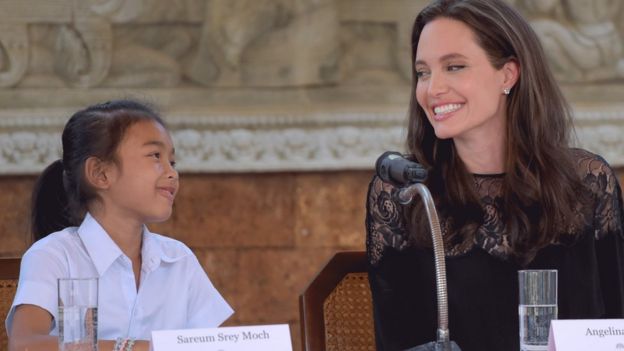 In contrast, his film critic colleague Stephen Farber was a bit lukewarm.
The film, he said, was "a well-crafted labour of love that certainly will educate some viewers about the tragic history of Cambodia during the 1970s".
"What the film doesn't have is the visceral impact that would take it from a well-intentioned treatise to a searing work of art," he wrote.
Writing in Variety, Peter Debruge also had mixed feelings.
"Angelina Jolie teams with [producer] Rithy Panh to honour Cambodia with an earnest, impressively cinematic saga that really ought to be more compelling," he wrote.
The Netflix film - Jolie's fifth as a director - has not been without controversy, having generated criticism over her description of its casting process.
In a Vanity Fair interview, Jolie described how directors had played a game which involved giving money to poor children then taking it away.
Jolie subsequently said it was "false and upsetting" that people had misinterpreted her description of how the roles were cast.
Vanity Fair responded by saying it stood by its story.
DISCLAIMER: The Views, Comments, Opinions, Contributions and Statements made by Readers and Contributors on this platform do not necessarily represent the views or policy of Multimedia Group Limited.