A Political Science lecturer at the University of Ghana has associated the recent cases surrounding the Auditor-General, Daniel Domelevo to fundamental mistrust.
Professor Ransford Gyampoh said this problem stems from the "last-minute appointment" of the Auditor General by the previous government when it was exiting office.
"I believe it is an issue of mistrust between the Auditor-General and the powers that be. If there is trust and a cordial relation, these issues should have been settled there," he told Samson Lardy Anyenini on Joy News' Newsfile show, Saturday.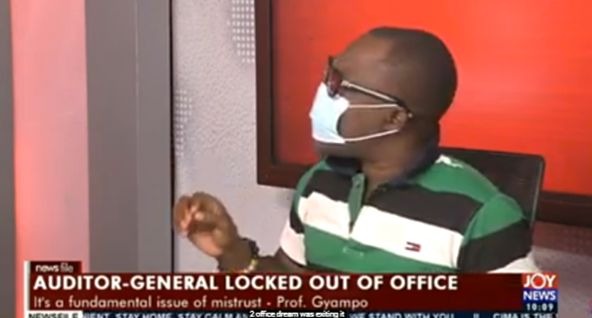 He explained that the perception of his appointment as a political ploy sets the stage for the kind of relationship that currently exists.
"There has been this issue of lack of trust right from day one that he assumed office. It was seen an attempt to foister a new 'monster' on the new regime that was assuming office
Prof Gyampo added that his approach of constantly exposing his findings to the media also contributed to the matters arising.
His comments come on the back of the recent case of the locks to Daniel's Domelevo's office being changed while the presidency ordered him to take his accumulated leave.
This, according to the Board Chairman of the Audit Service was due to some security reasons.
Prof Gyampo noted that the Auditor-General could have spoken to the individual acting in his capacity to clarify the matter.
he believes there wasn't a need for Mr Domelevo to blow the issue of his door locks being changed out of proportion if he was duly informed of the move.
Meanwhile, Daniel Domelevo is currently taking his accumulated leave as directed by the Presidency