The City of Brussels has said it will name a new street after a murdered Nigerian sex worker, as part of a wider campaign to recognise women in Belgium.
The City Council said the street will bear the name of Eunice Osayande, who was stabbed to death by one of her customers in June, 2018.
Drawn by the promise of work and a brighter future in Europe, Ms Osayande came to the Belgian capital in 2016.
She believed the men who invited her there were acting agents who were going to make her a film star. In reality, they were human traffickers.
Once in Brussels, she was immediately forced into prostitution. She was told she owed the smuggling gang €45,000 (£38,000; $52,000) for her transit, pimps and rent.
In the weeks leading up to her death, she had contacted a sex worker charity and told them she was experiencing violence and intimidation while working. She feared she couldn't go to the police because she was an undocumented migrant.
In June, 2018, at the age of 23, Ms Osayande was stabbed 17 times by a customer in the Gare du Nord district.
Protests led by the migrant sex worker community in Brussels soon erupted. The marchers demanded better working conditions and called on local authorities to create clear legal guidelines for the sector.
Prostitution is not illegal in Belgium but there are no unified national rules.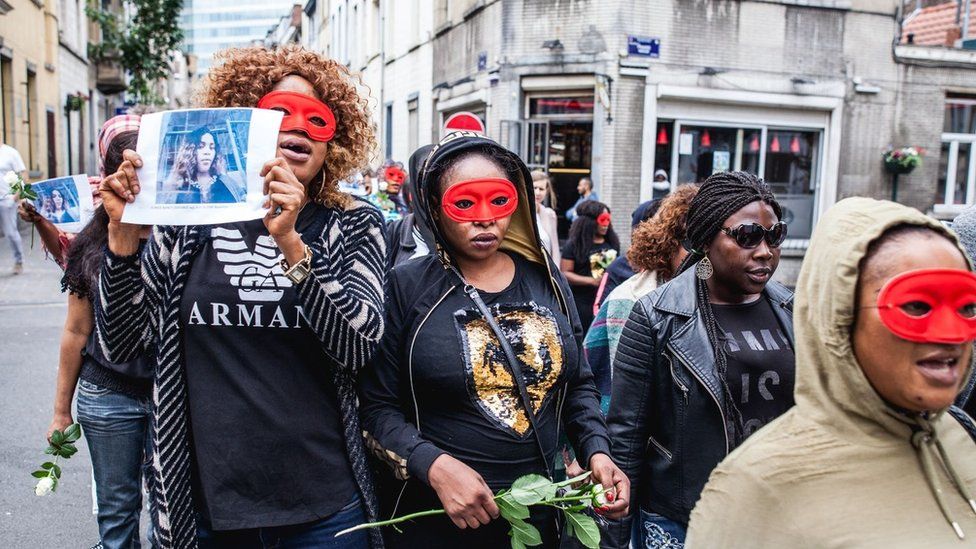 Maxime Maes, director of the UTSOPI sex workers union in Brussels, organised the march.
"Eunice's death has been extremely distressing, especially for undocumented migrants in the area where she worked," she told the BBC.
"The area has seen increasing violence and the most marginalised women are targeted."
A 17-year-old man was charged with Ms Osayande's murder and is awaiting trial. Four members of the trafficking ring were also arrested and in January this year received prison sentences of up to four years.
By naming a new street after Ms Osayande, the City of Brussels said it wanted to draw attention to all the "forgotten women who are victims of human trafficking, sexual violence and femicides".
The street will be the first named after a sex worker in the country, according to Belgium broadcaster RTBF.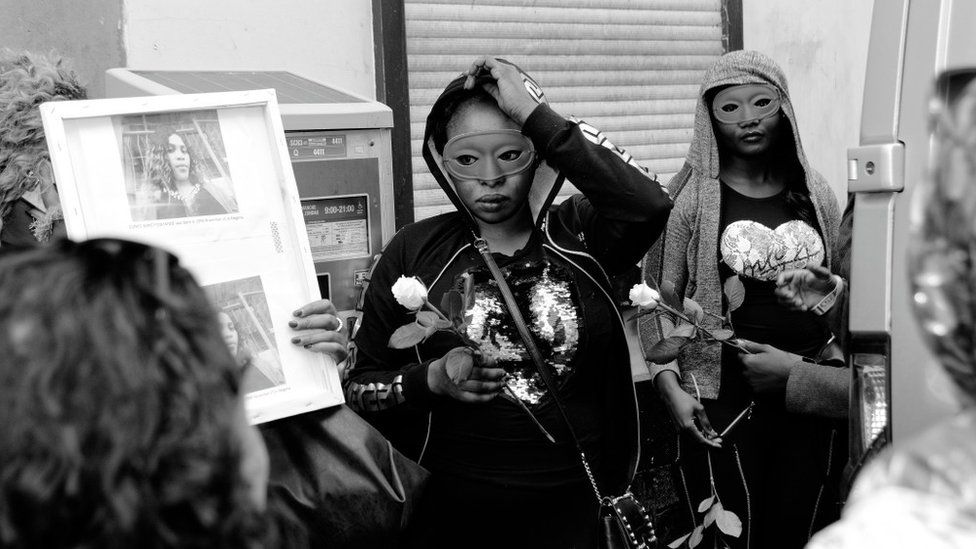 The new street, which will be in the north of Brussels city, is part of an ongoing initiative by the council to name more areas after women.
The council has already named streets after several notable women, including resistance fighters Yvonne Nèvejean and Andrée De Jongh, and a bridge after Suzan Daniel, a Belgian LGBT activist.
But Ans Persoons, Alderwoman for the city of Brussels, said: "Feminism for us is not just about women who excel.
"Inclusive feminism is about women's rights and struggles at every social rank."
Ms Persoons said 42% of women in Belgium between the ages of 16 and 69 have experienced physical sexual violence at some point.
"This percentage is much higher among sex workers. And that is precisely why Eunice Osayande gets a street."
The street, which is under construction, will be officially opened in the next few months.
The city council say sex workers and migrant communities will be invited to speak at the inauguration.