Officials in Canada say the huge wildfire which has devastated the oil town of Fort McMurray in Alberta could double in size over the next 24 hours.
The fire currently covers an area larger than New York City and is being fanned by winds and feeding on dry vegetation.
The flames are now moving away from the town, most of whose inhabitants have now reached safety.
More than 80,000 people were evacuated from the city earlier this week.
Most fled south but many fled north. A land convoy evacuating people from oil worker camps in the north on Friday was suspended after 200ft (60m) flames flanked the road.
The police-escorted column of 1,500 vehicles was due to pass by the southern part of the city but was suspended on Friday afternoon until Saturday.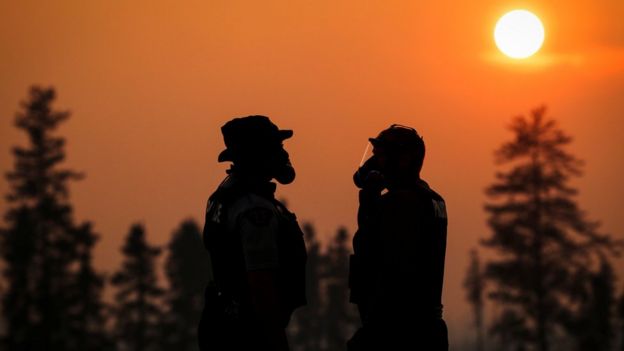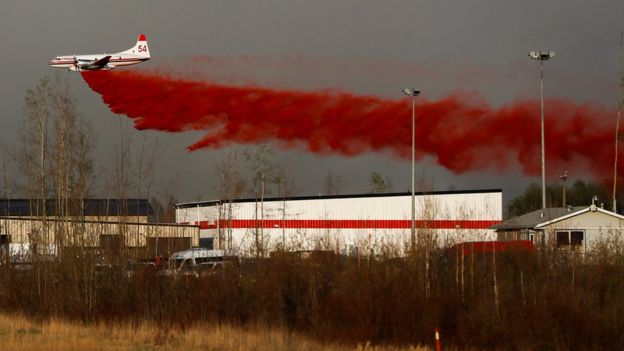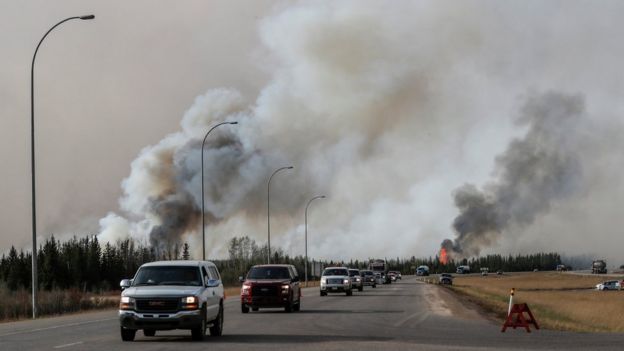 The provincial government said on Friday that the fire had grown to 1,000 sq km (386 sq miles).
Wildfire prevention manager Chad Morrison said there was a "high potential that the fire could double in size" by the end of Saturday.
But he added that it would expand into a more remote forested area north-east of Fort McMurray.
Dry conditions and 27C heat were expected during the day, but cooler temperatures would prevail and there was a possibility of rain on Sunday and Monday.
At the scene: The BBC's James Cook, Highway 63, Alberta
Twenty minutes south of Fort McMurray, the road forks into two branches. By noon on Friday, both were ablaze on either side.
We watched with the police as the skies filled with grey and black smoke and flames roared into the air, devouring even the tallest pine trees.
The danger, said one officer, was "tentacles growing out of the fire", which could end up looping around and trapping people.
There are no reports of injuries or deaths but several residents who may have survived the fire have apparently been spotted in Fort McMurray. Teams are now sweeping the city in case any homeless people were left behind.
There is also concern about oil facilities, particularly near Nexen's Long Lake oil extraction site.
"We're looking at a blast area of about 14 kilometres if that plant were to go," said Sgt Jack Poitras.
Tens of thousands were evacuated by air with 300 flights to the provincial capital Edmonton since Tuesday. Another 4,000 are due to leave on Saturday.
No deaths or injuries have been reported.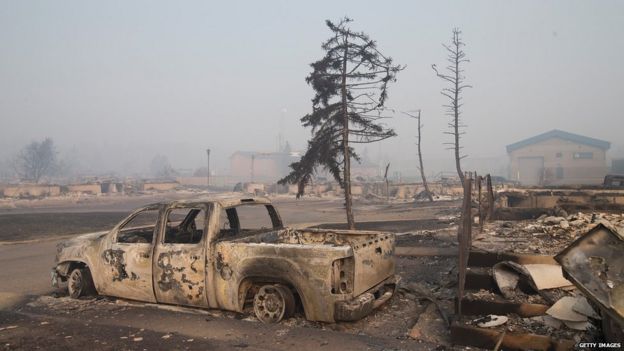 The provincial government has declared a state of emergency and will provide C$100m ($77m) in cash to evacuees.
More than 1,000 fire fighters and 150 helicopters, 295 pieces of heavy equipment and 27 aircraft tankers have been deployed, according to the Canadian government.
Alberta Premier Rachel Notley said the damage was extensive and would take months to repair.
She said: "The downtown is largely intact. The hospital is still standing. The telephone centre is intact. The water treatment centre is back up and running. Municipal buildings and the aeroplane remain intact."
The city is in the heart of Canada's oil sands country, and the region has the world's third-largest reserves of oil.
As much as a quarter of the country's oil production has been halted by the fire, raising concerns about the effect on the Canadian economy.
Two oil sand sites are directly threatened by the blaze while 10 operators have cut production.
In a statement released on Friday afternoon, Prime Minister Justin Trudeau called upon Canadians to donate to charities assisting relief efforts.
"To those who have lost so much: we are resilient, we are Canadians, and we will make it through this difficult time, together," he said.