Have you ever felt so close to someone and yet realise upon his demise that you are not close at all? Otherwise, why would Dr. Sulley Gariba know me on first name basis, know my nuclear family, share with me his children's progress in school and their subsequent engagement in the job market, open the doors to his home, business and offices to me, call, WhatsApp, text, email me etc.
And yet upon hearing of his demise, I do not have the contact of his wife or children to call and express my condolence?
Dr. Sulley Gariba would often address and sign off his mails to me with "my brother" or "my dear brother", he would on most occasions that I have visited, call his wife to come and say hello to her son; he would instruct his workers at Gariba Lodge to allow me use the premises for some of my media engagements.
Yet I have no way of contacting any of his family especially my mother to at least say, I am sorry about our loss and that I stand with you every step of the way. Death, you have exposed my shallow so called closeness with this great man.
The first time our paths would cross was when I directed a television video documentary titled "Voices of the Poor on NHIS." It looked at how good the NHIS is as a pro-poor policy, and yet how a great majority of the core poor are yet to gain access.
The dreamer of this project and the man who thought that it was important to have the voices of the poor and vulnerable in society heard regarding the implementation of Ghana's National Health Insurance Scheme turned out to be none other than the now late Dr. Sulley Gariba.
He had to be interviewed to share with the audience of my documentary including policy makers and government, the findings of the work of the Institute for Policy Alternatives (IPA), which he run from Tamale, on the implementation of the National Health Insurance Scheme by the Kuffuor led administration.
The IPA is a public policy think tank dedicated to citizen engagement on policy alternatives, policy analysis and development.
The People's National Convention (PNC) which was then led by Dr. Edward Nasigri Mahama in the televised presidential debates of the 2000 general elections succinctly made a strong case for Ghana to implement a National Health Insurance Scheme to cater for the health needs of the have nots.
The PNC did not win that election but policies in its manifesto won as President John Agyekum Kufuor of the NPP picked these ideas and implemented them. Perhaps Dr. Sulley Gariba as an Nkrumaist and member of the PNC decided to take it upon himself to ensure that if the PNC was not the party implementing what it had dreamed, then he would employ his God-given talent as a development policy analyst and contribute to the discussions that would lead to a proper implementation of the scheme to benefit all Ghanaians especially the poorest of the poor.
When I travelled to Tamale from Accra to conduct the interview, he made me feel at home and brought himself down to my level which made me confident enough to ask him all the questions I had. I was left in awe of this deep knowledge not only of policy issues but of his burning desire to see northern Ghana catch up with its southern counterpart in terms of development.
He had a burning desire to see the people of northern Ghana attain the greatest heights in education, business, arts and whatever profession it was that would help push this agenda. Perhaps, this is the reason why he chose to set up the Institute of Policy Alternatives in no other part of the country but Tamale.
My second meeting with him coincidentally had to do with another documentary I was directing for the Africa Water Network (AWN) which was run by Alhassan Adam. Alhassan Adam was the project officer at Civic Response and partnered Sulley Gariba's Institute for Policy Alternatives (IPA) on the NHIS documentary. "Turning the Tide: The Savelugu Story" was the title for AWN's documentary and had to do with the Savelugu water situation and the debilitating guinea worm disease that scarred Ghana's image as one of the last countries on the globe whose populace still grappled with the menace of this disease.
A few years after this documentary, President Jimmy Carter would visit Ghana for an event to mark the end of the last case of Guinea worm in the world. Thankfully Guinea worm is now history due to the efforts of People like Dr. Sulley Gariba.
It was also at this second meeting that I would meet current Member of Parliament for Wa Central, Dr. Rashid Pelpuo and Mr. Coleman Agyeyomah, who now runs his private consultancy firm called Venceremos Development Consult.
The current roles these two gentlemen play in Ghana's legislature and at the world of private consultancy in many a subject area is testimony enough about the many a number of people whose lives have been enriched by the mentoring and nurturing of Dr. Sulley Gariba.
Any young person who has made acquaintance with Dr. Sulley Gariba will testify to how he likes to encourage us in our chosen professions. If you give him room enough, he would take the driving seat and give you timelines to your own project.
You would all of a sudden realise that you have signed off your own "PHD thesis" to a supervising professor who seems to spend more sleepless nights than you the candidate to ensure you walk through life's viva with ease.
Dr. Sulley Gariba would get you working on a project and by the end of it, you will feel guilty invoicing him because the project would have become your own as well.
So let me confess here that sometimes when I am thinking of resources to fuel my car, I dreaded calls from Dr. Sulley Gariba especially those calls that starts with "Yidana where are you?" And so, in 2009 when he took up active appointment in President Mill's administration as Development Policy Advisor and later on in 2012 with President John Dramani Mahama as Senior Policy Adviser and subsequently appointed Ghana's Ambassador to Canada, the long break in our communication provided a breather.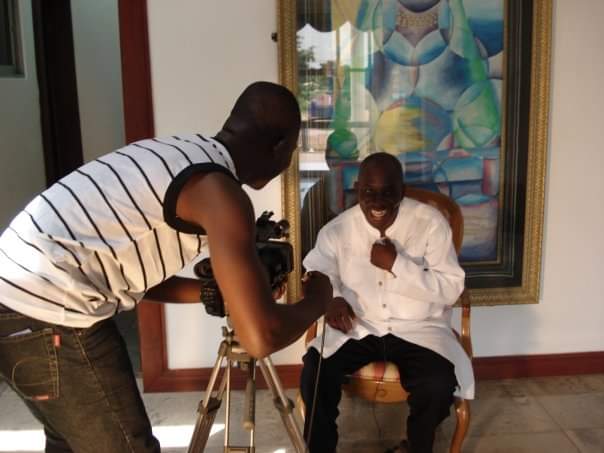 But that breather truncated soon as the NDC lost power to Nana Addo's government. If I thought the man had discarded my contact, I was dead wrong. He called me less than a week after President Nana Addo was sworn in and we took off from where we left.
I am reminded about two assignments I discussed with him but which we did not find time to carry out anytime I drive past the IPA. Without giving much away, I will call the two assignments Tudu and Motor king. And each drive past the Institute reminds me of all the cherished moments. The memory of how each room at the IPA is named after great men and women who impacted his life. He was proud to show me the room named after my very own uncle, Naa Prof. John Sebiyam Nabila.
Then the memory of sitting with him in his office and the story about the bunk bed arrangement with his high school mate, President John Dramani Mahama, the memory of walking me round an edifice he put up behind his hotel, the memory of the example of how it is possible to live a green life by powering IPA and his hospitality facility, Gariba Lodge, partly through solar energy, the memory of crossing paths on his routine evening walks as I also take my routine bicycle rides with my little boys, the memory of walking down the stairs with me after each visit to wave me goodbye.
I do not know what will become of Motor King but God knows Tudu is so proud of you. Rest well Dr. Sulley Gariba. May Allah be pleased with you.
***
Yidana Hameed KobigBilla studied Film and Television Directing from Ghana's National Film and Television Institute (NAFTI) specializing in documentary filmmaking and has been practising since 2002. He obtained a MA in Development Communications from the University for Development Studies in 2018
Yidana has worked extensively for various categories of clients including government departments and agncies, Aid and development organizations, institutions of higher learning, corporate organisations and individuals.
Besides documentary filmmaking, Yidana is a writer, photographer, passionate development communicator, and an award-winning concept developer and copywriter for advertising (Print, Radio, Television and Electronic Media) Since 2007 he has been the managing director of Damba Multimedia Limited, a total multimedia services company based in Tamale and Accra.