The only price to pay for the party in the sky is an exercise climbing seven floors - same value of using the threadmill for 15minutes.
And even this price was severely discounted - if you used the elevator. So off they went - the night citizens of Accra's party republic.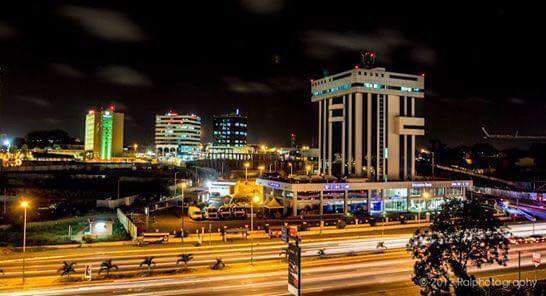 First in trickles, then a flow and later a flood, the party-goers entered in in a strange mimicking of rainfall in the capital.
So seven floors up the Silver Star Tower, heavy music fell literally from the sky for those walking down the streets around Airport in Accra.
For lovers of the nascent stage of Ghana's hiplife industry, it is quite understandable to think that a party around music in the 90's is a pie in the sky. Yet here it was - a party in the sky.
Super station Joy FM, put together the event in a memorial of the lyrical contribution of artistes like Obrafour, Tinny, Tic-Tac
These events look easy on the eye because the station's organisation and crowd-pulling muscle is not an exaggerated fact - really.
In such dimly-lit upness, it was natural for those with the glowing power of a 600-volt electric eel to show up and shine.
Total strangers found deep unity enough in some tracks to perform some synchronised dance moves up there.
Dance or cheer - the two go for cheer for the moment.
At times, the dance floor would suddenly part like, dancers spread to the edges to make way for any duo aggressive enough to attract attention - like these two.
And they went all the way down until getting up required the help of some sort of a human forklift.
Well, what can we say here? What happens on the seventh floor of Silver Star Tower, stays on the Star Tower.
The party goers were typically the plus 30-year olds, who witnessed the new genre of hiplife grow to eclipse establishment music
You can say life is not fair. Some handle two ladies, others can only handle a bottle of beer
Quite frankly, it was not going to be possible to organise the Hiplife party without the man who has been insisting for years he started it. So yes - Reggie Rockstone was there.
And he received honours for his pioneering role in an industry now dominated by a younger generation.
Share this story
Leave a comment