To celebrate her son's birthday, social media star Akuapem Poloo did a photoshoot with her son while she was stark naked.
The actress' son was also dressed only in his underpants. Akuapem Poloo shared the photo on her Instagram page stressing that she was naked because that was how she was when giving birth to him.
"You see how you looking at me always remember that I love you👩‍❤️‍👨 I'm naked in front of you because this is how naked I was giving birth to you, so in case you find me naked lying somewhere don't pass by me but rather see me as your mom who brought you to life," she wrote.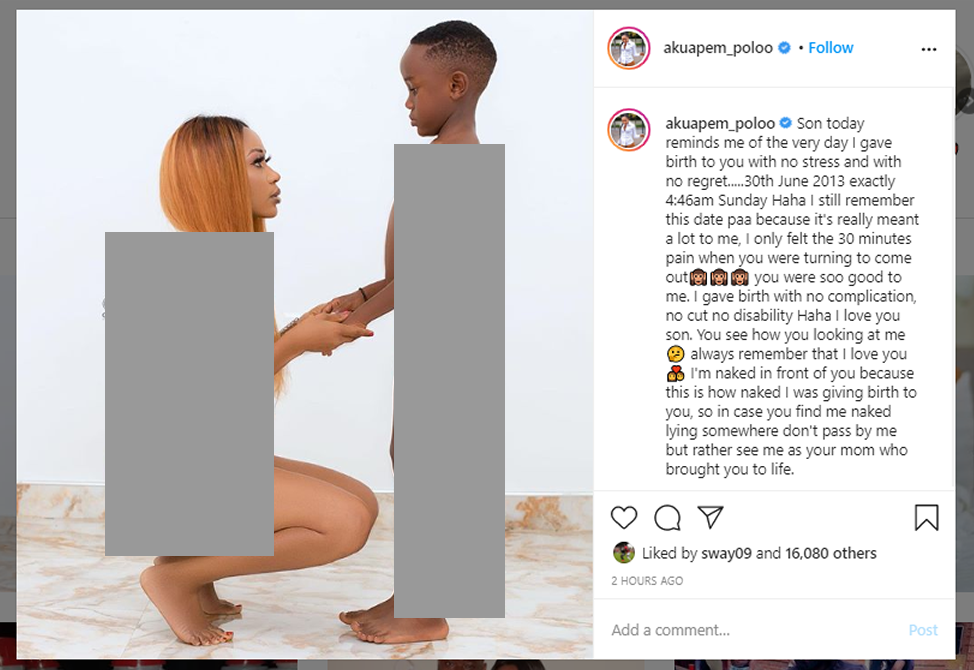 However, the post has attracted some criticisms from followers, fans and other social media users.
That vile photo of Akuapem Polo and the boy should be off the internet.Off off off.Report any account that posts it. No teenager or child must see it.Off off off!

Posted by Gary Al-Smith – Journalist on Tuesday, June 30, 2020
Some users said the photo is in bad taste adding that they are surprised Akuapem Poloo sees nothing wrong with the photo.
Per our Children's Act 1998 (ACT 560), Akuapem Poloo has abused the rights of her child by exposing him to "moral danger…

Posted by Esinam Osei on Tuesday, June 30, 2020
And to everyone sharing the photo, please remember the child is a minor. Please protect him from further ridicule. At best, please don't share that photo furtherThank you

Posted by Esinam Osei on Tuesday, June 30, 2020
Others wrote that the actress has done nothing wrong because the little boy is her son.
Read more reactions below: