Over 100 students of the Nyinahini Catholic SHS in the Ashanti region have been displaced following a fire outbreak in the boy's dormitory.
The dormitory was razed in what is suspected to be arson by some students.
Items, including school uniforms, food boxes and other learning materials were destroyed.
According to fire officials, the fire started at about 7pm Friday at the boys' dormitory. It happened on the blind side of school authorities while students were attending evening prayers.
Fire officers defied attacks and heckling by residents to prevent the fire from spreading. The Public Relations Officer at the Ashanti Command, DOIII Desmond Ackah, says two tenders from Nyinahin and Nkawie fire stations were at the fire ground to manage the raging fire.
"Fire was at its fully developed stage – it was spreading rapidly in all directions – when the first crew got to the fire scene. The entire block A building – six room boys dormitory – was caught up in flames."
According to the fire officials, fire was brought under control as at 9.27 pm but fully extinguished by 10.33pm
The entire dormitory block A structure and its contents including student beds, mattress, clothing and other personal student effects, books, electrical fittings and fixtures, wooden ceilings, doors, windows, and roofing sheets got burnt by the fire.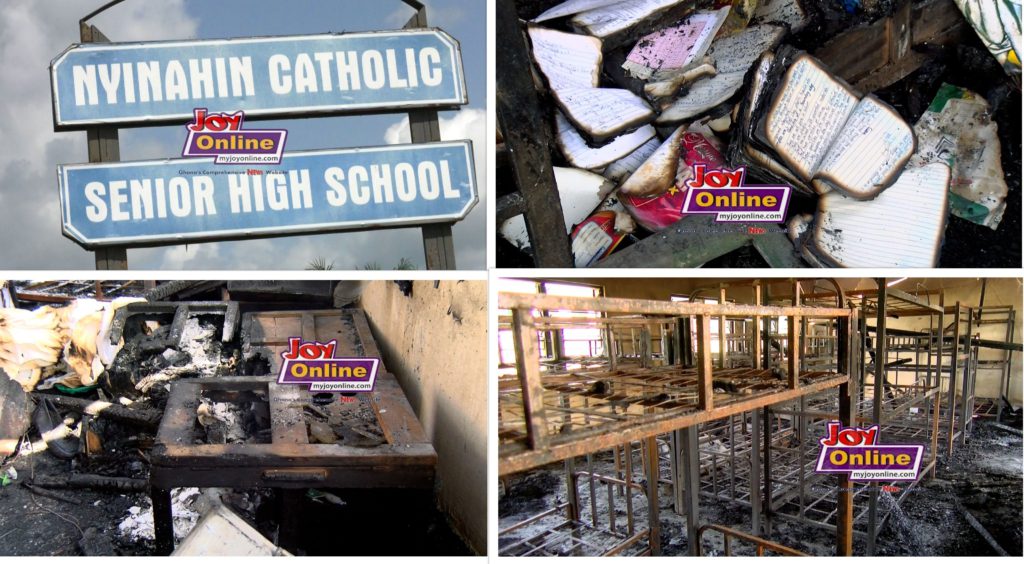 A section of the rooms where the fire affected had severe roofs caved in.
Though, no student casualty was recorded, one firefighter was assaulted by unknown persons who fled the scene after the act during firefighting.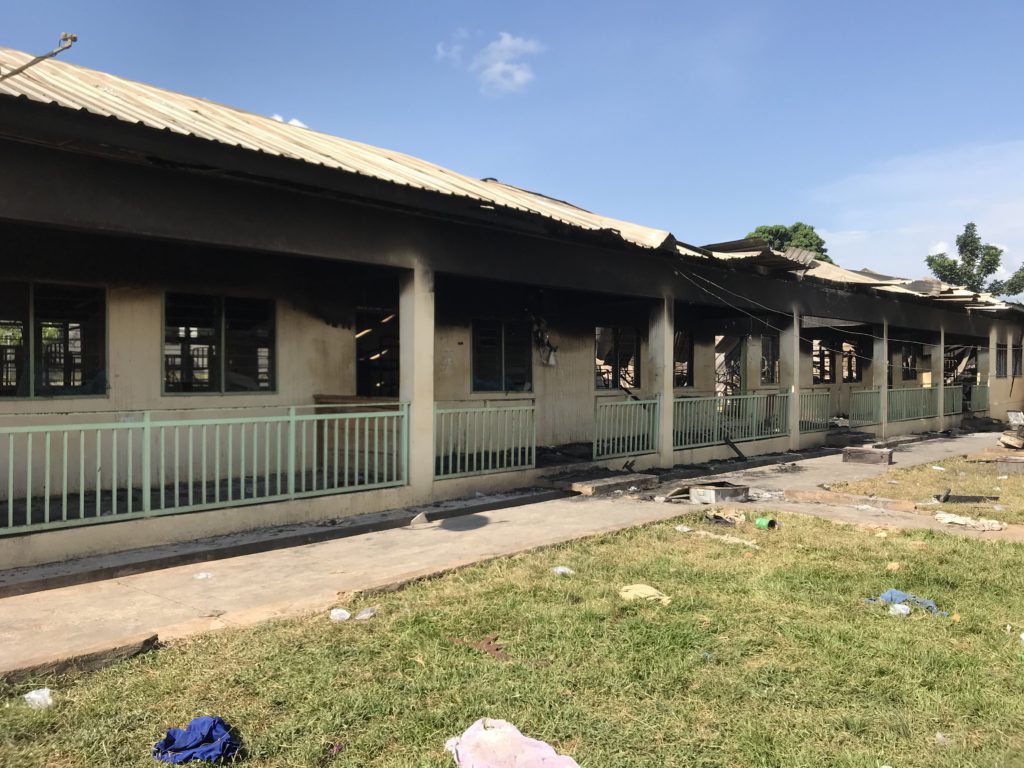 DOIII Ackah said the cause of fire is under investigation.
PTA Vice Chairman, Eric Kofi Peprah, says police had been prompted earlier of such an attack on the school. The police had begun patrolling the school on Thursday.
According to him, the patrol team were expected to start Friday's patrol at 8pm.
Addressing the student body Saturday morning, headmistress of the school, Mrs Emma Amoateng Mensah, encouraged the students to stay calm.
She said there are arrangements to supply affected students with uniforms.
Nyinahinihene, Amampene Boateng Kyei the second, together with community leaders visited the school. The school wants those found culpable to be punished to serve as deterrent.
The district security council and management of the school have begun investigations into the incident.
Estimated cost of damage is yet to be assessed.