The Ministry of Fisheries has begun distributing outboard motors to some fishermen along Ghana's coastal communities.
The distribution of the subsidised outboard motors, according to the Ministry, is part of the President's Fishing Input Support Scheme for Fishers, which is to support the livelihoods of fishers and the fishing communities.
Artisanal fishing communities in Ghana, are generally characterised by low incomes and poor living conditions with an estimated poverty incidence of 30%, which is the second-highest in the country.
Fisheries Minister, Elizabeth Aforley Quaye at the ceremony to distribute the outboard motors to the fisherfolk at Elmina, explained government through the Ministry was collaborating with the Coastal Development Authority to make the outboard motors affordable to the fishers.
In this case, the fishermen would pay about 60% of the cost, while the government would pay the remaining 40%.
"Government is procuring over 5000 outboard motors for distribution to beneficiaries at affordable prices to improve their productivity. The first 1300 outboard motors being distributed was imported with initial funding from ADB Bank out of the 1300, 1200, are 40HP and 100 15HP," she stated.
The Minister of Fisheries Minister further explained the President's fishing input support scheme for fishers is therefore meant to provide fishing inputs and gears such as outboard motors, tricycles, assorted fishing gear, wire mesh, aluminum basins and ahotor ovens.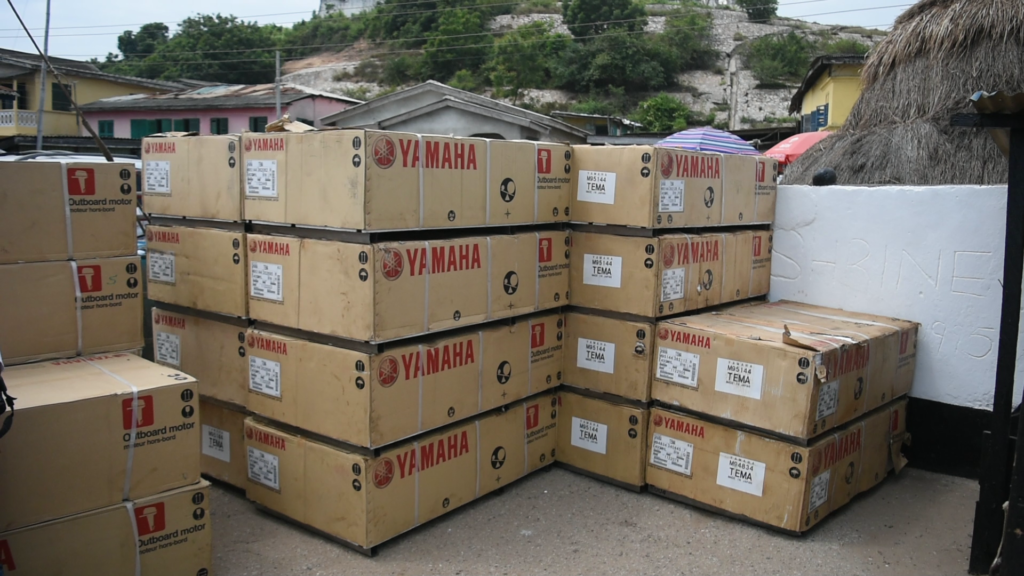 "Under the scheme, in 2019, government through the ministry provided fishers with assorted fishing inputs including fishing nets, twines and basin as part of the support for the implementation of the closed season distribution of outboard motors," she averred.
The Minister used the opportunity to urge all beneficiaries to take good care of the outboard motors to prolong its lifespan.
In May, 2020, the ministry supported fishing communities with assorted COVID-19 safety items. The items were distributed to MMDAs for onward distribution to the fishing communities. Elizabeth Aforley Quaye urged all fishing communities to use the items to improve the sanitary conditions and safety at the landing beach.
Present at the ceremony were the Paramount Chief of the Edina Traditional Area, Nana Kojo Conduah II and the Executive Director of the Fisheries Commission.