Cocoa farming has continued to be a pivotal economic activity in Ghana which contributes significantly to the country's total foreign exchange earnings.
However, the majority of cocoa farmers in Ghana have limited access to financial literacy programs that could transform their lives in their communities.
Cocoa Abrabopa with funding from the Fondation Sucres et Denrées, the cooperate foundation of an international trading house engaged in soft commodity supply chains, has introduced the Gender Inclusion and Financial literacy program for Cocoa Abrabopa Association farmers.
The project acknowledges that many of the cocoa farmers have not received any financial literacy training throughout their entire life and are therefore unable to participate in the formal financial system.
The beneficiary farmers' groups were drawn from Subriso, Atawase, Ahankraso, Sekyere, and Bebeme communities in the Anyinam-Nkwakaw Cocoa District all in the Eastern Region.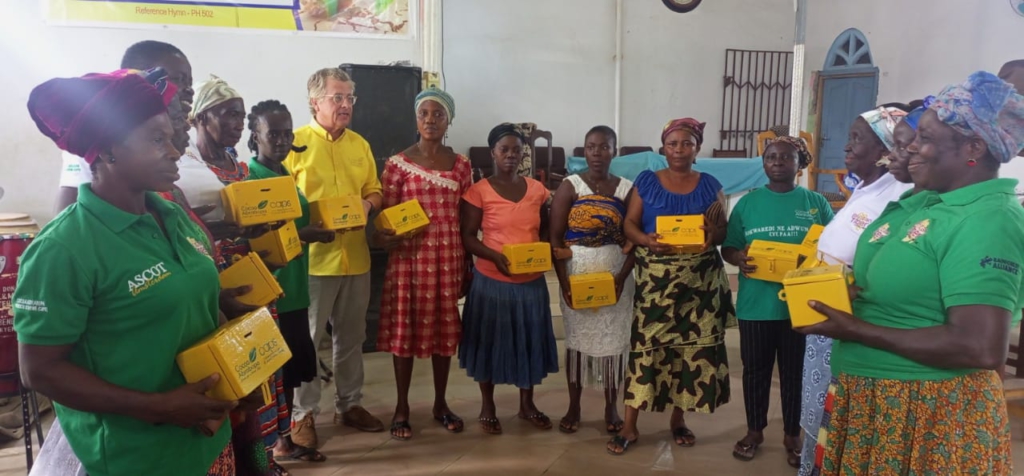 Target
The Gender Inclusion and Financial literacy program targeted 600 members and the overall vision is to equip farmers to adopt financial knowledge in order for them to become financially independent. The program complements the already existing Cocoa Abrabopa Pension Scheme.
Presentations
Speaking at the training, Council Chairman of CAA, Ismaila Pomasi said most cocoa farmers in Ghana have limited access to financial institutions or financial literacy programs in their communities.
He explained that farmers in Ghana have a poor savings culture with majority of them not having bank accounts.
"Even those who have opened savings accounts sometimes have those accounts rendered inactive by the banks due to the limited number of transactions or usage.
"Farmers earn their incomes during two main cocoa seasons, but the majority of them do not save enough money to meet their future financial needs due to low incomes and poor financial management.
"During the period between farm management and harvesting, most of these farmers resort to borrowing to cover their expenses and then repay at exorbitant interest rates, which further exacerbates their poor financial situation.
"That is why CAA is equipping farmers to adopt financial knowledge in order for them to become financially independent; our pension scheme is duly licensed by the National Pensions Regulatory Authority (NPRA)," he explained.
The Operational Manager & Chief Finance Officer for CAA, Patrick John Van Brakel explained that there are two interrelated objectives of the program which include improving the farmers' financial literacy and management skills as well as their level of contributions to the savings.
"Our pension scheme program is an opportunity for the farmers to save which will make a significant impact in their lives and their families.
"The program is unique to CAA and would be a very good success story to share one day with other farmers across the country," he said.
Cocoa Abrabopa Pension Scheme Manager & Human Resource Officer at CAA, Sarah Evelyn Naa Du Abblew explained that the programme focuses on gender equality and how men and women can work together, as supportive and respectful partners, to promote a more successful and profitable household.
"We are providing them with piggy bank, the idea is to make room for households to save towards contributing to their CAPS in other to motivate women and their households to save" she added.
The Council Member Cocoa Abrabopa Association and Regional Representative for Eastern Region, Mrs. Rebecca Ayisi Asiedu said it is only collective efforts that can help achieve the initiative.
"The standard of living of farmers in cocoa growing areas has over the years been dwindling at a faster rate," she said.
Child Development Officer at CAA, Lawrance Nimako said the S4F Project Mode was introduced by Cocoa Abrabopa Association.
"The participants were taken through five items and these included: Respectful Relationship, Family Vision for the Future, Managing Your Money, Supporting Your Partners Work and Planning for the Future.
"They were also taught Personal Financial Management under these topics Budget Preparation, Savings, Insurance, Debt Management, and Retirement Planning," he mentioned.
Appreciation
The leaders of the farmer groups said that the Cocoa Abrabopa Pension Scheme project would help reduce poverty in their communities.
They were grateful to CAA for introducing and teaching them about the need for savings and why financial literacy is important.
Present at the training program were Philip Wireko (Technical Coordinator), Noah Batsa (Collector CAA), Moses Lawer Awateng (Chairman Ahankraso), Daniel K,wabena Lartey (Chairman Subriso), Fredrick Kwasi Gyapong (Chairman Sekyere), Emmanuel Angortey Nartey (Chairman Bebeme) and Philip Kwame Amadza (Chairman Atawase) and some cocoa farmers from the various communities took part in the training.
DISCLAIMER: The Views, Comments, Opinions, Contributions and Statements made by Readers and Contributors on this platform do not necessarily represent the views or policy of Multimedia Group Limited.