The US mid-term election campaign is entering a frenzied final day in a vote seen as a verdict on Donald Trump's presidency.
The opposition Democrats are hoping to retake control of the House of Representatives, while Republicans seek to tighten their grip on the Senate.
Turnout is expected to be high, with more than 34 million Americans already having voted in the election.
Both Donald Trump and Democrat Barack Obama rallied supporters on Sunday.
"You gotta get to the polls on Tuesday, and you gotta vote," Mr Trump said in Macon, Georgia. "The contrast in this election could not be more clear."
In recent days Mr Trump has ramped up his rhetoric on issues like immigration, accusing Democrats of wanting to "erase America's borders" at a rally in Tennessee.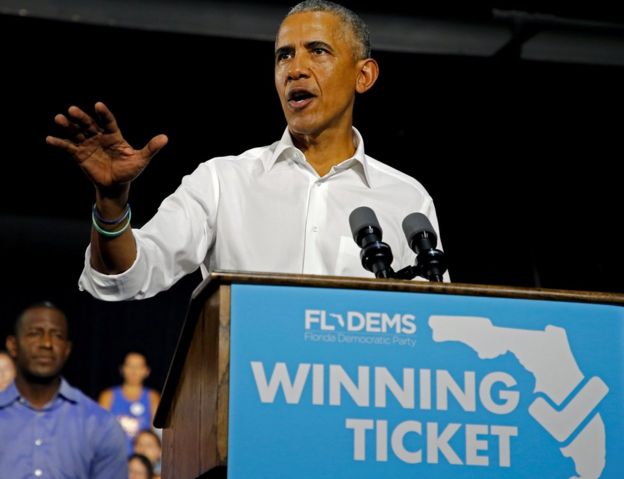 Mr Obama urged Floridians to put a check on angry rhetoric
Meanwhile, former President Obama, who has been campaigning for Democratic candidates, urged Americans not to succumb to hostility and division.
"We have seen repeated attempts to divide us with rhetoric designed to make us angry and make us fearful," he said in Miami, Florida.
"But in four days, Florida, you can be a check on that kind of behaviour."
Mr Trump continues campaigning in Ohio and Indiana on Monday, before making a final stop in Missouri.
Why are voters so energised?
Immigration remains a hot topic that Mr Trump has focused on.
His recent decision to send 5,000 troops to the Mexican border as a caravan of Central American migrants approaches has divided opinion.
Democrats hope the president's hardline rhetoric will help them entice younger voters, suburban moderates and minorities to the polls.
The gun control movement launched in the aftermath of February's high school shooting in Parkland, Florida, has also mobilised.
But one of US voters' major concerns is healthcare, as Republicans have been trying, so far unsuccessfully, to kill off Mr Obama's Affordable Care Act.
Some recent events have added a further emotive dimension.
In late October, mail bombs addressed to senior Democrats and other prominent opponents of Mr Trump were intercepted.
Shortly afterwards a gunman killed 11 people at a synagogue in Pittsburgh.
Mr Trump's critics say the president has stoked a toxic political climate that encourages such attacks.
What is happening with turnout?
Turnout is traditionally low in the US mid-terms, with the 2014 election seeing a post-war record low of just 37%.
But analysts say a sharp rise is likely this year, with voters on both left and right energised by such issues as healthcare and immigration.
Election officials say 34.3 million people have already voted and the real number is probably higher, according to the US Elections Project, a University of Florida-based information source. The figure in 2014 was just 27.5 million.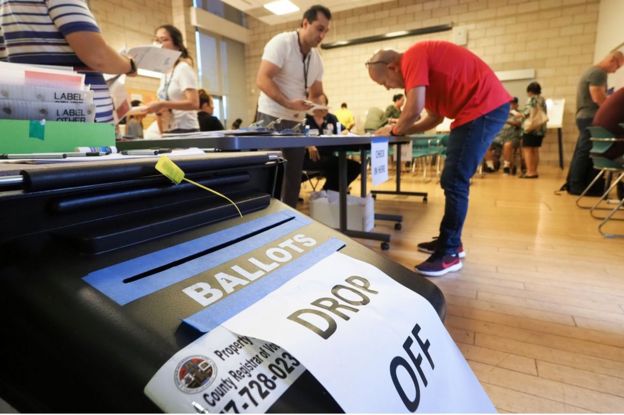 People can vote early both in person and by post
In Texas, early voting has exceeded the entire turnout in 2014.
Efforts are being made across the country to get people out to vote, with businesses like Walmart, LeviStrauss and PayPal among nearly 150 companies signing up the Make Time to Vote campaign.
The companies are offering paid time-off and other schemes to give employees a better chance to vote.
Ride-sharing companies Lyft and Uber will be offering discounted rides to polling stations.
What is at stake in these elections?
Americans are voting for all 435 seats in the House of Representatives, and 35 of the 100 Senate seats.
Governors are also being chosen in 36 out of 50 states. In Florida and Georgia, Democrat candidates are hoping to become their states' first African American governors.