Novak Djokovic is one win away from a record 23rd men's major title after moving into the French Open final by beating Carlos Alcaraz in a contest ruined by an injury to the Spaniard.
With an enthralling match delicately poised at one set each, Alcaraz pulled up early in the third with cramp.
He twice carried on after treatment but Serbia's Djokovic took full advantage to run away with a 6-3 5-7 6-1 6-1 win.
Djokovic, 36, will play Casper Ruud or Alexander Zverev in Sunday's final.
Norwegian fourth seed Ruud was last year's beaten finalist, while German 22nd seed Zverev is back in the semi-finals after suffering a serious ankle injury on court at the same stage 12 months ago.
Coincidentally, before Zverev's return to the last four, this year's opening semi-final was also cut short by a physical issue – although thankfully top seed Alcaraz's problem was not of the same gravity as the German's injury, which kept him out for several months.
But it was enough to spoil an encounter which was blossoming into a classic.
"First and foremost I have to say tough luck to Carlos," Djokovic said in his on-court interview.
"At this level the last thing you want is cramps and physical problems. I feel for him, I feel sorry, I hope he can recover and come back pretty soon.
"He knows how young he is, he's got plenty of time ahead of him and he will win this tournament many times."
Alcaraz, 20, hit a forehand into the net on Djokovic's second match point, bowing his head as he trudged to the net, where the third seed waited to console his younger opponent.
Djokovic applauded Alcaraz off the court along with the crowd, but only after the two-time champion received some boos as he celebrated reaching a record-extending 34th Grand Slam men's final by pointing to the sky.
The mood turned more celebratory as Djokovic took the post-match microphone, with fans chanting the former world number one's name.
"It is tough for him not knowing whether to retire or finish the match but congratulations to him for showing fighting spirit and hanging in," Djokovic added.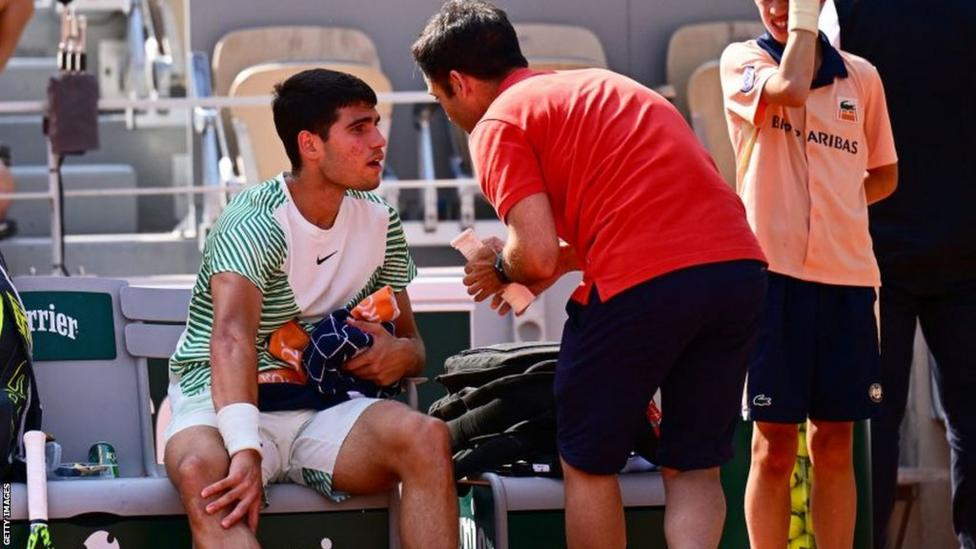 "I just tried to stay focused, stay present and not think too much about what was happening on the opposite side of the net."
How blockbuster semi-final was cruelly cut short
All fortnight, the talk in Paris had been about the prospective meeting between Djokovic and Alcaraz, with the pair's serene progress through the draw turning that dream into a reality.
The two men had long been considered the main contenders to lift the Coupe des Mousquetaires, even before 14-time champion Rafael Nadal withdrew with a hip injury.
Djokovic has lifted five of the past seven majors he has played while Alcaraz had won four of his eight tournaments this season and replaced the Serb at the top of the world rankings.
However, duels between the pair have been rare and further increased the hype around the blockbuster semi-final.
A high-quality, high-octane start ensured that it did not disappoint.
Two lengthy opening sets demonstrated why there had been so much anticipation, both players showing their explosive power from the baseline, coupled with deft touches around the net and elasticated athleticism.
Djokovic's vast experience in his 45th major semi-final enabled him to dominate the opener, before Alcaraz – whose tension was evident through a high number of unforced errors – improved his level in the second.
Then came the pivotal moment which left Chatrier murmuring and fearing the match would be over prematurely.
After hitting a forehand into the net at 40-30 as Djokovic served in the second game, Alcaraz immediately pulled up and hopped onto his left leg.
The US Open champion signalled he needed help and, after umpire Aurelie Tourte jumped down to assist alongside Djokovic, Alcaraz limped back to his chair.
He received attention from the physio on his right calf but with the problem deemed to be cramp, he was not allowed within Grand Slam rules to take a medical timeout outside of a changeover and was subsequently docked the game to hand Djokovic a 2-1 lead.
The decision was met with loud boos from the crowd, who have become renowned for their negative reactions this fortnight.
Alcaraz gamely tried to carry on, receiving more treatment after the fifth game, but Djokovic sensed his opportunity and ruthlessly exploited his opponent's lack of movement.
Alcaraz quickly lost the third set and headed towards a bagel in the fourth but managed to get on the scoreboard again late on, bringing a rousing reception from the sympathetic crowd.
But everyone knew it had long stopped being a contest and Djokovic quickly served out to reach a seventh Roland Garros final.
DISCLAIMER: The Views, Comments, Opinions, Contributions and Statements made by Readers and Contributors on this platform do not necessarily represent the views or policy of Multimedia Group Limited.