Today, I am going to town. I have taken along the Ghana Journalists Associations' Code of Ethics though. And I will be speaking some Latin. So get your Google app ready.

Coming events, they say, cast their shadows. So, when the 'powers that be' decline counsel, to the effect that, instead of a committee, we should have a commission of inquiry to probe the Ejura disturbances, it tells you, the end is already known, from the beginning.

The two are different in many ways. Suffice it to say that a commission of inquiry has constitutional basis (Chapter 23, Article 278 provides for this), whereas, a committee of inquiry is merely administrative in nature.

The renowned Lawyer and Civil Society Advocate, Kofi Bentil, agrees with me, "what I can see clearly is that the committee looks like they are searching for a narrative to support a preset story," he said on JoyNews, NewsFile, on Saturday, July 10.

More so, when such a critical issue is allocated barely a week for establishment of a committee, deliberation, writing and submission of report. Hmmmm!

That the Committee has requested an extension of the deadline, which has been granted, is not surprising at all. However, as someone who has 'secretaried' for a similar Ministerial Committee, in the health sector, in the past, to look for a missing baby, I dare say that even two weeks is inadequate for a thorough job.

There is what I call the 'face-to-face', during which persons who have been found to be making contradictory statements or making allegations against each other, are brought to face it off. This is where truth reigns. If that does not happen, then I am sorry.

The Justice Koomson Committee

When the composition of the three-member committee was announced, I was excited because there was a judge, George Kingsley Koomson, Justice of the Court of Appeal, a security analyst, Dr Vladimir Antwi Danso. The Journalist, Juliet Amoah, Executive Director of Penplusbyte, I was not sure about.

Their raison d'etre or Terms of Reference (ToR), was specific- "probe circumstances that led to the June 29, 2021 incident at Ejura Sekyedumase and submit a report with recommendations for appropriate action to be taken by July 9, 2021."

Just in case you just flew in from Dubai, without access to local news due to that long flight duration or something else, a social activist named, Ibrahim Kaaka (Grandfather in Hausa) Mohammed, alias 'Macho', was assaulted by then unknown assailants on June 26.

JoyNews Ohemeng Tawiah's report indicates that the assailants hit his occipital region (the back of the head) several times and fled when they rendered him unconscious. Kaaka died on Monday, June 28 at the Komfo Anokye Teaching Hospital.

His death incensed his friends who went on rampage on June 29, promising that they will die with him, if Kaaka's murderers are not brought to book.

Three persons have since been arrested and are undergoing trial. Two of them are alleged to be bodyguards of the Municipal Chief Executive (MCE) of the Ejura Sekyedumase Municipal Assembly. But, he has denied them like Peter did to Jesus when Christ was arrested.

The third suspect is said to be the brother of the deceased. The coming weeks will be interesting as regards this issue.
As indicated above, Justice Koomson and his team, with 'Secretaryship' provided by a Principal State Attorney, Ms Marie-Louise Simmons, had their job clearly cut out for them.

On July 6 therefore, the Committee started its public hearings. First to appear was the Ashanti Regional Minister, Mr. Simon Osei-Mensah.

They treated him with kid-gloves, considering the line of questioning that I listened to. Mr Osei-Mensah's political clout intimidated them. Their body language and tone of voice gave them away. If you believe that I can be a communications consultant, then please take it from me.

Attack on Journalism

Juliet Amoah is a Journalist. One year my junior. Trained by the prestigious Ghana Institute of Journalism (GIJ), my alma mater.

Next to appear before the Committee was JoyNews' Erastus Asare Donkor. Instead of asking him questions that pertained to their ToR, the Committee members went about trying to teach him and media practitioners, generally, ethics of the profession.

Justice Koomson asked Erastus why he did not correct a slug that was projected on TV, live, when he reported on the incident, if he was not certain that Kaaka was a member of the #FixTheCountry campaign.

He also asked for the rushes (unedited recording) of the coverage. When Erastus told him that it had been given to the clerks, he retorted, "that is why we are here, even if it is two hours we will watch it".

Juliet particularly, surprised me when after introducing herself as a Media Trainer and Strategist, she asked Erastus, "…ethical journalism requires two things, you crosscheck and verify your sources and the information, do you think, on this occasion, you were aligned to these two tenets of journalism?

Erastus described her question as unfair. But she followed up on it. "This was your story, it was your byline, and so while you were on the ground, I am sure you would have heard how this was being reported, you would have interacted with the anchor. Would it have been prudent to tell the anchor that you had not verified this, so that the editor will not put that hashtag there?

Ei!!! On the day of the incident, Erastus was delivering LIVE commentary on unfolding events of a riotous youth of Ejura, being dispersed by live bullets from Military cum Police personnel.

A scene which, in my estimation, from what I saw on TV, which is available on youtube, is a semblance of a war zone. And a Media Trainer/Strategist wants to know why Erastus (reporter on the beat), did not correct the news anchor, that the slug that had been projected on the screens from the studio in Accra, was not accurate? Aaaba!! That's not what we were taught!!

Verify Kaaka's links to #FixTheCountry, yes. But it was not for Erastus to do.
Then the last question that set me thinking. "…is it true that camera angles could give different directions of what is happening?" To what end? I asked myself.

To conclude that the camera can show kneeling to be squatting, or vice versa. It turned out to be the answer she wanted to hear. Hm!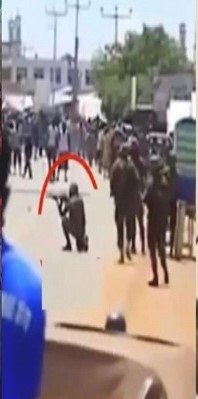 This was the slug that Juliet and her 'boss', Justice Koomson had issues with; #WeAreAllKaaka – Police arrest two suspects involved in attack of #FixTheCountry campaigner. Please take note. I shall return.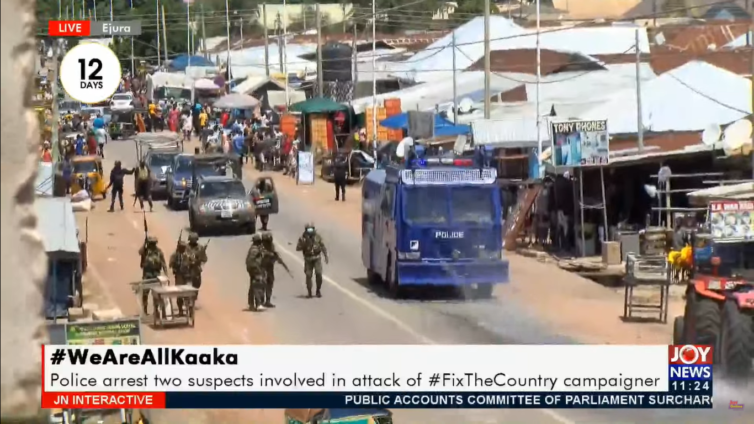 The press statement that announced the composition of the Committee introduced Juliet Amoah as Executive Director of Penplusbyte, a Civil Society Organisation. Based on her line of questioning, I googled Penplusbytes.

This is what I found, "Penplusbytes is a not-for-profit organization driving change through innovations in three key areas: using new digital technologies to enable good governance and accountability, new media and innovations, and driving oversight for effective utilization of mining, oil and gas revenue and resources.

Now I am wondering, what is her locus in a Committee that is tasked to investigate the shooting to death of civilians by Military personnel? If it is the governance bit, I thought the IMANIs and CDDs of this world are better placed? Well!
Once she set that agenda, Dr Vladimir Antwi Danso took a leaf from her line of thought.

"The tape you have submitted to us, I hope it is not doctored, it's not edited? Don't you think the media could be blamed for the hype? Has the media done well? "Don't you think the media is to blame for some of the things that happened? He asked in succession.

The next day, the Deputy Ashanti Regional Police Commander, DCOP David Agyemang Adjem, also went along the same tangent, '…the Journalists also did not help in their reportage. A lot of tension was created when there was none. They were carrying their own stories that sold for them, rather than the official Police communication." Agenda continua it seemed.

This prompted Justice Koomson to say, "as for our media friends, when you talk, they think you are bashing them, but they have the right to bash everybody in Ghana except themselves. The fact is that the media, it is the agenda that they set that they want Ghanaians to follow.

What journalism is about

Please, ooh. Somebody should tell them that Journalism is different from Law and Security Analysis, If Juliet the Journalist/MediaTrainer/Strategist cannot do that.

Even Public Relations practitioners who may have sat in the same class with a practicing journalist, cannot think like the practicing Journalist.

As journalists, what we eat and drink is news. And what is news? News is information about current events. Its elements include; immediacy or timeliness, proximity, consequence, prominence, drama, oddity and conflict.
Almost all these elements unfolded in Ejura on the morning of June 29, with cameras rolling live pictures of the drama and you say what?
Point of education. When Journalists are on the beat, they have a ToR. They are looking for a human being who is biting a dog, not the other way round.
That means he or she would reflect, like a mirror, what is shown to him or her. You do not deploy a combined force of Military and Police personnel to quell a riot caused by rampaging youth and expect that Journalists witnessing the event will be reporting on a friendly match between Bofoakwa United and Secondi Hasaacas. No disrespect for these teams please.
Kaaka himself, despite professing to be a member of the NPP, is on record, through a video recording, to have associated himself with the #FixTheCountry campaign.

So when people are demonstrating against his murder and chanting their preparedness to die if his killers, who had been arrested by the Police, are not dealt with according to law. And an Editor at Joy News Room slugs it thus- #WeAreAllKaaka – Police arrest two suspects involved in attack of #FixTheCountry campaigner. You say what?
How else should such an event of rareness, consequence and conflict, be reported?

Like me, Justice Koomson belongs to the old school, so he may not know this. One does not need to bear a printed card to be referred to as member of #FixTheCountry.

It is a movement. Once you associate with them by tweeting at, share posts and tag others with information churned out by a hashtag, you ipso facto (by this fact), become a member.

Sometimes, it beats my imagination why people say all kinds of things about Journalists, including describing us as, 'Kokonsa people'.

Meanwhile, when they wake up in the morning, the first thing they do, after checking their Whatsapp messages, is to turn on the radio or TV. Later, grab a newspaper to read about the 'Kokonsa'.

One day, we should shut down radio and TV stations, pull down all news portals, don't publish newspapers and see who the real 'Kokonsa people', are.

Maybe it is because we, too, have allowed all manner of people to call themselves by the title- Broadcast Journalist. No professional regulatory body, so anybody who is articulate is given the microphone and camera to shout, insult and sometimes misinform the general public.

That said, it does not give anybody the locus standi (capacity) to question our modus operandi (professional practice). Speak the language your target will understand. That's what communicators do, you know.

For the uninitiated, Article 162(5) of the 1992 Constitution states, "all agencies of the mass media shall, at all times, be free to uphold the principles, provisions and objectives of this Constitution, and shall uphold the responsibility and accountability of the Government to the people of Ghana."

Therefore, if personnel of government agencies like the Ghana Police Service and the Ghana Armed Forces, deployed to quell riots caused by rampaging youth of Ejura Sekyedumase, decide not to use tear gas, water cannon, plastic bullets but live bullets to disperse the demonstrators, who set the agenda?

It is the Police and Military personnel, who decided to go outside the norm (man bites dog), which provided the news (oddity) for Journalists to report on.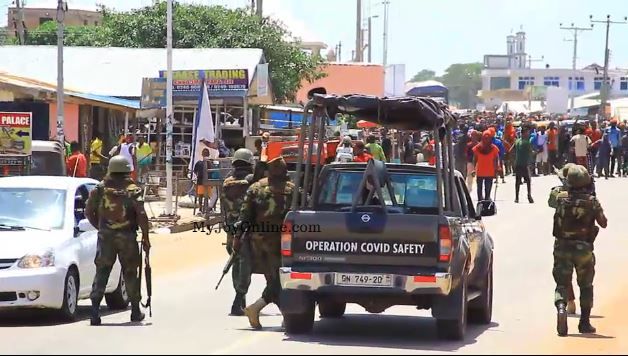 The Committee tours outside its ToR

Come to think of it, this line of questioning clearly deviates from its ToR. Instead of investigating, "circumstances that led to the June 29, 2021 incident at Ejura Sekyedumase", the focus is rather on circumstances that led to all Ghanaians and people around the globe hearing about the demonstration and subsequent killing of innocent souls.
As a mere Journalist, I think that these are the questions begging for answers:
Why the intelligence gathered on the eve of the day of the incident was not used to plan against the staging of the demonstration?
Why tear gas, hot water from the water cannon or plastic bullets were not used instead of live bullets?
What are the names of the soldiers who shot into the crowd?
Where are the bullets that killed the two persons?
At the time of going to bed (publication of this article) the Committee had heard testimonies from the Ashanti Regional Minister, Simon Osei Mensah, Deputy Ashanti Regional Police Commander, DCOP David Agyemang Adjem, Central Commander of the Ghana Armed Forces, Brigadier General Joseph Aphour and the MCE of Ejura Sekyedumase, Mohammed Salisu Bamba, the Medical Superintendent of Ejura Government Hospital, Dr Mensah Manye and Kaaka's wife, Sahada Humu, among others.
Dimming reputation
I have said here before, that your reputation is what people say about you when you are not around.

Unfortunately, for the Ejura probe Committee, people are saying things right into their faces as a result of how they have conducted themselves so far. I have said my bit as a Journalist.

Wearing my Public Relations cap now, what I heard being done to the Committee by panelists on Joy News' NewsFile on Saturday, July 10 got me more worried.

Apart from the statement by Mr Kofi Bentil alluded to earlier, he really went to town on the Committee,

"I have found nobody, not even one person who has any confidence in the Committee. It looks like they just assembled them to waste our money and insult our intelligence. Sometimes we make a mess when we ignore the very obvious issues and try very hard to create a different set of facts," the Lawyer, Governance Expert and Policy Analyst said when he participated in the discussion on Newsfile.

Another panelist on the programme, Dr. Randy Abbey, a thorough-bred Journalist, had his take, "I've been a bit disturbed by the line of questioning and some of the commentary from the members of the Committee and I think that they ought to watch it. The strenuous effort that was put in, to sort of, tag the media as doing something inappropriate, was baffling," he said.

The man known for his machismo nature as regards Journalism, Kweku Baako took issue with how members of the Committee allowed Military personnel, who appeared before them, to claim that the rampaging youth shot at them, thus necessitating their use of live bullets.

"The peddling of such false claims before the Justice Koomson Committee robs both the Committee and the security agencies of integrity.

If we are not going to get the bullets that killed them because of a certain emergency situation, and so we've buried the bullets together with the human bodies? My goodness!!! What are we doing? This is an exercise in futility then," he uttered in his characteristic raised tone, which shows the emotion he attached, to the subject matter being discussed.

Now the family of Kaaka, "the events of the hearing have left us less certain of the scope, focus, real intent and even utility of the inquiry." This was how the family of Kaaka, disassociated itself from the work of the Committee and declined to testify before it. They have since been persuaded to rescind the decision. They did.

I don't know what informed this remark from the Dagomba Chief in Ejura, Alhaji Omar Hussein, "you are all people in authority. So, whatever you will say will be taken by all Ghanaians. So, be careful not to disgrace President Akufo-Addo, don't disgrace yourselves as well, and don't disgrace the country," he urged members of the Committee when he appeared before them. Very deep!

Flowing from his observation, if the Nigerian proverb, "what the elderly sees sitting down, a child cannot see if he climbs the tallest iroko tree", is anything to go by, then what I am seeing as regards the work of the Committee, is nothing at all, compared to what the Dagomba Chief has seen.

The whole hearing seems like a drama. I don't want to watch any further. So, this is the scene, in which I heed to the Director's call for me to laugh and take a bow.

Vale- That's Latin for goodbye.
Let God Lead. Follow Him directly by reading his word and practicing it. Not through any human.
The writer works with Myjoyonline.com. Email- eric.mensah-ayettey@myjoyonline.com Tel: 0244679575