I have three personality traits, all borne out of my names – Eric, Nii Ashong and Tawiah.
According to www.wellfamily.com, Eric is an Old Norse name derived from the Norse word "Eirikr" which means "sole ruler" or "ever powerful." Applied to me, this is not familiar, unless you have contrary evidence to controvert my supposition. Simply put, prove me wrong, if you can.
"When people hear the name Eric, they perceive you as someone who is full of life, uplifting, inspiring, and even charming. You are the life of the party with your lively, intelligent and witty personality. Others will find you as strikingly attractive." – www.myfirstname.rocks. Yes! This is me. Any disagreements?
Nii Ashong means I am the seventh boy of my parents. This reflects my calm nature which usually pops up at church and other solemn occasions. At church, some even wonder if I am dumb.
Tawiah? That means, I was born after twins. The personality trait this name comes with is my no- nonsense self. Our nickname is, 'Apiagyei Busum'.
Ordinarily, (this word should sound familiar to you), I will not trouble you. If you dare, the 'Busum' –deity in the name will come at you. If you happen to see me not yielding easily to calls for calm under any circumstance, it is not my fault. It comes with the name.
Indeed, as humans, it is normal for everyone to have two sides. The regular Joe and the angry one.
And it seems to me that the events of last week, as regards the communication between IGP George Akuffo Dampare and the British High Commissioner, Harriet Thompson, give credence to this.
In my considered opinion, Dampare's response was given from a position of anger. I will prove this presently.
The communication context and how it affects meaning of a message
In my article titled 'How feedback can make or mar your communication effort", I alluded to the critical nature of feedback in the communication process.
What I failed to stress enough is what we refer to in communication as the barriers. Usually, noise, ambience, use of jargons, emotion, lack of attention, distractions, differences in perception and viewpoint are cited as factors that could cause a message to be decoded differently from the meaning the sender sought to convey.
Clearly, two of the aforementioned barriers were at play in the George-Harriet communication effort. They are; emotion and perception.
This is the shortest rendition of the whole caboodle.
On May 17, Harriet tweeted, "Oliver Barker-Vormawor, the convener of #FixTheCountry Movement, arrested again, I understand, for a motoring offense on his way to court. I'll be interested to see where this goes."
On May 31, a letter signed by IGP Dampare in response to Commissioner Harriet emerged. His response was a four-page letter, the content of which sums up in four Akan words- 'Di wo fie asɛm', to wit, "learn to keep within the limits that concerns you."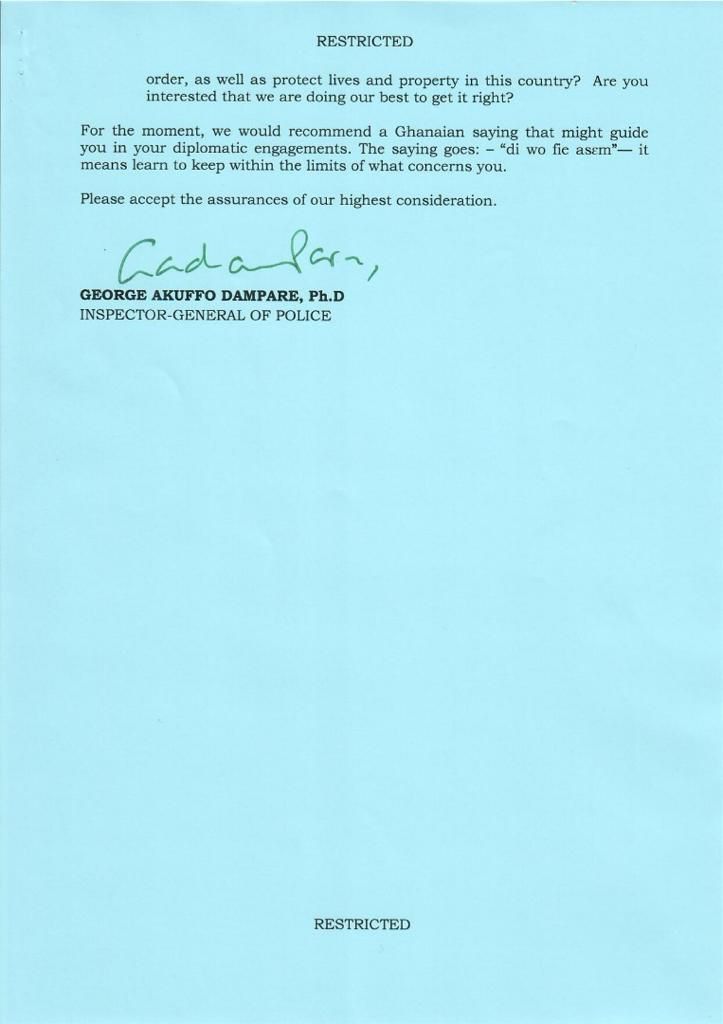 Why George decoded Harriet's message as interference in our internal affairs
In the wake of this brouhaha, an ardent reader of this column 'DMed' me for my opinion, from the communication perspective.
This was his question, "I have read your articles on Communication and Feedback. There is currently an issue with the British Envoy and the IGP concerning a tweet she made. This morning, the High Commissioner granted an interview on GHOne TV and according to her, she was misinterpreted because she meant no harm with her tweet. Please sir, what do you think about this as far as your lessons on Communications and Feedback are concerned?"
The following dialogue ensued:
I agree with her. (Please note that this statement has a different meaning from 'I believe her').
In my opinion, the IGP reacted from a prejudiced position.
He felt the lady had assumed an air of superiority- …'I'll be interested to see where this goes.'
The sender (Harriet) encoded the message without paying attention to the context.
The receiver (Dampare), instead of asking for feedback in terms of understanding the meaning of the message as intended by the sender (Harriet), decoded it based on his prejudiced mind.
Remember, the IGP said, "Ordinarily, the Ghana Police Service would not have responded to comments such as yours, obviously made from either a biased or uninformed position. However, we have learnt from a previous painful experience that it has not been helpful to ignore such misguided, unwarranted, and biased comments intended to tarnish the reputation of the Ghana Police Service and that of our country."
So the IGP decoded the message based on extraneous (a previous painful experience) factors instead of the real intention (going by the statement) of the Commissioner.
The reader again: "I agree with you sir, but I still have a little doubt. Despite not clarifying for feedback from the Envoy, how else could one understand the phrase, 'I'll be interested to see where this goes'?"
Me: For example, if your mother tells you, "I'll be interested to see where this goes?" How will you understand it?
Reader: "Sir, my answer may be dependent on the context of the discussion."
Me: Ahah! Now, if someone you consider as an enemy says the same thing – "I'll be interested to see where this goes?
Reader: (Emoji showing someone with mouth covered)
Me: ???
Reader: "I will conceive it in a negative manner."
Me: Oyiwa! I rest my case.
Reader: "But sir wait oo. Is the Commissioner a mother or an enemy?"
Me: Perception. It is how you decode the message that informs your reaction.
Reader: "Thank you so much sir."
From the foregoing, it goes without saying that the IGP got emotional upon reading the message. Not by the content of the message per se, but by 'previous painful experience.'
Perception, deduced from the tone of the statement, of superiority posturing by Harriet, also played a role in the IGP's response. Bear in mind the fact that every Ghanaian, no matter his/her status, believes white people feel superior to us all the time. And they don't hide it, even in our own country.
The other side of Dampare
Upon being appointed in August last year, in acting capacity and subsequently substantive IGP, Dr. Dampare endeared himself to virtually every Tom, Dick and Harry in Ghana.
Personally, I was so impressed with his exploits within a few months of his tenure that I dedicated two editions of this column to him- In support of IGP Dampare, Ghana can become a security 'Heaven'.
In that article, I joined those singing his praise and offered my two cents in regards to how he should go about his policing affairs.
It is for this reason the aforementioned faux pas has pained me to the marrow. That's because through this happening, my idol gave room for some who may not even qualify to lace his shiny boots to take a dig at him on social media. An affirmation of a Ga saying that, "Kɛ ohe gba lɛ, mƆfɛɛmƆ baa wabo ni akpɛ." Very unfortunate.
I am really pained. Alas, the fact that I have three personality traits and most people have two, consoles me a bit. That it is human nature to get angry, is not lost on me. But when you are elevated to the high office of Inspector General of Police, it is expected that you surround yourself with professionals who you run issues by, in order not to be caught in such down moments.
Yes. A down moment because the press release issued by the Ministry of Foreign Affairs and Regional Integration on this matter virtually threw Mr. Dampare under the bus to be crashed.
"The Ministry wishes to underline its commitment to the strong historical bonds between Ghana and the United Kingdom, which through the years, have been deepened by, among others, the exchange of high-level visits on both sides as well as increased cooperation on trade, investments and security."
I mean, if you feel so powerful to tell a British High Commissioner to mind her business, and your Foreign Ministry issues such a statement, which "underlines the country's commitment to strong historical bonds with UK", it takes so much away from your reputation.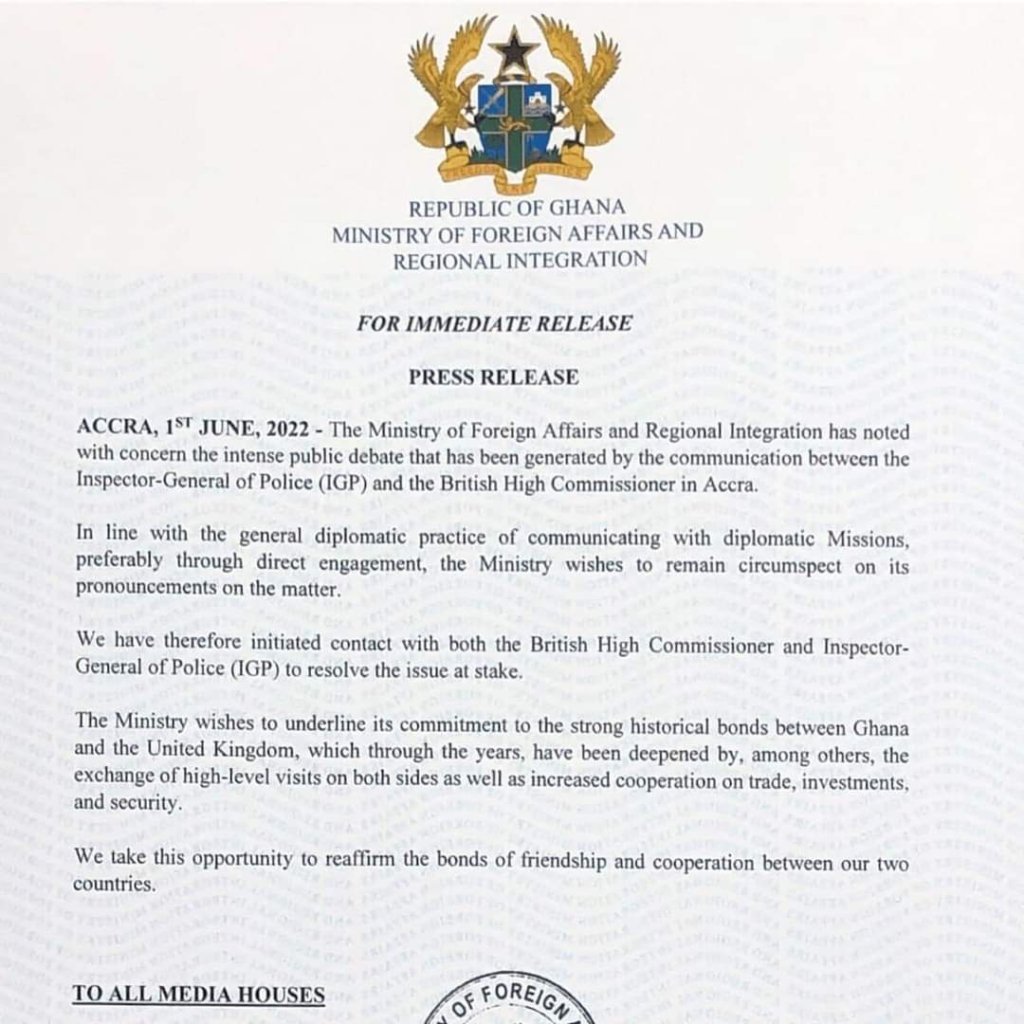 As a Public Relations practitioner, if this issue had been put before me for advice, I would have suggested that it should be made to slide. Better still, refer it to the Ministry of Foreign Affairs and Regional Integration for guidance. However, should the concern in relation to previous painful experience be raised, for which reason a response MUST be issued, I would have recommended a tweet at the High Commissioner that says, "Madam High Commissioner, please be reminded of the provisions of the Vienna Convention." A word to the wise is supposed to be enough. Not four pages in response to a one line tweet. No!
Actually, I have heard a few people say the content of the letter does not represent Dr. Dampare's view on the matter. As my mentor Abdul Malik Kweku Baako would say, this must be told to the marines. The reason is simple. In official communication, your signature on any document is an indication of your endorsement of its content. So please, that suggestion is moot.
It's time to go
Clearly, the only reasonable explanation to this uncharacteristic behavior of Ghana's famous IGP is the human element. I am referring to the pardonable human right to be angry if need be. For which reason I say, yes, this is the other side of IGP Dampare.
As we do traditionally, when these things happen, Madam Ayorkor Botchway, please lead him to do the needful before Harriet blocks all grants meant for the Ghana Police Service. After all, we are not beyond aid yet.
Let me end by reminding all public office holders that akin to the Akan adage, "Di wo fie asɛm" is another that says, 'sɛ wo nyonko bodwe ee hye a, wo fa nsuo si wo diɛ ho" – meaning, when your neighbour's beard is on fire, you place water beside yours, just in case it catches fire too. That is to say, you make a conscious effort to avoid a similar fate.
Rather than gloating over the fact that those who called Mr. Dampare 'Messiah' are now saying, 'crucify him', take a cue in order not to fall prey to the temptation to throw such emotional tantrums.
For, the mark of a great leader is the ability to understand, use, and manage your own emotions in positive ways to relieve stress, communicate effectively, empathize with others, overcome challenges and defuse conflict. That's Emotional Intelligence as defined by www.helpguide.org.
Zaìjiàn- That's goodbye in Singlish (Singapore).
Let God Lead. Follow Him directly, not through any human.
The writer works with Myjoyonline.com.
DISCLAIMER: The Views, Comments, Opinions, Contributions and Statements made by Readers and Contributors on this platform do not necessarily represent the views or policy of Multimedia Group Limited.