"…And Jesus saith unto him, the foxes have holes, and the birds of the air have nests, but the Son of man hath not where to lay his head". Matthew 8:20 (KJV)
That's a biblical underpinning for the importance of a house or home for the son of man- Humans. Indeed, the importance of owning or renting a home cannot be overemphasised.
The reason is not only because, as the saying goes, "there is no place like home", it is also because, "home is where the heart is…"- Sally Fingerett.
Actually, it is only fair that after a hard day's work, one is able to retire into a place of abode that relaxes and rejuvenates you for the next day's tasks.
In Ghana, access to a home is gained through three means- rent, buy or build.
Over the years, renting has proven difficult for most people. The huge rent advance demanded by landlords, the pettiness of some landlords and the drudgery of coping with unreasonable co-tenants, especially in compound houses and what is called 'family house', make many a Ghanaian dream of owning their own home.
Especially so, because statistics indicate that Ghana currently suffers a huge housing deficit of over two million housing units.
It is for this reason that these human-centred organisations – The Multimedia Group and Ecobank Ghana, in partnership with the Planned City Extension Project/Cities and Habitats, have taken it upon themselves to annually throw the spotlight on how this deficit can be reduced.
The Joy News-Ecobank Habitat Fair
The Habitat Fair was introduced by the JoyNews brand to address the enormous housing deficit in the country, particularly in Accra.
To ensure that adequate opportunity is given to prospective homeowners, to get introduced to what avenues are available for home ownership, a series of mini-clinics are held to herald the main Fair, each year.
This year's main Fair is themed, "Home Ownership: To build or to Buy". It is scheduled to take place from 27th to 31st October, 2021. "Exhibitors will exhibit products and services that solve even the most complex housing problem". That's the promise from organisers.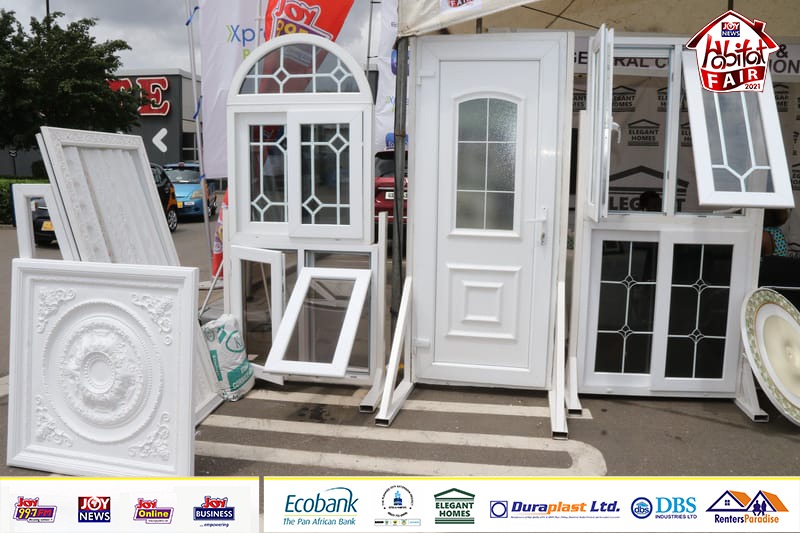 The first of three mini- clinics was held at the Achimota Retail Centre over the weekend – 11th and 12th September, 2021. From what I am reading, patronage was 'jɛ'- Good. Some patrons are reported to have even called for extension of the number of days per clinic.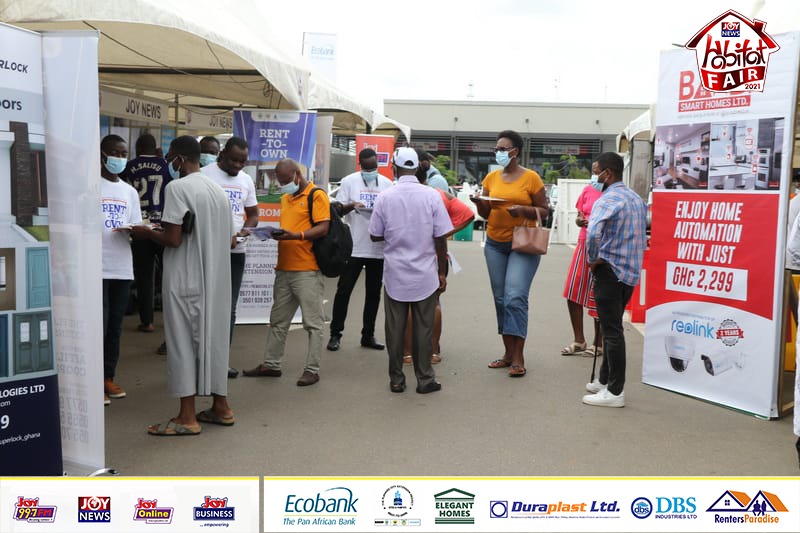 Is it not interesting? Ghanaians are always complaining about the state of the economy, 'there is no money, 'times are hard', yet when you hit the streets on weekends, you see how money flows. The malls, the Pizza joints, not to mention the grilled pork and chilled beer hangouts. Here, you see people 'drinking' and 'chewing' their cement bags and blocks in fun.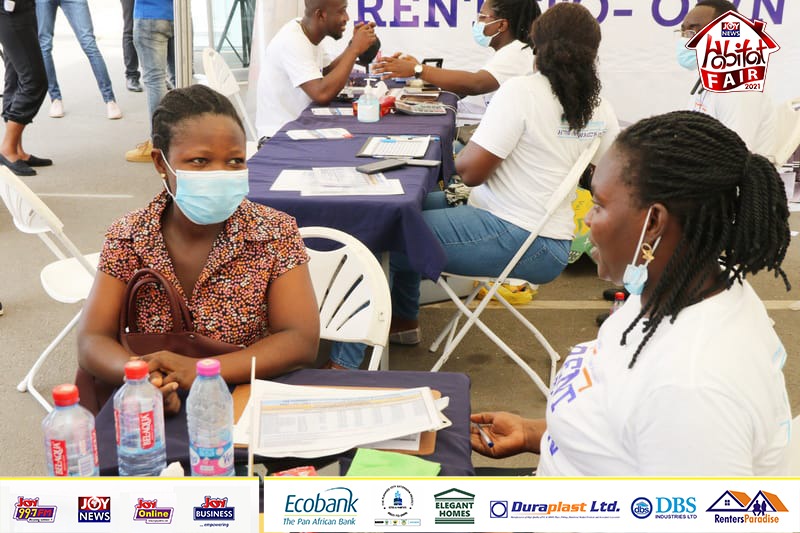 So, when I read and heard that the first mini-clinic was well patronised, I was impressed. Really, the JoyNews-Ecobank Habitat Fair offers a one-stop solution centre for purchasers, whether they want to build or buy a house.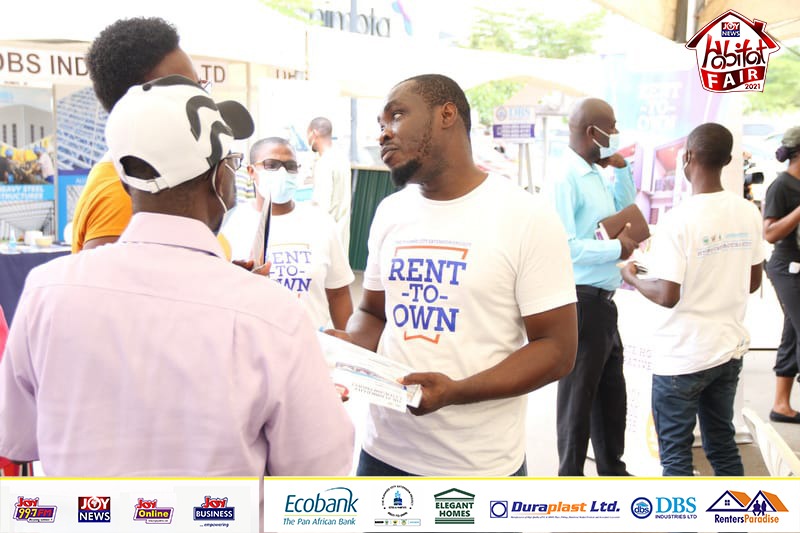 The second mini-clinic will take place this weekend, 18th and 19th September, 2021, at the West Hills Mall, then two weeks later, 2nd and 3rd October, 2021, the Junction Mall will be the center of attraction.
Finding the wherewithal
With renting not a favoured option, to build or to buy is the problem for many a prospective Ghanaian homeowner. This has become a dilemma for those who have what it takes to own a house because, either way, the difficulties are deterring.
Whether you build or buy, the wherewithal is the next challenge for most prospective landlords. It is the availability of the resources that determines one's final choice. Those who have enough cash usually choose to buy. The majority however decide to build.
And the cost is no child's play. From what I have seen and read so far, one needs not less than $35,000.00 (GHc210,000.00) to buy a two-bedroom house. Anything more than two-bedrooms requires not less than $55,000.00 (GHc330,000.00). That is, if you use GHc6.00 for $1.00 as exchange rate.
While some save to put the required amount together, others use loans and mortgages.
Mortgages are beyond the reach of most Ghanaian workers because of the requirements of 20% down payment. Thus, some 'out of the box' thinking is required.
And you have observed rightly. Lately, I am in love with 'out of the box' thinking. And it looks like the folks at the Social Security and National Insurance Trust (SSNIT) and National Pensions Regulatory Authority (NPRA) could do with some of it.
The other day, it was H. E. John Mahama who, in the peak of the Covid-19 pandemic suggested that SSNIT could assuage the plight of contributors who lost their jobs by giving them some kind of unemployment benefits. This proposal fell on deaf ears. May be, because of the political coloration it came in- Black, red, white and green.
But Ecobank has taken the lead by implementing an out of the box mortgage facility. All one needs is to use the tier 2 pension as collateral for the required 20% down payment.
Mr. Daniel Sackey is the Managing Director of Ecobank Ghana. Speaking at the launch of this year's fair, he mentioned this unique mortgage facility. Please read him, "We are all aware that one of the hindrance to people not being able to access mortgages, is the initial 20% deposit that is required. So, if you are looking at a house that is even worth GH¢100,000, then you need to raise GH¢20,000. That initial deposit required, has always been a barrier for a number of people who want to climb the housing ladder.
"So, we said given that every worker, or most workers, have access to pensions that are growing, we believe that you should not wait until retirement before you'll be able to access your pensions and acquire a house. Why can't we put our heads together, work with the pension fund trustees and ensure that your pension that is being built up, can start working for you, from now?.
That initial 20% can be provided, using your pension as collateral, so it takes away the initial headache where you need to provide this deposit".
'Wo sem pa'- There you have it. I believe the Social Security and National Insurance Trust should take a leaf from this without any ifs or buts. There should be no excuse by the Governing Board and Management of SSNIT. The NPRA must give its blessings to this initiative as soon as possible.
Seriously, I think we must hear from, especially, SSNIT on this. They should let us know when the implementation will start. If it is not implementable too, we need to know why. Over to you Dr. John Ofori-Tenkorang, Director-General-SSNIT.
This is where I leave my advocacy. National Executive of Trades Union Congress (TUC), please follow up.
The to build or to buy dilemma
Having secured the wherewithal through a loan, savings or mortgage, the next hurdle, as noted earlier, is whether to build or buy.
To buy, one has a choice between estate houses and fully furnished apartments. The advantage here is that the house or apartment is usually 'aben woha'- readily made. You pay and move in. There are however, instances where one is made to make some down payment and wait awhile before moving into that dream house.
This notwithstanding, there are challenges relating to estate houses. These include, the distant locations from the central business district and the alleged shoddy nature of the construction work done on these houses. It is alleged that these houses experience structural defects such as cracks, in no time.
As regards the fully furnished apartments, although they are located centrally, some right in the middle of town, they come with the inconvenience of sharing main gates and corridors with strangers (co-tenants) whose 'demons may irritate your spirit'.
The other option is to build. Hmmm!!!
The bumpy and frustrating ride to building a house in GH
It feels good to choose your design, location and quality of material to be used in building that dream house. But the ride to that 'own-built' house is bumpy and frustrating.
Let's start from 'securing a land station'. If you are lucky to escape the possibility of being sold a litigated land by a Chief, then your next stop will be the Lands Commission. The Clerks will allegedly extort money to trace your file for processing. If you refuse to play ball, your land title certificate will never be ready. If it is a litigated land, your contender for the property, will secure his/her land title certificate first, even if your application preceded theirs.
To the 'draftsman stop'. This is the stage where you want a building plan drawn for your house. You choose a three-bedroom design. Then you receive a call, "massa it is ready ooo". When you go to pick it up, you are handed a four-bedroom design. Reason? "I decided to add one room because if I look at you, you will get many visitors, so three will not be enough," the draftsman tells you happily. Clearly, the increase in the cost of the building that his 'kind gesture' has engendered, is lost on him. Ah!?
Next is the 'struggles with the mason junction'. You may not have enough money to engage the services of a construction company, so you call the area mason and show him the design. Typically, he will give you an over estimated bill. If you swallow it hook, line and sinker, he is rich.
Plus, their attitude to work is nothing to write home about. So, I heard on Joy FM's Super Morning Show that some Ghanaians have resorted to 'importing' Togolese artisans for their projects. The services of the Togolese are said to be less costly and they are very efficient. This is unpatriotic, you will say, but 'na who cause am?'
In my opinion, the only way a prospective home owner can outwit the Ghanaian artisans in this quest, is to have time. Yes. Have time to accompany them to buy all the materials. Be on site to issue cement from the store and supervise the mixing of the mortar. Start work and close with them. When you are not available to do this, let there be no work on site.
Now to the 'carpenter's spot'. Very similar in approach. Treat as above. When you get to the 'Tiler avenue', same treatment. Also at the 'electrician bus stop', there should be no change in strategy. 'Plumber road', same. 'Painter corner' method should remain unchanged.
This is the strategy that one can deploy to survive this vexing journey. Most people have, you too can. On the day you lock the main door after it has been fixed, you would realise that the hustle, needless as it is, is worth the while.
In-ceiling speakers, a video doorbell, a remote-controlled gate and a garage, are accessories you can use to make the house your little heaven on earth, depending on the size of your pocket. The Executive Director of Elegant Homes, Dorothy Quarshie is available to sort you out.
It's time to go
The dilemma is real. As stated, the main determinant of your choice is the financial backing.
I therefore commend Ecobank highly for that out of the box mortgage facility. If adopted by SSNIT, many workers will become landlords.
Once you secure the funding, whether from SSNIT or a private fund manager, please note that it is critical to cut your coat (choose a house) not by your size (taste), but by the size (quantum) of the money that your financial statement indicates you can afford.
Come to think of it, why are we not foxes or birds? One would just have dug a hole or woven a nest on a tree on the Akuapem Mountains and enjoy the cold weather all day all night.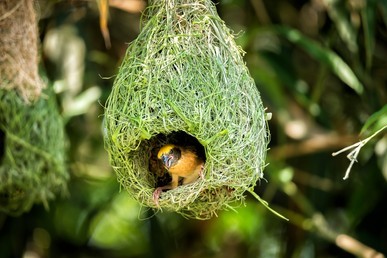 Not that it could be achieved effortlessly, though. It requires energy to dig a hole and time and skill go into weaving a nest. Clearly, 'nothing good comes easy, this I know'- Song by Bongos Ikwues & the Groovies.
Thus, whatever your decision, remember the pros and cons of buying or building. What you need to do is to find the antidote to the cons and you will be fine.
Whatsoever you do, ensure that the house becomes a home. Because, "a house is made of walls and beams, but a home is built with love and dreams"- Ralph Waldo Emerson
Remember, this year's main Fair is scheduled to take place from 27th to 31st October, 2021.
Before then, the second mini-clinic will take place this weekend, 18th and 19th September, 2021, at the West Hills Mall, then two weeks later, 2nd and 3rd October, 2021, it will be the turn of the Junction Mall to host this one-stop shop for anything housing.
Go on, save the dates. Don't miss it.
Auf Wiedersehen – That's goodbye in German.
Let God lead. Follow him directly, not through any human.
PS: SSNIT Corporate Affairs Department has explained that its law (National Pensions Act, 2008 Act 766), does not allow the use of one's contribution for mortgage facilities. It is only the tier two pension that could be used for this purpose.
DISCLAIMER: The Views, Comments, Opinions, Contributions and Statements made by Readers and Contributors on this platform do not necessarily represent the views or policy of Multimedia Group Limited.