Budget airline Norwegian has axed its long-haul network, leading to the loss of 1,100 pilot and cabin crew jobs based at Gatwick Airport.
The carrier's board of directors said it will continue to operate with a "simplified business structure".
It comes following the "profound" impact of the coronavirus pandemic on the aviation industry, the board said.
A Gatwick spokeswoman said the demand for slots at the airport remained strong.
The airline will now focus on its European short-haul network, using smaller aircraft.
Norwegian shook up the UK's long-haul aviation market in recent years by offering transatlantic flights at knockdown prices.
Some of its most popular deals included £99 trips to New York.
But its entire Boeing 787 Dreamliner fleet has been grounded since March 2020.
In August 2020, the airline announced it needed financial support to get through the pandemic, after a loss of £442m for the first six months of the year.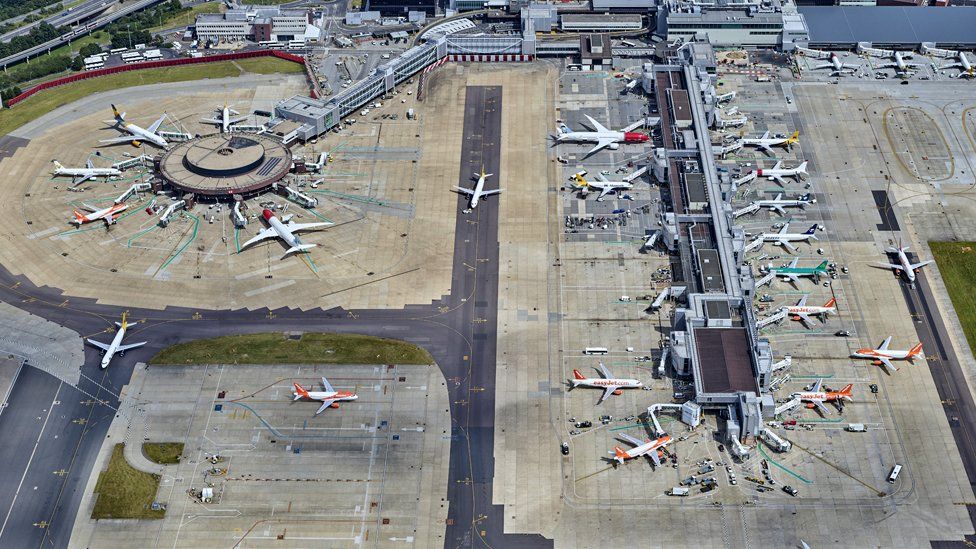 Chief executive Jacob Schram said: "By focusing our operation on a short-haul network, we aim to attract existing and new investors, serve our customers and support the wider infrastructure and travel industry.
"Our focus is to rebuild a strong, profitable Norwegian so that we can safeguard as many jobs as possible."
'Variety of choice'
A Gatwick spokeswoman said the airport would remain "an important part" of Norwegian's future plans.
"The demand for slots at Gatwick – both long and short-haul – remains very strong," the spokeswoman added.
"We will continue to pursue new opportunities with Norwegian and other airlines to offer passengers a variety of choices for their 2021 future travel plans."
Fighting for survival
Norwegian wasn't the first airline to try to prove that low cost and long haul could go together on international flights – but for a while it seemed to be the most credible.
The company was determined to prove that a new generation of fuel-efficient aircraft could make cheap transatlantic services viable, in a way that had not previously been the case.
Using a fleet of Boeing 787s to fly routes such as London Gatwick to New York JFK, it did at one point seem to have established long distance carriers thoroughly rattled – even attracting a couple of takeover bids from British Airways' owner IAG.
However, all was not well. Rapid expansion had left the airline weighed down with debt and struggling to make money, even before the Covid pandemic plunged the entire industry into a deep crisis.
Norwegian has been a hair's breadth from collapse for months and is still desperate for new investment. And so a business model that looked questionable even during the good times has been cast aside in a simple bid for survival.
About 2,160 jobs will be lost around the world – including at Gatwick – as the firm also has long-haul bases in France, Italy, Spain and the US.
Customers with affected bookings will be contacted by the airline and refunded.
The firm has resumed talks with the Norwegian government about further state support.
DISCLAIMER: The Views, Comments, Opinions, Contributions and Statements made by Readers and Contributors on this platform do not necessarily represent the views or policy of Multimedia Group Limited.