On Thursday, President Akufo-Addo revoked the appointment of Sarah Adwoa Safo as Minister for Gender, Children and Social Protection.
According to the statement, the President did so under Article 81(a) of the 1992 Constitution.
But the decision did not seem to take many Ghanaians by surprise.
Most of them said the move by the President against the Dome-Kwabenya MP was long overdue for a legislator who had vacated her seat for almost a year.
Why did President Akufo-Addo @NAkufoAddo wait this long to sack Adwoa Safo? #JoySMS @Joy997FM

The delay has caused financial loss to the State. It also affected the operations, smooth and efficient running of the Ministry and agencies under it. https://t.co/LJ30Uc1NKq

— The Villager (@TheVill60772553) July 29, 2022
Simply put: Hon. Adwoa Safo has not been sacked by @NAkufoAddo because he lacks the arrogance to do so in this peculiar situation. Till the end of Akufo-Addo's term as president of Ghana, Hon. Adwo Safo's job is still awaiting her return #GoodMorningGhana pic.twitter.com/euEvNdZM8c

— Divifilius (@AdikuSelorm) July 29, 2022
There is one final hurdle for Adwoa Safo, this time in Parliament.
Speaker, Alban Bagbin earlier on Thursday, deferred the decision on the fate as a representative of the people in Dome-Kwabenya.
Absenteeism in Parliament: Speaker of Parliament defers decision on Sarah Adwoa Safo and two other MPs. #JoyNews pic.twitter.com/alNNBRjgoX

— JoyNews (@JoyNewsOnTV) July 28, 2022
Mr Bagbin after listening to debates from both sides of the House said he will present a reasoned written ruling to the House at the next sitting.
Sarah Adwoa Safo failed to appear before the Committee to justify her absence for over fifteen sittings after many attempts by the Committee to reach her.
The Committee then submitted its report to the plenary after its sitting and recommended that the House declares the seat of the MP vacant.
The dismissal letter of Adwoa Safo was signed by the director of communications at the presidency meaning the president isn't happy about this decision and so therefore Adwoa Safo will be given a different appointment soon.

— Mahama 2024 (@CitizenTechiman) July 29, 2022
President Akufo-Addo has sacked Gender Minister, Sarah Adwoa Safo with immediate effect.

A statement announcing the revocation of her appointment, does not say why, but comes on the back of calls for her dismissal for abandoning post for close to a year, while away in the US. pic.twitter.com/LCJ3EdqxQq

— Israel Laryea (@TheIsraelLaryea) July 28, 2022
Adwoa Safo's letter was labelled "Revocation of appointment" but Boakye Agyarko's letter was labelled "Sacked".

Levels 🤓

— Samuel Sesah🇬🇭 (@Dr_Sesah) July 29, 2022
The statement also added that, "The Minister for Sanitation and Water Resources, Madam Cecilia Abena Dapaah, will continue to act as the Caretaker Minister, until such a time that President Akufo-Addo appoints a substantive Minister."
But in regards to this, others are of the view that the president's decision to add such responsibility to the Minister for Sanitation [Madam Cecilia Abena Dapaah] is a wrong move.
Revoking Adwoa Safo from her pose and adding it to another person who is already minister and can't manage her work well is a shame. The sanitation minister is not doing her work properly and you are adding her Gender Ministry, wise up Ghana🇬🇭🇬🇭🇬🇭

— King Pin🇬🇭🇳🇬🇬🇭 (@Filthy_Souls) July 29, 2022
Some also think both the Majority and Minority in parliament have the same mindset of [governing the economy] either worsening the economic conditions or making it better.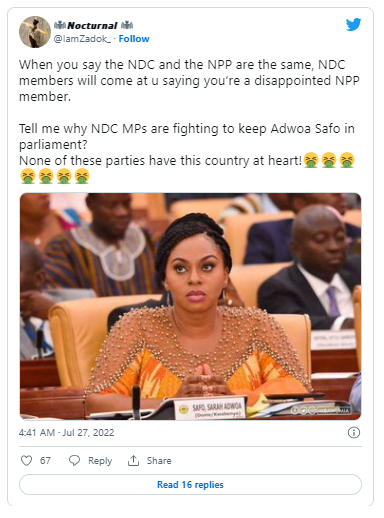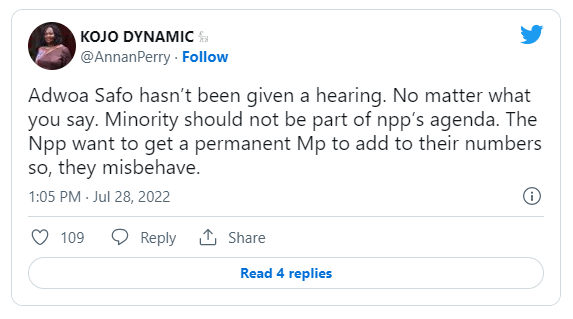 Akuffo Addo shouldn't be swallen headed by sacking Adwoa safo. Man you for up your govern and put better things in place and stop bathing in space.

— K O B B Y © ¡¡ (@Jah_Guid) July 29, 2022
It's funny how the Minority is doing everything possible to ensure Adwoa Safo is protected whiles the Majority is doing everything possible to ensure her seat is declared vacant.

That is what politics is all about. They fight for their interest first. #JoySMS

— Gyama Woyale (@zongo_banku) July 28, 2022
What am I missing? Why is the NPP side pushing to get Adwoa Safo kicked out of Parliament and the NDC side fighting tooth and nail to keep her? I mean should it not be the other way round? *scratches head*

— Lord Doku (@TheGHMediaGuru) July 28, 2022
Below are more reactions from social media.
Adwoa Safo's appointment has been revoked but would you agree there has to be proper conversation about her psychological state?
Depression maybe?
Would you say there's more to what she's going through than meets the eye?

— TheYaaBitha (@yaabitha) July 29, 2022
Now that President Akufo-Addo has revoked Adwoa Safo she can now concentrate on her TikTok videos 🙂

— z ε K Ⓐ y-V!bes  (@zekaytweets) July 29, 2022
Them sack Adwoa Safo as the gender Minister.

Nana Addo be wild pass 🤔🤔

— Elvis 🇬🇭 (@Kayjnr10) July 28, 2022
Ei,so indeed, Adwoa Safo, was still a Minister in President Akufo-Addo's government?

— Sulemana Braimah (@sulemana) July 28, 2022
Adwoa Safo has been sacked now
Now there's a vacancy in the government sector, make dem employ me 😓

— Beno SarkCess (@BenopaOnyx1) July 28, 2022