International broadcaster Al Jazeera said it would not apologise to President, Akufo-Addo of Ghana, over allegations in its recent investigative documentary, "Gold Mafia," since it did not allege the issues raised in a Jubilee House letter from the president's office demanding an apology.
The government's letter claimed, among other things, that the documentary made baseless claims that Akufo-Addo acted as a lawyer for Alistair Mathias and implied that he personally benefited unlawfully from a $100 million state infrastructure contract purportedly awarded to Mr Mathias.
Analysis
At least eight African leaders were mentioned in the Al Jazeera 'gold mafia' documentary, including Ghana's President, Nana Akufo-Addo. The mafias mentioned in the exposé were often associated with at least one African leader, and Alistair Mathias, one of the alleged money launderers, associated himself with Ghana's leader.
Mr Mathias is one of the alleged money launderers who uses gold to move and clean large amounts of illicit money. He acts as a bank for corrupt leaders, and he holds, moves and distributes commissions of dirty money for politicians. In a country deep in the throes of election horse-trading, the documentary ignited a torrent of criticism.
The opposition National Democratic Congress (NDC) berated Mr Akufo-Addo for not categorically denying the allegations by Mr Mathias (the President's office tepidly told the broadcaster that he had no recollection of Mathias) and former special prosecutor, Martin Amidu, punched holes in Mr Akufo-Addo's letter to Al Jazeera. Although the President has challenged claims made in the documentary, the Minority is demanding an investigation into the allegations, petitioning the Office of the Special Prosecutor to investigate the matter.
Minority Leader Dr Ato Forson, in a recent Facebook post, said that "the revelation that $40 million worth of gold is smuggled out of Ghana every month is deeply concerning" and insisted that the country is being exploited by collaborators who benefit from illegal gold mining and smuggling. According to the Minority caucus, the number of corruption allegations in which the president and his deputy, Dr Mahamudu Bawumia, have been named has reached alarming proportions. The most recent is an allegation that a Minister of State at the Finance Ministry, Charles Adu Boahen, took bribes from artisanal mining investors and used the presidency to peddle influence. Just a month ago, OriginalAll, in a global report on illicit trade, cited Ghana as a major transit point for illegal gold shipments.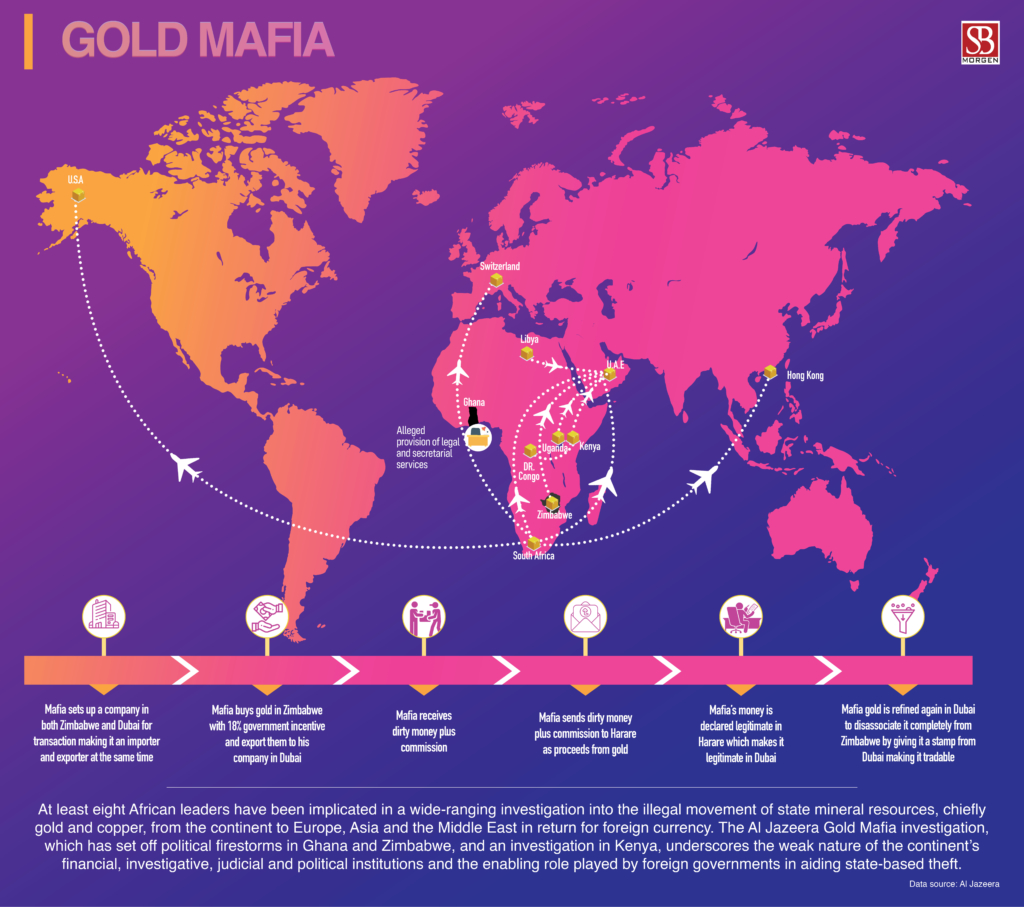 The report identified Ethiopia, Ghana, Sudan and Uganda as major illegal gold trading routes, with prime destinations being India, Switzerland and the United Arab Emirates. The analysis of trade data in the report showed that from 2013 to 2016, more than $6 billion in outbound gold shipments from Ghana to its three biggest trading partners went unreported. If all of Ghana's gold trade partners' export and import statistics were to be evaluated, the figure is predicted to increase dramatically. For instance, the difference in gold imports and exports between Ghana and Switzerland from 2013 to 2016 was more than $3 billion. According to the report, Switzerland purchased about $7 billion worth of gold from Ghana.
Officially, only about $3 billion worth of gold is on the books. According to the Ministry of Lands and Natural Resources, Ghana loses a further $2 billion annually in unpaid royalties and taxes on smuggled gold. There are also important national security implications, with the report saying that illicit gold mining "is becoming a rising source of income for cartels, criminal gangs and non-state armed groups." The millions of dollars lost due to such activities could close the huge deficit gap created due to poor revenue mobilisation.
The seven-day ultimatum issued by Jubilee House to Al Jazeera to retract and apologise for the alleged misrepresentation of the President in the documentary has long passed, and noises about a suit at the International Court of Justice are just that, noises. Even if the authorities proceed with the lawsuit, Ghana's larger fight against illicit gold trade can only be successful if the government shows a greater commitment to legal enforcement and mustering the political will to regularise large parts of the industry. Instead, it appears content to peddle excuses and threats. With election season almost in full swing, this circus will continue for some time.
Twitter: @isaackofiagyei
DISCLAIMER: The Views, Comments, Opinions, Contributions and Statements made by Readers and Contributors on this platform do not necessarily represent the views or policy of Multimedia Group Limited.