The Head of Medicine at the Ho Teaching Hospital, Prof Yaw Asante Awuku has appealed to government to include treatment of kidney disease under the coverage of the National Health Insurance Scheme (NHIS).
He said due to the high cost involved in the treatment of kidney disease, most patients are not able to afford it, thus, its inclusion under the coverage of the NHIS would be a great support to patients to access health care.
Prof. Awuku, speaking during an event at Godokpoe, a suburb of Ho, to mark this year's World Kidney Day celebration, noted that the only way to sustain treatment of kidney disease in the country was to get it under the NHIS.
He said the country had challenges when it comes to the treatment of kidney disease and that through research, they had seen 1in 10 medical ward admission included chronic kidney disease that required dialysis which was very expensive.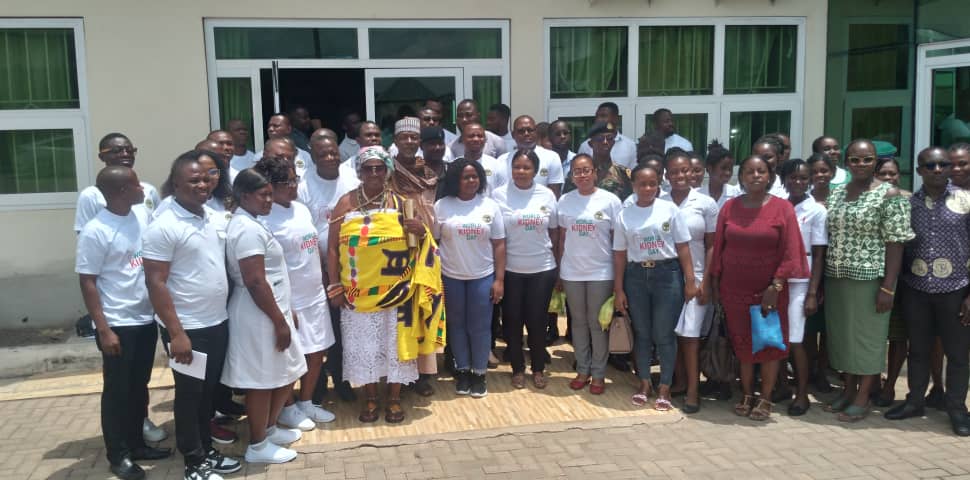 Prof. Awuku mentioned hypertension, diabetes and smoking, self-medication as some risk factors and called on the citizens to adopt a healthy lifestyle and go for regular screening to know the state of their kidneys.
On the theme: "Kidney Health for All; Preparing for the Unexpected, Supporting the Vulnerable," Prof. Awuku noted that preparation for unexpected events was incredibly important for kidney patients.
He called for intensive community education on Non-Communicable Diseases (NCDs) including kidney disease and highly subsidised and accessible hemodialysis services, and institutionalisation of kidney transplant programmes in Ghana.
The Professor urged policymakers to adopt integrated health strategies that prioritise prevention, early detection, and management of NCDs, including kidney disease.
"Health care services should also provide equitable and proper access to care for chronic patients in times of emergency."
Prof. Awuku also asked policymakers to include emergency preparedness plans in the management and detection of NCDs and proritise these conditions.
The Queen mother of Ho-Dome, Mama Attrato II who chaired the programme urged the media to continue to highlight issues related to kidney disease and to educate the public on the risk factors.
She said a lot of people continue to indulge in acts including excessive drinking of alcohol, smoking and others which posed risk to their kidneys, and asked the media to help sensitise the citizens.
The Queen mother said, the kidney, like any other part of the body, required extra care, and therefore, appealed to the citizenry to avoid a lifestyle that could cause damage to their kidneys.
Dr Lord Graceful Mensah, Acting Medical Director at the Ho Teaching Hospital, in a welcome address, noted that kidney disease was among the leading causes of NCDs that required early detection, prevention and treatment.
He said kidney disease was not a respecter of person and there was the need for all to pay serious attention to it, as it carried a lot of burdens including frequent visits to the hospital.
DISCLAIMER: The Views, Comments, Opinions, Contributions and Statements made by Readers and Contributors on this platform do not necessarily represent the views or policy of Multimedia Group Limited.