Greater Accra Regional Minister, Henry Quartey has once again hit the streets of Accra to rid the city of filth and illegal structures as part of his 'Make Accra work' agenda.
Mr. Quartey, while embarking on a decongestion exercise on Monday, July 26, demanded the immediate removal of the Municipal Environmental Health Officer (MEHO) for Ayawaso Central Municipality, Emmanuel Sonni Alohleveh from office.
According to Mr Henry Quartey, Sonni Alohleveh has been absent from post for two weeks without any form of notice to his superiors.
"Where is your MEHO? Madam, I want the MEHO transferred. I don't want him here again. He is not going to work here anymore. The MEHO within the constituency is not working here anymore," Mr Quartey stated.
But the Municipal Coordinating Director, Eugenia Agbenyegah informed him that the Municipal Environmental Health officer sort permission from her office on medical grounds.
According to JoyNews' Fostina Sarfo, who was at the scene, Mr Quartey, however, stood by his earlier directives, adding that he needs to see the said excuse duty and Mr Emmanuel Sonni Alohleveh in his office.
As part of the "Making Accra work" agenda, some containers located along waterways and drains were pulled down by the sanitation task force officers.
He bemoaned the devastating state of the surrounding that had major drains along principal streets choked with filth.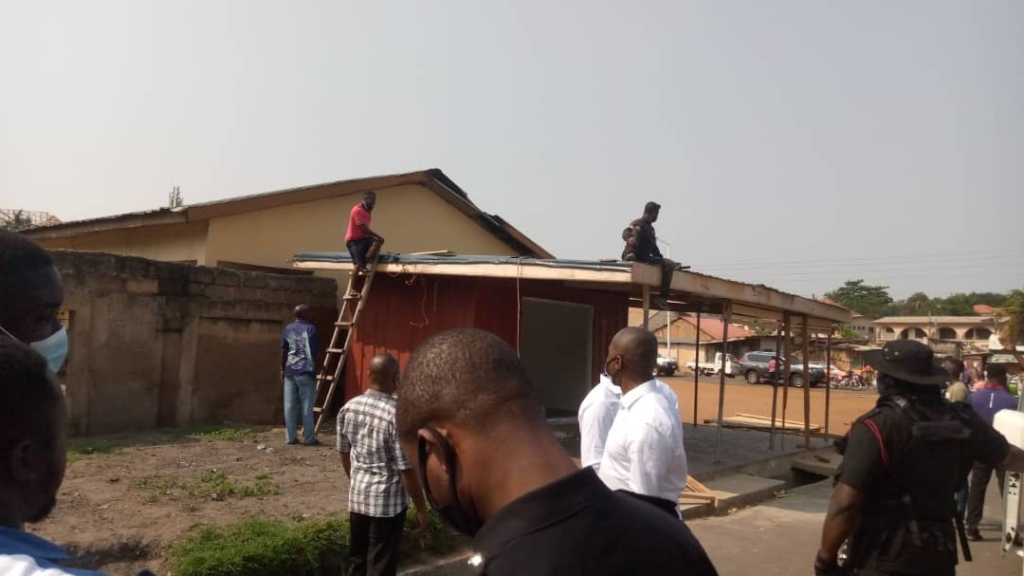 Mr Henry Quartey also ordered the demolition of an erected structure at the Alajo main drain. This drain connects to the Odaw drain.
Mr Quartey who doubles as the MP for Ayawaso Central noted that the task ahead is a herculean one. However, he reassured himself and his fellows stating that "a journey of a thousand miles begins with a single step."
"The indiscipline has been ongoing for so many years. So it is not going to take one day to completely turn things around. We have begun with the steps to try and correct the wrongs. Charity they say begins at home so today we are here in my constituency to serve notices to people who have been building at unauthorized areas, who have not got building permits. The assembly per its mandates in collaboration with the Regional Coordinating Council embarked on some of these exercises," he added.
Meanwhile, the Municipal Chief Executive (MCE) for Ayawaso Central, Mohammed Quaye, says prosecution of sanitation offenders will intensify under his watch.
"I have ordered my environmental officers to be visiting this area frequently and summon offenders to the court. We have done that several times. The prosecution will now be intensified and that I think will curtail these matters," he said.
He also blamed occupants of the Malata market located at Newtown for the choked gutters in the area.
"When we leave and don't return in the next two to three weeks, chocked gutters is what we will see. As if for thousand years now, we have not been cleaning the gutters. All these refuse are generated in the Malata market. So when it rains, the water carries the filth."