The world has largely lived by the dictates of coronavirus in the year 2020. It has however hasn't been all gloom. Covid 19 decreed that the world should enjoy seven days of uninterrupted European football in all of its glory and shame, especially if you have loyalties to a certain club from Catalunya with talisman with roots to the imaginary republic of Liliput. Add the GFA's announcement to spend $100,000 to acquire 6000 balls and 'gripping' would be the perfect descriptive. So may I crave your indulgence to hark back to the last seven days.
Barca's day of shame
Results like 8-2 in top level football do not just happen. It is the culmination of bad decisions and indecisions over a period. Last Friday's result was a pointer to what Barca and Bayern have been about at least in the last few years.
While the Germans have been ruthless in cutting out old horses and underperforming players for bright young players like Alphonso Davis, Barca have senselessly held on to the remnants of a core that dominated Europe between 2009 and 2013. Jordi Alba, Gerard Pique, Sergio Busquets and Lionel Messi were part of that fearsome Barca force which included Xavi and Iniesta. Even more damning is how big money signings have underperformed in the last three season.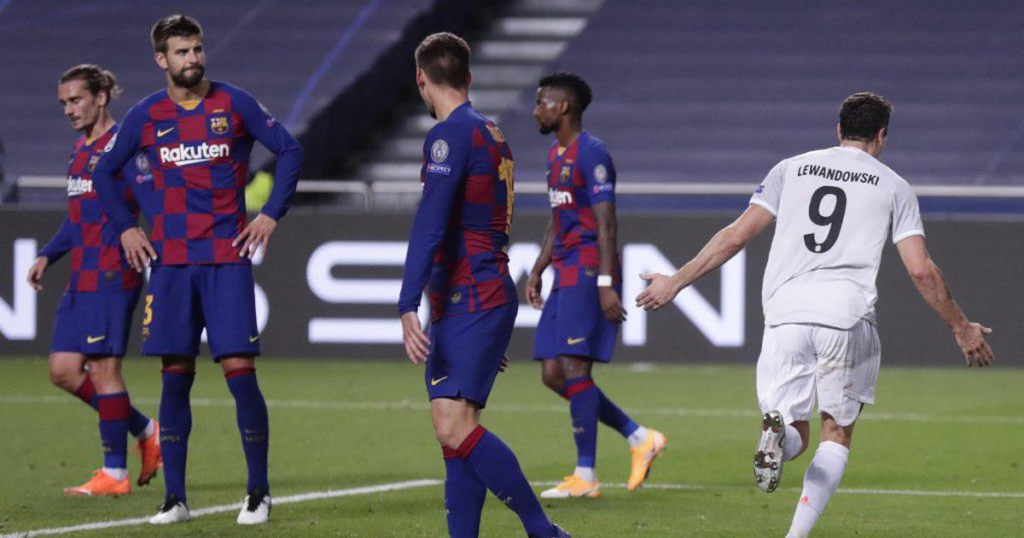 So while Bayern's blend of experienced and young talents raced into Barca's half to score goal after goal, Busquets and co simply couldn't keep up. In the end, Barca fans had one more reason to remember the year 2020. And oh what if Ousmane Dembele was fit? He wasn't. He's never been.
Farmers League?
How a league which produces some of the best young talents in world football came to be tagged 'farmers league' is something I can't wrap my head around. It is even more annoying if you consider the fact that France are the reigning world champions. The league has been monopolized by PSG thanks to their millions from their Arabian Sheikhs but it does nothing to the quality of the league.
It seems a distant memory how Lyon consistently got the better of Real Madrid between 2005 and 2010 in the champions league. It is telling that when the Ligue 1 needed a team to remind the world of the league's quality Lyon stepped up and made nonsense of their financial standing relative to Pep Guardiola's Manchester City. Before then PSG had accounted for Italian outfit Atalanta.
The term farmers league is derogatory which seem to suggest that the league is made up of players who take up farming as a day job and only play football part time, hence the dominance of PSG. The French Ligue 1 is considered the least elite of Europe's top five. Isn't it time to change that narrative?
Of Balls and balls.
So the GFA will spend $100,000 to purchase 6000 footballs for grassroot football development via the FIFA Forward 1.0 programme. Brilliant initiative except the country's football governing body only last month signed a three year contract with Macron, a kit manufacturing company to supply the GFA a total of Five Thousand (5,000) pieces of footballs and One Thousand and Five Hundred (1,500) pieces of bibs every season.
Forget the FA's transgressions in respect of which company they signed the Macron deal with. The deal has been signed and 15,000 balls will be supplied over the next three years. So why is the GFA spending $100,000 on balls? Surely it cannot be for the love of balls. Former editor of Kotoko Express Jerome Otchere, a man with much bigger balls than what the FA will be spending money on put the question to Kurt Okraku and co via twitter. There's been no response but what will Ghana football do with 21,000 balls. I smell a new GFA initiative- one footballer, one ball.
Manchester United won their 22nd penalty of the season but the story of their elimination from the Uefa Europa will be for another day….or never. Enough of the last seven days, the next seven is sure to be…what's the word? Gripping.
See you soon.