The US state of Hawaii is bracing for a category five hurricane – the second ever in the state's history – which could make landfall later this week.
Lane was upgraded to a category five storm, the strongest on the scale, with sustained winds of 160mph (257km/h) on Tuesday.
Forecasts say the islands will face strong winds and surging waves even if the storm does not make landfall.
The last storm of this scale to come this close to Hawaii was John in 1994.
The National Weather Service (NWS) has issued a hurricane warning for the Big Island and a hurricane watch for the islands of Oahu, Maui, Molokai and Lanai as of Wednesday morning.
On the Big Island, the first in Hurricane Lane's path, damaging tropical storm and hurricane-force winds could pick up as soon as Wednesday afternoon or evening.
President Donald Trump urged those in the path of the storm to prepare and listen to local officials.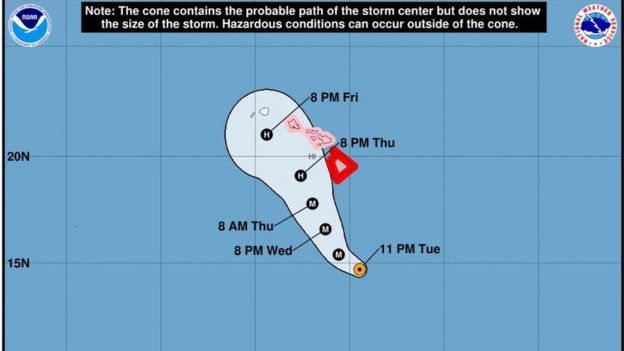 The Big Island (in red) is under a hurricane warning, while the other islands (in pink) are under a hurricane watch
Hurricane Lane currently has wind gusts of 195mph (313km/h).
Intense rain and thunderstorms are also expected to reach the Big Island this morning. Maui and Oahu will see similar conditions as early as Thursday.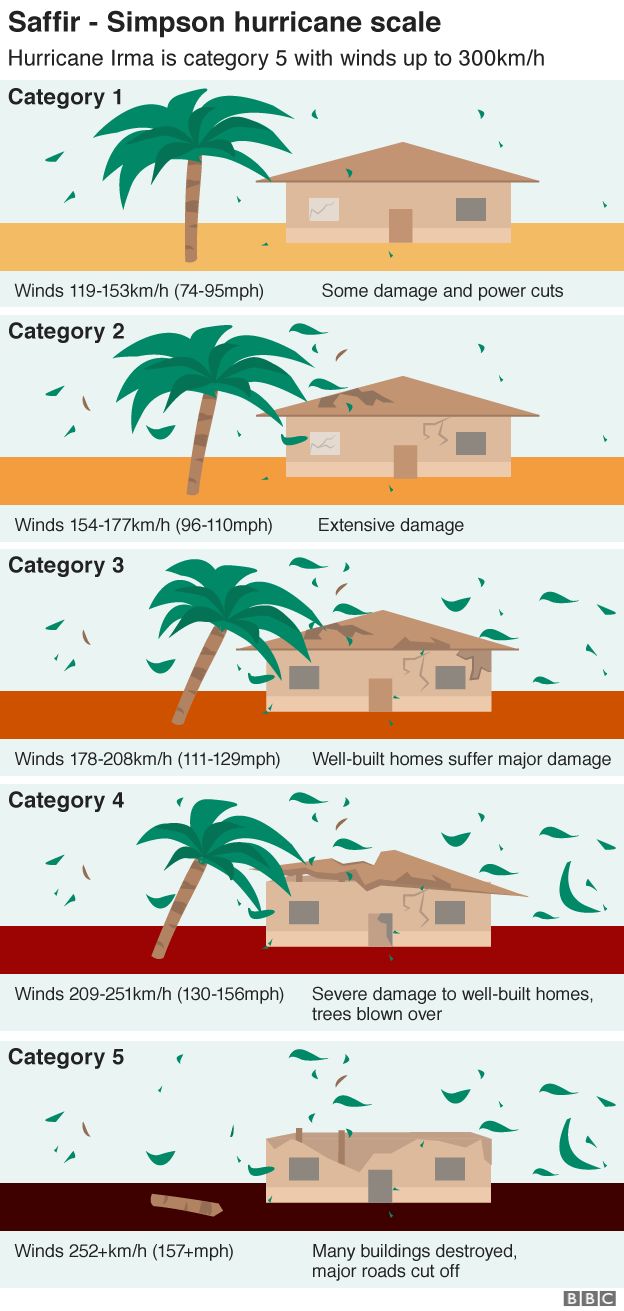 "Life threatening impacts are likely" to hit Hawaii, regardless of whether the storm makes landfall, NWS said in a statement.
Authorities warned residents of major flash flooding, landslides and mudslides, "even in areas not usually prone to flooding". Forecasts predict more than 20 inches (50cm) of rainfall.
Rip currents, rough surf, and waterspouts are also concerns along the coasts, particularly on the right side of the storm.
Governor David Ige signed an emergency proclamation ahead of Lane's onset, as "the danger of disaster is of such magnitude to warrant pre-emptive and protective action".
On Twitter, he urged residents to prepare for the storm and said he had "never seen such dramatic changes in the forecast track as with Hurricane Lane".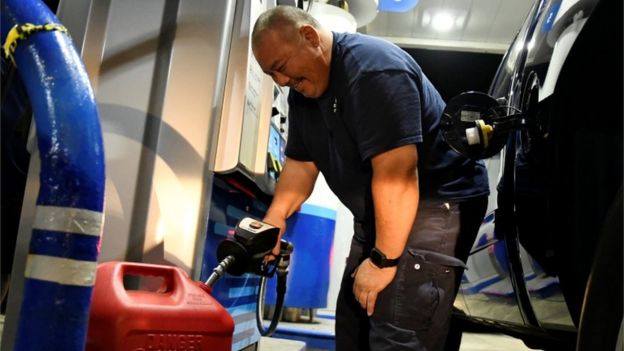 Honolulu residents stock up on gas and essentials as Hurricane Lane approaches
Lisa Bucci, a scientist with the National Oceanic and Atmospheric Administration (NOAA), shared a video of Hurricane Lane from a research plane, noting: "It's a strong and dangerous storm."
In the state's history, only two storms of this strength have ever come within 350 miles (563 km) of the islands, according to the NWS.
Hurricanes rarely hit the Central Pacific region, due to currents and water conditions. These storms have always been more common in the eastern US.
According to NWS, only four named storms have made landfall in Hawaii since 1959 – and only two of those storms were hurricanes.
Hawaii generally sees about one storm strong enough to earn a name pass within 60 miles of the islands every four years.
Earlier this month, Hurricane Hector, a category four storm, also passed by the islands, though it did not come as close as Lane.
The Aloha state has also seen serious volcanic eruptions this summer, with lava and ash spewing from the Kilauea volcano on the Big Island since May.