They work on some cocoa farms in far-flung communities in Ghana. These children have become a part of the labour force that produces the cocoa for your hot chocolate.
Some are trafficked and bought to endure long hours of drudgery. These children are mostly transported from the Northern part of the country and the Eastern Region.
Elluokrom is a small farming community in the Western North Region of Ghana. This village is nestled in a valley.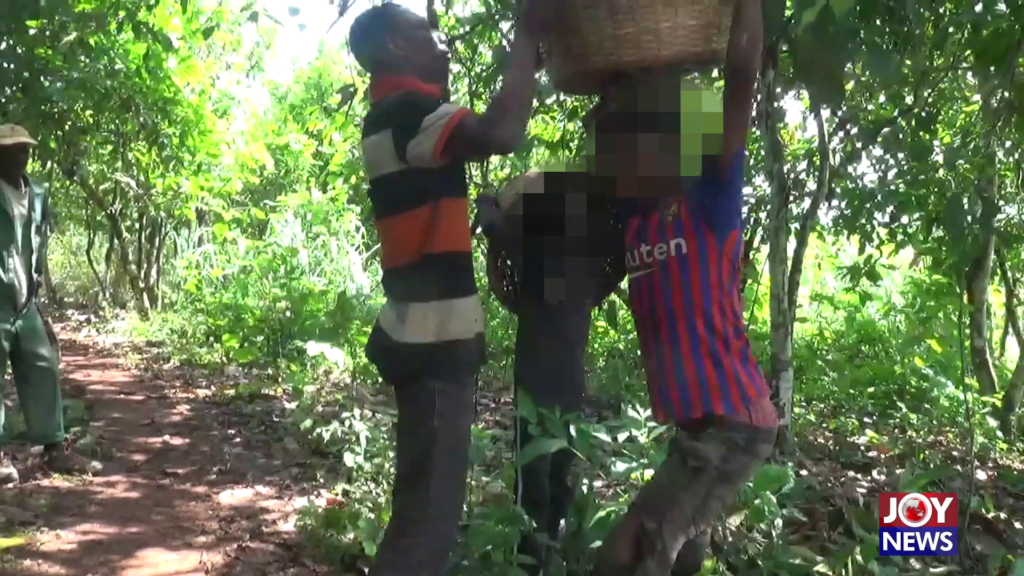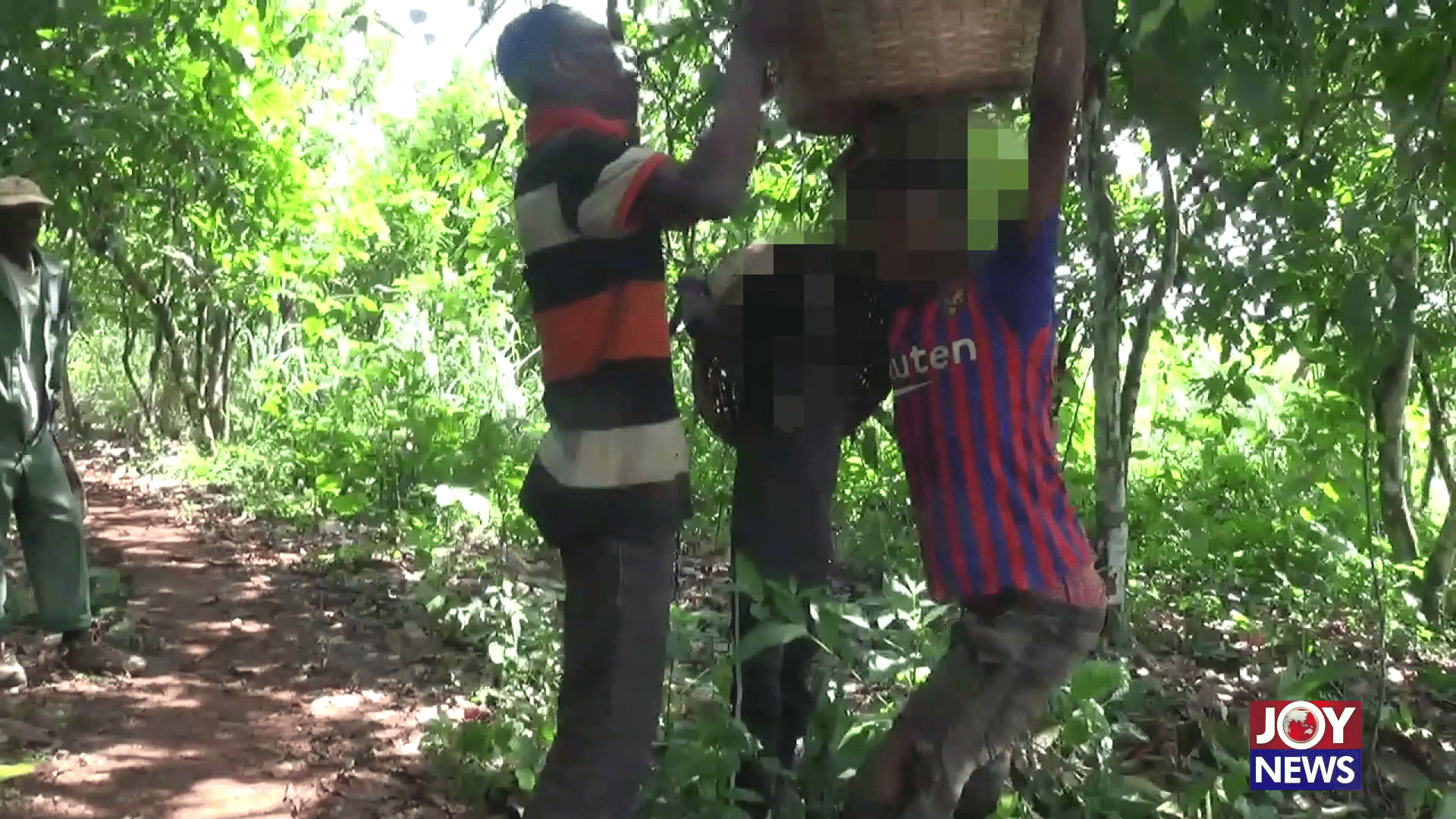 The lush green tropical forest scenery is very calming. But that's also a mask on the harsh reality of child labour and trafficking beneath the forest canopy.
This household hosts at least three children who have been trafficked for them. The children work during the morning on the farms and engage in petty trading in the afternoon.
Madam Vivian explained to investigative journalist Kwetey Nartey that they pay between GH₵800 to GH₵1,500 to use the children for a year.
"The cost of service of this child we're using is GH₵1,200. Even the cost of the girl is GH₵1,500. The older ones could cost you between GH₵1,500 to GH₵1,600," she added.
She indicated that they pay the monies to the parents of the children.
"We send the money after the time of service has elapsed. This child was given to us at GH₵1,200. But, the child's value will appreciate when we decide to renew the terms of the agreement," she said.
She further explained that they paid GH₵800 for a child brought to them, adding that the value of appreciation year after year. "This year, they demanded GH₵1,500 for her service," she claimed.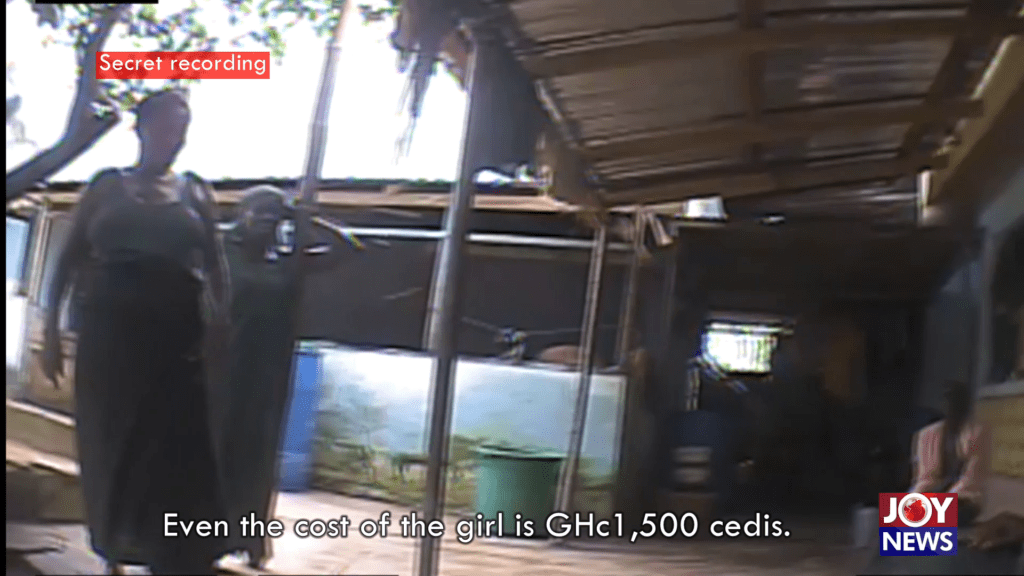 Under the law, children who are recruited, transported, or traded for labour exploitation are victims of human trafficking.
A person involved in any part of the transaction may be referred to as a trafficker, including one who profits from this practice by exploiting the victims.
One trafficker responsible for the presence of many of these children in Elluokrom is Musah Kwabena.
He says he entices the parents of these children to gain custody of them with the promise of exciting returns.
He has a network of traffickers who aid him in the Northern part of Ghana, specifically Chereponi. They help him identify families with vulnerable children.
He told the investigative team he would charge GH₵5000 to traffic at least 10 children for us.
Our cover story was that we needed children to work on cocoa farms urgently.
He revealed one of the approaches he adopts to outwit the security officers is to forge the national identity of these children.
These costs increase the number of years these children spend working on cocoa farms at Elluokrom.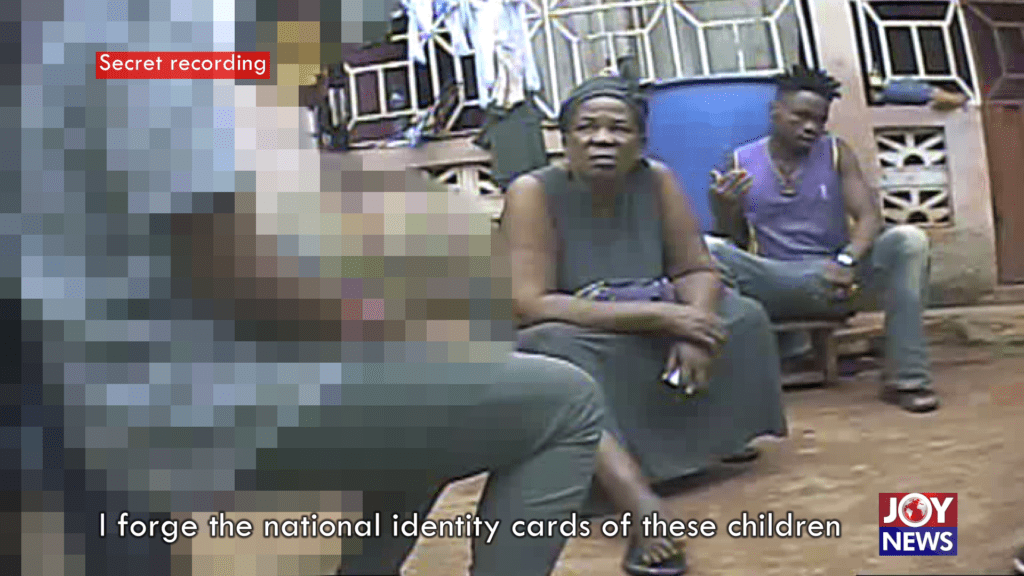 Rasheeda is 15 years. She was trafficked from Chereponi by Musah. She was in class six at a basic school in Chereponi.
Working long hours is not new to Rasheeda.
She says she has served four years already under her old master. She was just 11.
She is now serving for a GH₵1000, which will be paid to her parents. There is no intention of her master sending her to school.
Another girl, the investigative team, came across is Memuna.
She is serving four years for an amount of GH₵1,200. She was also brought from Chereponi by the same Musah.
When she isn't hawking in the scorching sun on the streets of Elluokrom, she assists with weeding on the cocoa farms.
She says her sibling is also serving with another master at Elluokrom. However, she is working for a lesser wage of GH₵1,000.
Another girl we met at Elluokrom is Yaa. She tells the investigative team she is 15-year-old.
She is picking cocoa pods on her master's farm as they harvest. She was also trafficked for a fee of Gh₵1,200.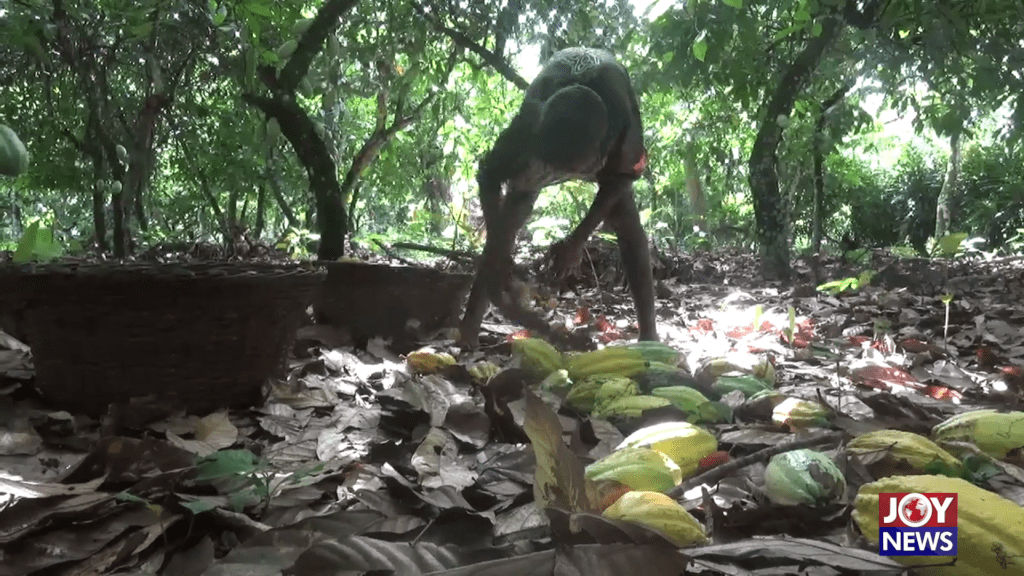 We managed to track Yaa's master, Augustina Armah, popularly known as Ajara.
She sees nothing wrong with children working. Ajara is not alone. Many people in this village see nothing wrong with the practice.
Ajara explains that it's expensive to engage farm labourers.
She admits she uses underage children on her other farms.
It costs GH₵1,500 even to engage such children, she tells the investigative team.
She says they prefer younger children because they are easy to control.
The older ones are difficult to control and engage in deviant behaviours.
She said now children are rare to come by because many of them are engaged in illegal mining in the Northern region.
The Dean of the Ghana School of Law at the University of Ghana, Prof. Raymond Atuguba, in his paper on human trafficking in Ghana profiling the victims, indicates that they can mostly be traced from the Northern, Upper East, Upper West, and Brong Ahafo Regions.
According to him, victims of trafficking have little or no formal education and come from low-income families.
Augustina Arkaah uses a 13-year-old girl trafficked to assist her cocoa farm. She disclosed that some traffickers from the Northern region were recently in the community with children seeking to trade them to farmers.
She says many of these trafficked children are exploited.
She paid GH₵1,000 for the 13-year old girl living with her.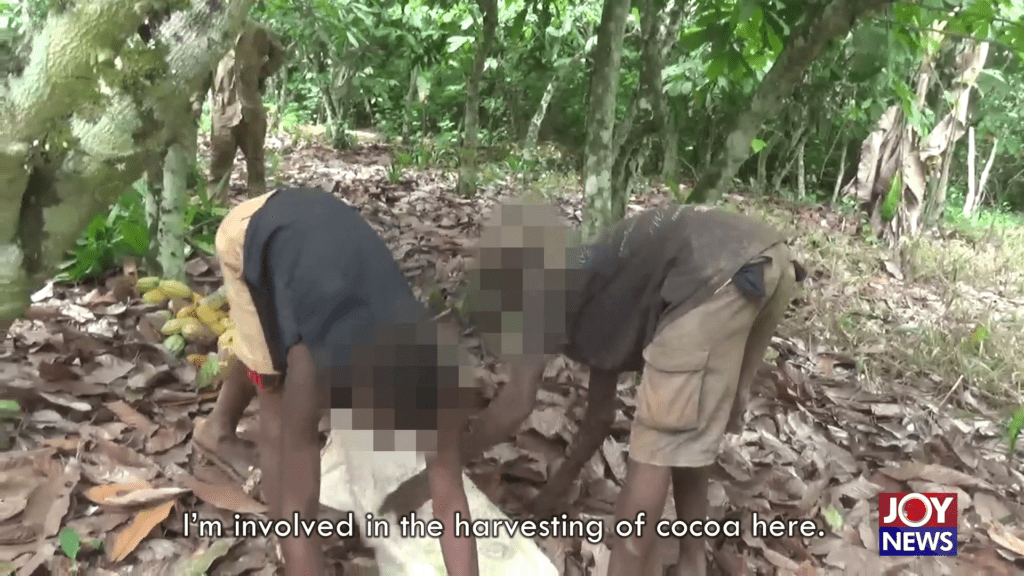 She says the children are very resourceful, depending on how they're treated.
But, not all masters treat these children well. This man in his mid-fifties said he physically assaults the girl living with him when she does not meet the target set for her.
According to a study by the African Center for Human Development in Accra, trafficked women and children are usually sold or delivered into servitude by their parents.
About 70 per cent of trafficked women and children are handed over to traffickers by their parents and relatives.
Only about 17.7 per cent of the victims seek out the traffickers themselves. And about 0.3 per cent of victims are kidnapped by traffickers.
Prof. Atuguba indicates that much of the recruitment of children is done with the consent of the parents, who are sometimes given an advance payment or promised regular stipends from the recruiter and are told the children will receive food, shelter, and often some form of training or education at their destination.
Dawuda Gambo is in his late thirties. He is responsible for many children trafficked from Upper East and is working on cocoa farms in the Eastern region.
He says his relatives assist in the recruitment of these children. Therefore, the investigative team requests his assistance to connect us to these relatives.
Gamboh's relatives assure the team that they can get us, children, to work on cocoa farms.
It will cost GH₵70 per day for each child we get. In some cases, what is spent to acquire the services of a child is less than the price of a bag of cocoa.
Poverty and poor enforcement of the anti-human trafficking law seem to be the underlying cause behind why these parents give away their children.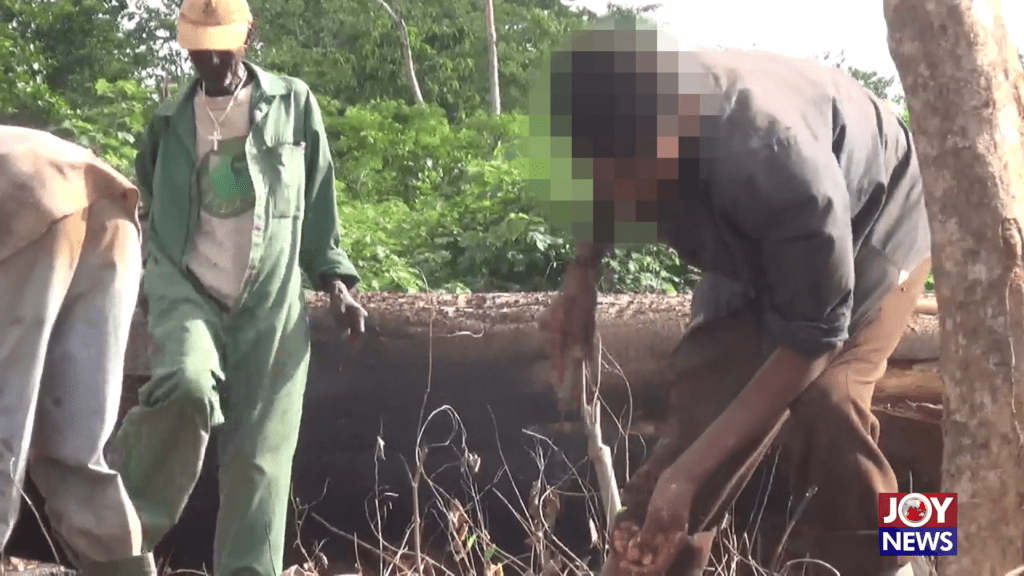 Joshua was 11 years old when his parents sent him away to work on his master's cocoa farms in the Eastern region village of Yorkornor.
But, in all my encounters with these trafficked children, the story of eight-year-old Paa Kow has left a deep emotional scar on my mind.
I met him at Bob, a community in the Eastern region.
The Ghana Cocobod says its unaware children are trafficked to work on cocoa farms. It, however, considers the matter seriously and would be investigating the matter.
Tepa is the district capital of the Ahafo Ano North. It's almost an hour's drive from the Ashanti regional capital, Kumasi.
A gently rolling landscape of thick forest and green vegetation greets me as I drive into the community.
The mainstay of the people here is farming, petty trading, and fishing in small rivers.
It's a beautiful scene as I journey to Tepa's notable towns of Manfo, Akurakese, and Konkori, but this imagery has a dark side.
The use of children for cocoa farming.
I meet Kwesi sweating under a basket full of cocoa following his master.
He is 13 years old. He was in class three when his education was cut short to begin his labor on the cocoa farm at Konkoli.
He is wearing loosely flying shorts and a black T-shirt. He is barefooted.
Oblivious of the thorns and overgrown weeds, he follows his master, collecting cocoa pods to fill their basket at the expense of being in school.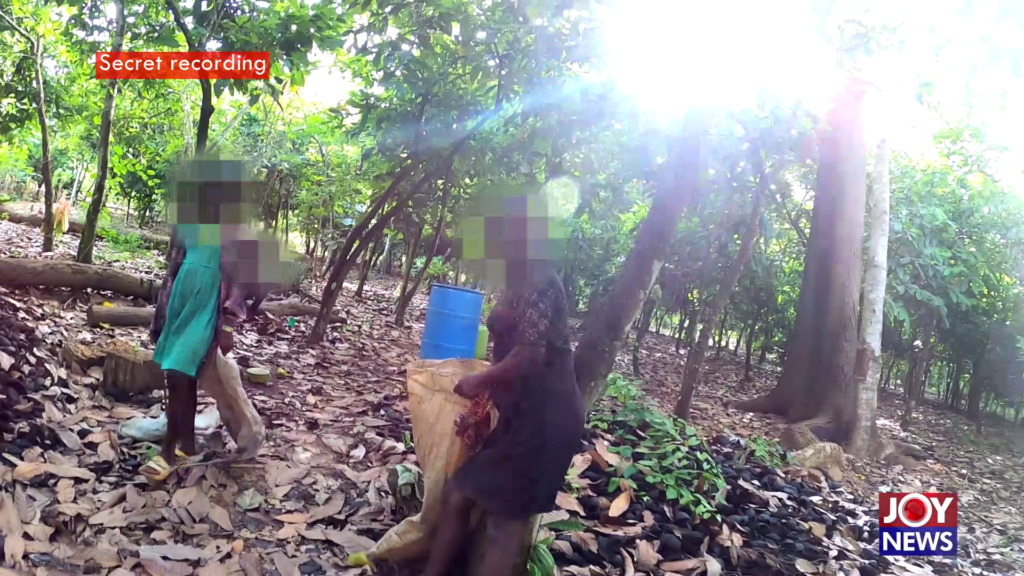 Sadly, he has no idea of what he intends to be in the future; for now, whatever aspirations he holds are tied to the wishes of his master.
Kwesi lives with 43-year-old Sayuba Yakubu. But, for the support of the little boy, he would have employed the service of a labourer, which costs GH₵30 a day.
He says he pays Kwesi's parents GH₵100 periodically.
Kwesi's place should be in an environment that offers limitless opportunities to explore his talents. But, the farm has replaced that opportunity.
Another boy I spotted at Manfo harvesting cocoa is 16-year-old Moses.
He is wearing a jersey with the name of Argentine playmaker Messi inscribed on it.
He should have been playing football, possibly with friends at Chereponi on a school field, but he is here harvesting cocoa.
Part of his job is to assist with labour on the farms.
He was in class five when he stopped school to become a farmhand. But, like many children who work on cocoa farms, this opportunity to go to school is lost. Instead, he is now expected to serve his master for several years on this farm.
His master's name is Musah Yakubu.
Fifteen-year-old Atta was brought from Garu Tempane in the Upper East region to work on the cocoa farm for his master, Kojo Grumah.
Although Atta is supposed to be in school, he is busily planting cocoa seedlings. Mr Grumah tells me the 15-year-old boy was given to him to mentor.
Atta's parents do not get regular payment, but the agreement is the family would receive financial support from Mr Grumah whenever they are in need.
That's the compensation for the long hours the 15-year-old invests in the farm.
That's also the plight of 12-year-old Malik, whose mum gave him away because the community where they lived questioned why the boy wasn't in school.
Malik is now at Konkori, tending the livestock of Sulemana Abubakari.
When the boy isn't in the bushes with the sheep, he is helping his master on the cocoa farm picking pods.
The education of many children has been cut short. This situation shouldn't be permitted in cocoa plantations.
It's not a case of non-existent laws or structures to deal with human trafficking. But, from the evidence gathered, it appears more needs to be done to protect the children in Ghana's cocoa farms.