For Ababio, it was a pregnant package of pandemics that was triggered by the first two cases of the novel coronavirus. He was part of a band where he made a decent living until Covid-19 hit.
A year down the line, the 55-year-old has been left with no option but to look internally if he is to find a ray of hope in an attempt to make the best out of 2021.
His stage name Back Again was coined out of his birth name, John Boafo Ababio. 'Ababio' is an Akan name which translates into a returnee or reincarnated one – with traditional undertones signifying a child that keeps coming back, hence, his decision to settle for the rather catchy English connotation, 'Back Again'.
"I was born with music, right from my youth days, I have always been a noisy person," he said.
I spotted him alone on a bench at the La Beach in Accra, tuning his guitar chords with the help of an application on his android phone, placed on a table off of which revelers would be drinking if the world were in normal times.
While listening closely to the tune that best suits his song which he was about to rehearse, a waiter shouted "Back Again!" through the fences of one of the bars not too far from us.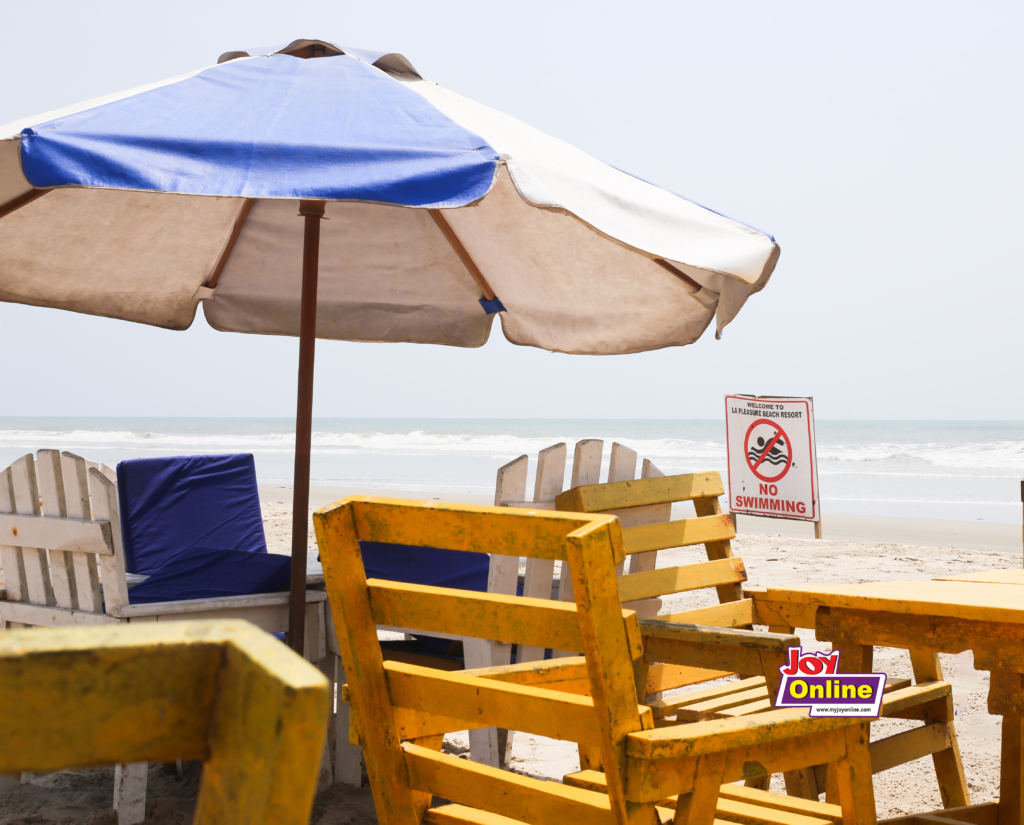 "Master wants you to play for his guests," the waiter added pointing towards the guests' direction.
Someone had made a request for him to perform at a small fee. That has been his source of survival for the past few months, his way of bouncing back from the harsh conditions he was subjected to as a striving artiste in a band that the pandemic has dissolved.
"It wasn't easy," he told me with a smirk on his face. "I depended on my savings and some friends as well. I must be grateful to them."
Mid-way through the conversation he got up, adjusted his grey hat and pulled his acoustic guitar strap and off he went to give his two-man audience a good time with renditions from Bob Marley, Culture and other Reggae greats.
But he still has a vision to spread his message across the world regardless.
At the heart of his chosen path is his love for arts despite the monetary challenges and the Covid-19 pandemic.
Ababio says he will never be swayed by these impediments. He told me "I will be unfaithful and ungrateful to God who gave me the talent."
"Irrespective of the distance I have to complete charley, I have to reach there. Why should I drop my talent? I would be the greatest coward," he burst out.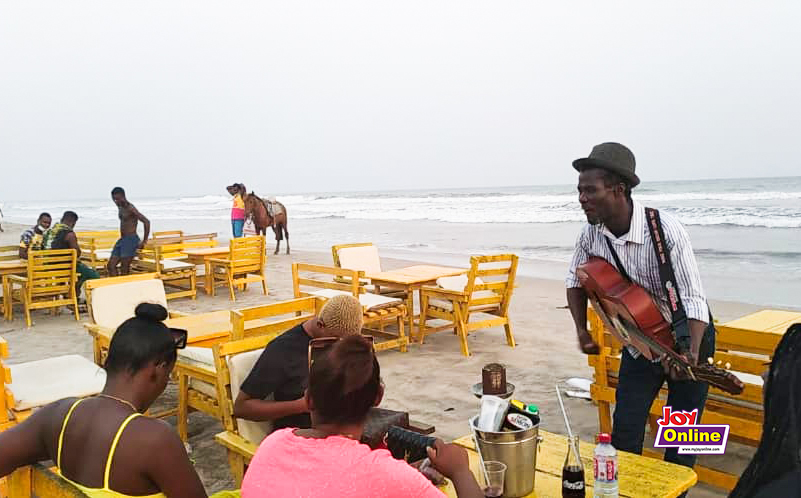 According to the quinquagenarian, he sees himself as a star-in-waiting whose message of unity will take the world by storm in a matter of time.
"The vision is to give my message out. I'm rasta – and every rasta has one mission, fulfill the book. You know Bob Marley says we've got to fulfill the book. The emancipation and liberation of our people."
His audience could've been more – so would his income – but for the restriction accompanying the novel coronavirus by President Akufo-Addo as part of measures to slow the infection as the country experiences a second wave of the virus.
For now, beaches, pubs and other recreational centres that involve public gatherings remain closed.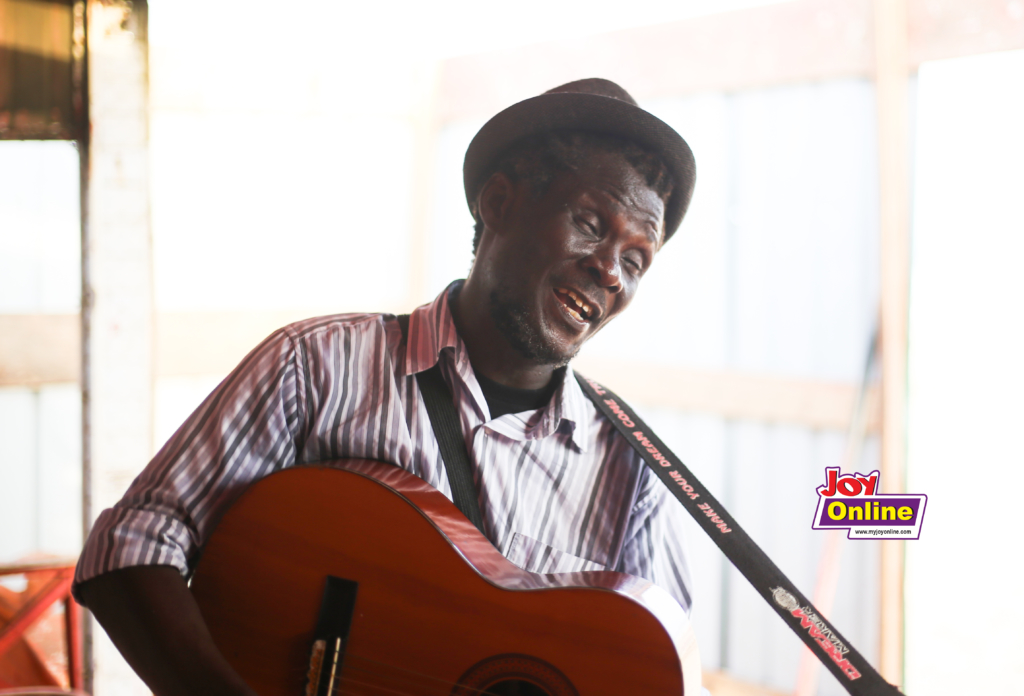 So every now and then, you'll find him at the beach seeking to play commercially for the few who show up in defiance of the President's executive order.
The 55-year-old sees this as an opportunity that must not be squandered.
"Now you cannot go out and play in a band and I am here, I have my guitar at the beach and of course a friend calls me that there are some people who need me to play… I go play for them and I get something small," he says.
He disclosed that he has a number of songs recorded and set for release but has been stifled due to financial constraints.
"You have to hustle and raise the money to pay for studio so it's a one-man job," he explained while acknowledging that it takes time.
One intriguing thing about Back Again was his ability to string words while effortlessly infusing quotes from seasoned Reggae legends.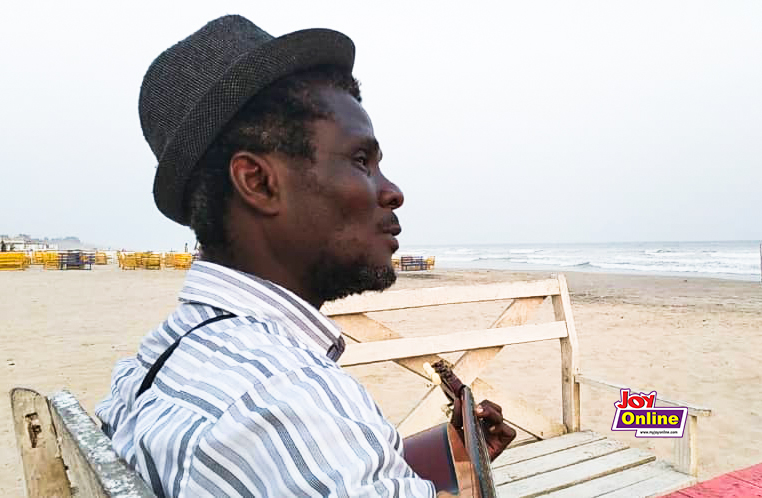 In one instance, I inquired about what makes him feel the time is right for this re-education that he talks about and his answer was plain; "He who feels it knows it" – a reference to the popular Bob Marley & The Wailers's song, Who Feels It (Knows it).
In a country with a national retirement age of 60, coupled with a cursory period of between 20 and 35 years as the average peak season for local musicians, Ababio may be well into the retirement stages for his profession.
But as you may have already guessed by now, he has no plans of dropping his passion anytime soon.
With the anticipation of vaccines and scientists working around the clock to find a cure, Back Again can only hope for the world's return to normalcy to essentially help his dream inch closer to fruition.
"We're all envisioning post-Covid whereby things will normalise. Then we can start doing music and then make people happy through our songs.
For now, he continues to be the life of the socially-distanced party for the pockets of revelers who dare to show up at Akufo-Addo's closed beaches – treating them to the melodies of a good life, one string at a time.
DISCLAIMER: The Views, Comments, Opinions, Contributions and Statements made by Readers and Contributors on this platform do not necessarily represent the views or policy of Multimedia Group Limited.