Deputy Rector of the Ghana Institute of Journalism (GIJ), Prof. Eric Opoku Mensah has iterated the importance of Media and Information Literacy (MIL) in democratic participation.
He stated that giving more people in the media education about the effects of disinformation is crucial especially at a time when the nation draws closer to its general elections scheduled for December 7.
Prof Opoku Mensah noted that this is for the benefit of numerous citizens who source their information from the mass media including social media to inform their voting decisions.
This was contained in his address at a workshop on Media and Information Literacy (MIL) organized by GIJ in collaboration with DW Akademie, United Nations Educational, Scientific and Cultural Organization (UNESCO) and a not-for-profit organization, Penplusbytes.
"The effects of disinformation are dangerous because these campaigns detract people from critical issues, have the potential to cause conflict and they ultimately undermine our cherished democracy society. Solving the problem of disinformation is complex and it is people like you who can help in providing a solution to canker," he noted.
The Deputy Rector urged the trainees to use the skills they are taught during the workshop as tools to fight the spread of wrong information in the media.
He said: "Your training today will be one of the interventions towards improving media and information literacy to the public. I strongly believe that if we work together, we can improve quality and civil discourse and weaken the environment that allows fake news and disinformation to spread."
The training forms part of activities marking the 2020 Media and Information Literacy week.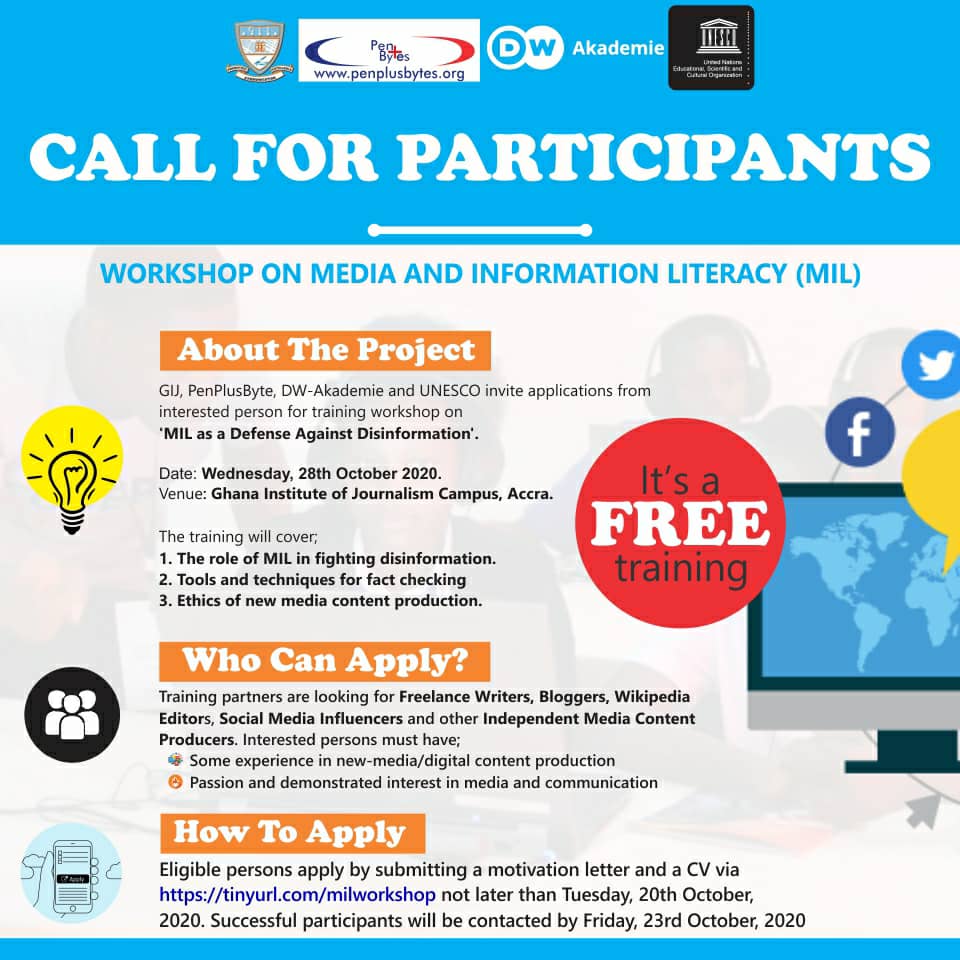 During these sessions, 30 facilitators of the non-formal education program and 30 bloggers will be trained.
Participants are expected to acquire accurate knowledge of the following;
The role of MIL in fighting discrimination.
Tools and techniques for fact checking.
Ethics of new media content production.
The free two-day workshop ends on Wednesday, October 28, 2020.
Individuals taking part in this training include; Freelance Writers, Bloggers, Wikipedia Editors and Social Media Content Producers.
Each of them will be awarded certificates of participation by the training partners.
DISCLAIMER: The Views, Comments, Opinions, Contributions and Statements made by Readers and Contributors on this platform do not necessarily represent the views or policy of Multimedia Group Limited.