The Police Service has arrested four residents in Odododiodoo for leading a protest in the constituency over the alleged removal of Chief Executive of the Accra Metropolitan Assembly (AMA), Mohammed Nii Adjei Sowah from office.
The four; Salaami Bukari, 36, Daniel Opare Oman, 43, Edward Holm, 38, and Daniel Clottey, 41, according to a press statement signed by Assistant Commissioner of Police, Kwesi Ofori, blocked a section of the road in Jamestown by burning tyres on Saturday.
Their actions, the police said, created fear and disorder in the constituency. The four were apprehended few hours after the protest.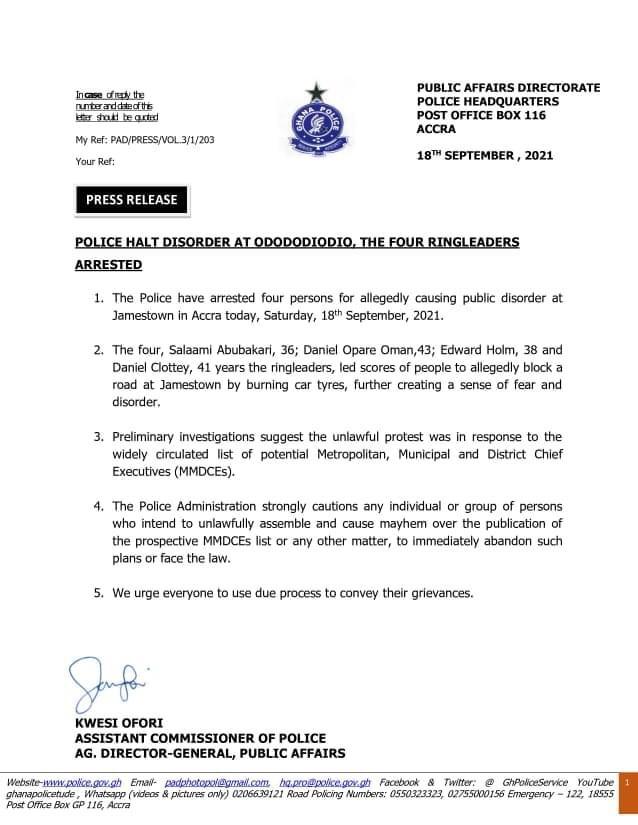 On the matter, Mohammed Nii Adjei Sowah, in a press release sighted by JoyNews, distanced himself from the protests happening in some parts of the city to oppose the alleged selection of a new mayor.
"It has come to my attention that certain individuals are demonstrating in the Odododiodio Constituency in anticipation of the MMDCEs announcement by the Minister of Local Government tomorrow. I unequivocally denounce any form of disturbances in my name."
He further emphasised that "As responsible citizens, we should recognize the President's authority to nominate individuals of his choice to promote his agenda and it's our duty to support the appointees to succeed."
Meanwhile, the Police Service has sent a word of caution to all persons and groups who intend to embark on unlawful gathering or assembly to reconsider their decision and forfeit such activities.
Individuals who fail to abandon such plans to cause mayhem over the alleged publication of prospective MMDCEs will face the law.
"We urge everyone to use due process to convey their grievances," the Service admonished.