Abdul Malik Kweku Baako says John Mahama's running mate will most likely be criticised for her performance and capabilities as a minister of state than while she was University of Cape Coast Vice-Chancellor.
The veteran journalist said there might not be much to unearth in Prof Naana Jane Opoku-Agyemang's performance as an established educationist, however, same cannot be said when her performance as a Minister is censured.
"What is her track record in government not in academia? Some will do that analysis. In academia I don't think there will be some real challenge there in my candid opinion," he said.
Speaking on JoyNews' Newsfile Saturday, Mr Baako stated that Prof. Agyemang's role as UCC VC could not be compared to her role as Minister of Education due to the large scale of the latter.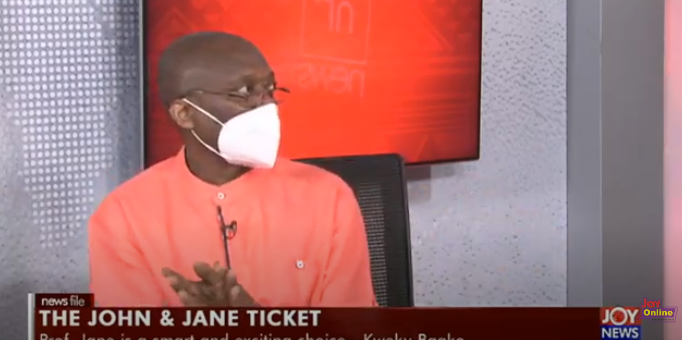 "Because that is very critical and important. We're talking governance of the nation, we're not just talking about managing a university, however important and big it is. Her performance in government as Education Minister is something you can't ignore or underestimate.
"I've even conceded that in terms of academia, I think she's really solid and I don't see much of emphasis there unless people go digging but for what? She's clearly an established professional when it comes to academia and education but when it comes to as Minister of Education; I'm saying people will scrutinize it," he said.
He explained that, her critics will possibly analyse her role and performance as an Education Minister taking into consideration her responses during her parliamentary vetting and how she was able to translate that into reality after she was given the go ahead.
"See, one, the process she went through when she appeared before the parliamentary appointments committee and the answers that she provided for some questions that she was asked is a legitimate target to scrutinise whether when she was in office she went in line with those things."
He also stated that her notes, which she handed over to the incumbent Minister detailing her works in office, will also, face some scrutiny, as that will determine how efficiently she was able to manage the public office.
"Two for instance this is her handing over notes. This handing over notes which is a constitutional requirement to be presented during a transition is also available for scrutiny. That goes with her performance in governemnt.
"This is her story, it will be checked what she's put in the document and what she said at vetting and the output. It's legitimate there's nothing wrong with that and that's the point I'm making," he said, August 1.