First, some comforting reassurance to all panicked late 20-somethings fighting off enough unchecked lists already. This isn't really a checklist, and 30 is really just a number. So if you're 72 and don't feel a day over 29 ½, the following naturally applies to you as well.
Just two suggestions if you haven't done some version of these open-ended "must do" experiences before you turn "30."
1. Approach the following with a healthy dose of imagination, caution and wild abandon.
1. Travel solo
Travel is a social endeavor. So why do it alone? For that very reason.
What greater incentive to meet new people, hang with locals, compare notes with fellow travelers and turn a world full of strangers into new friends when the alternative is to retreat to your Rick Steve's guidebook or converse with the empty train seat beside you?
Traveling alone is courageous. It's also convenient. Stop, go, stay, leave without a group vote. It's comfortable -- guess who gets the better seat? And uncomfortable -- guess who has to leave their safe place and make it happen?
2. Climb a mountain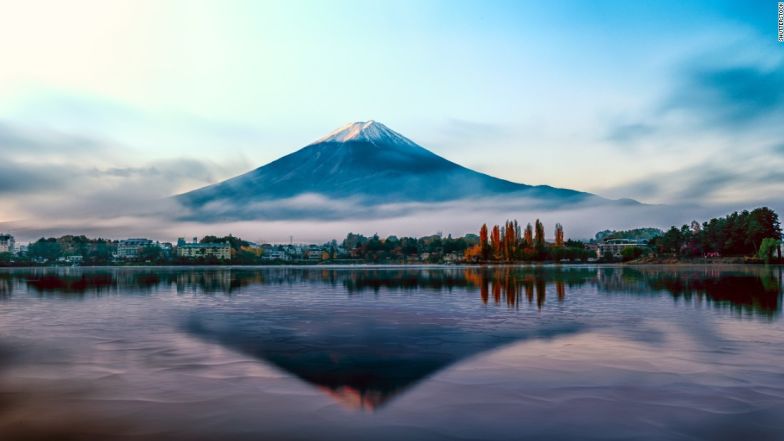 Yes, you'll probably need to be in decent shape.
No, you won't need supplemental oxygen, a small fortune, a team of sherpas and a revised life insurance policy to plant your flag on your own doable version of Everest.
Mount Kilimanjaro (Africa's highest peak), Mount Fuji (Japan's), Mount Elbrus (Europe's), Mount Whitney (U.S. Lower 48's), Pico de Orizaba (Mexico's) and scores of other superlative walk-up mountains around the globe are sufficiently challenging and bucket-listable for the rest of us.
So is any captivating, less-famous peak with a safe, well-maintained trail that leads to the very same place: The top of the world.
3. Take a classic train ride
Carving its own path between giant peaks. Through blasted-out tunnels. Across trestled rivers. Rolling, mile after mile, without the distraction of a steering wheel or "mild turbulence" warnings from the captain.
In a world possessed by planes and automobiles, there's still nothing quite like a great train ride.
Whether it's in a Great Dome Car on Amtrak's Adirondack route during the height of fall foliage season in Upstate New York aboard Mexico's spirited Tequila Express from Guadalajara to Amititán or through eight time zones on the Trans-Siberian Express, no other conveyance ties us to our planet's myriad shades and sheer size like the iron horse.
4. Browse through a market
You can browse for fish, fabrics and figurines anywhere.
Entering the souk-maze of Marrakech, Istanbul's Grand Bazaar, Cairo's Khan el-Khalili or Old Delhi's Chandni Chowk isn't ultimately about any of those things. It's about people. And all the colorful chaos that comes with them in places like this. Some other places to think about:
-- Thailand's floating markets.
-- Holland's flower markets.
-- Tokyo's tuna markets.
-- Argentina's antiques markets.
-- Pasadena's Sunday flea market at the Rose Bowl. The list can go on and on.
Choose your own random human encounters and sensory overload. Then go ahead, wear the invisible tourist badge and acquire lots of stuff you don't really need. No beige pants and money belt required.
5. Trek an epic trail
Fastening your waist belt. Snapping your sternum strap. Taking a deep breath of real air at the trailhead.
Performing your greatest disappearing act for untold days or weeks. Nothing hanging over you but sun, moon, stars, spectacular scenery and spare packs of dried ramen.
For some, the voluntary act of hoofing across miles of pristine backcountry in the vaguely present company of bears, javelinas and the odd roaming mountain lion is a no-go. For others, it's the long-awaited walk of a lifetime. If you're in the latter camp, the first challenge is choosing the perfect walkabout from a world's supply of epic options, near and far.
They range from Peru's famous Inca Trail with its Machu Picchu payoff to California's John Muir Trail, featuring over 210 miles of prime Sierra Nevada mountain backcountry between Yosemite and Sequoia National Parks.
You can walk across an entire country on England's C2C Trail (190 rugged green miles from Irish Sea to North Sea) or whet the knee joints along New Zealand's famously stunning, 33.2-mile Milford Track.
Wherever you go, in no time it all starts to make perfect, life-affirming, shoulder-incinerating sense.
6. Visit where your great-great-great grandparents grew up
If your family has lived in the same house for the past six generations, you're done. If you have a coat of arms traceable to a village on the Isle of Man, you're halfway there.
If you haven't a clue where any of your umpteen great-great-great-grandparents grew up, you have some adventurous charting to do. And, no, "Somewhere near Brazil" or "Basically Central Asia" doesn't count.
C'mon people. These are our hallowed forebears. They were around before "Moby Dick" was published. They bequeathed their nose to you and their facility with numbers to your future twin great-granddaughters.
The least we can all do is adventurously traipse to those arbitrary coordinates -- Minsk, Famagusta -- where you never expected to say "these are my roots."
7. Learn a language
Why bother when you failed 11th-grade Tagalog, you're a gifted pantomime artist and you'll only be going to Manila for a week? The excuses for not picking up a new language grow exponentially as we do. And so do the reasons for taking a little time to master (or just muster) a few useful (or charmingly useless) phrases in some other tongue.
Like doing crosswords, learning a new language is good for your brain (they say). More importantly, dour-faced, tourist-fatigued locals everywhere may even smile for your honest efforts.
8. Watch a game in a famous stadium
See the Sox at Fenway in Boston, Major League Baseball's oldest stadium (b. 1912). FC Barcelona at Camp Nou, Europe's largest stadium (99,354 people). The Calgary Flames at the Scotiabank Saddledome, western Canada's greatest homage to hockey and giant saddles.
There are so many possibilities: Wembley, Wrigley, Estadio Azteca, Kaohsiung National, Melbourne Cricket Ground, Sapporo Dome and on and on. Even if you couldn't care less who's playing, winning or which sport it is, half the fun is high-fiving frenzied strangers who do.
9. Change the world -- volunteer abroad
There's a special place (several, actually) for free-spirited travelers who place signing on for a stretch of international volunteer work above, say, running with the bulls. The list of charitable organizations allowing you to lend a hand to a world's supply of worthy causes is long. And the geographic possibilities are just as wide.
Options range from staple orgs such as Habitat for Humanity operating in all 50 U.S. states and nearly 100 other countries, to the Peace Corps, which offers some shorter programs than the usual two-year stint.
Volunteering with a solid program won't just change your life but other lives, too.
10. Cross a border on skis, bicycles, zip line, etc.
Any traveler can enter another country through an airport, train station or bus terminal. Much less perfunctory: crossing a border practically any other way:
-- On skis with an international pass between Zermatt, Switzerland, and Cervinia, Italy, under the crest of the Matterhorn.
-- Or zip line between Andalucia, Spain, and Algarve, Portugal.
-- In a water taxi from southern Belize to coastal Guatemala.
-- Or a bicycle between Glacier National Park and southern Alberta.
Remember your passport just to keep things friendly and fun.
11. Stay at a hostel and make some friends
The mattresses aren't Four Seasons quality, and there will be no Aveda products in the communal bathroom. But there are other perks at the cheapest communal flophouse: a complimentary set of new travel buds you'd never meet at some sterile hotel.
Ever since 1912, when a German schoolteacher hatched a plan to create the first youth hostel (originally for school kids to have a clean, affordable, communal place to stay on class trips), the concept has evolved into the backpacking backbone for "youth" of all ages.
Today, Hostelling International tallies thousands of official HI hostels in more than 80 countries, and the industry has spawned many more independent joints wherever backpackers congregate -- plus new terms such as boutique hostel, 5-star hostel and mobile hostel.
The best amenity at all of them: A comforting sense that the planet isn't that lonely after all.
12. Take a cooking course abroad
Give a traveler a Sichuan catfish and you feed her for a day.
Teach her how to make fresh-made pasta in Italy, perfect dumplings in Shanghai, beef-and-Guinness casserole in Ireland, or authentic southern barbecue in North Carolina at a fun, informal cooking class, and she has several to-go boxes.
Plus an exotic, hands-on culinary experience and some badly needed new recipes to bring home.
13. See amazing animals in the wild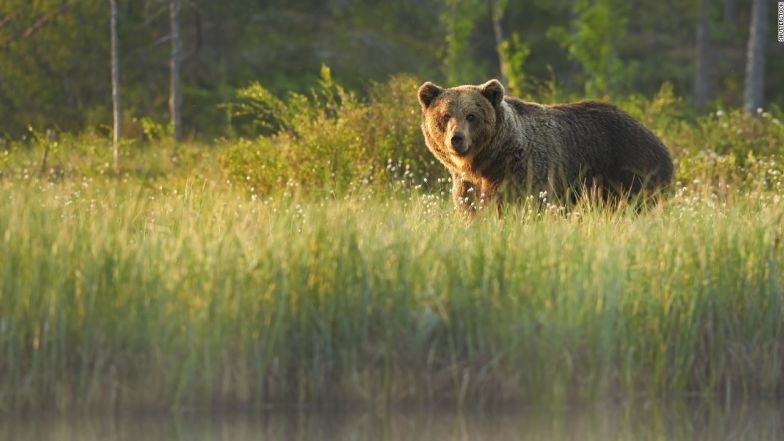 Head to Brazil's Pantanal region -- one of the world's largest inland wetlands and last strongholds of the largest cat in the Americas -- and join one of numerous wildlife outfitters who'll happily help you find wild jaguars. And there are bonus animals: hyacinth macaws, capybaras and caimans lounging in their natural habitat.
Same goes for grizzlies and bighorn sheep in Glacier National Park. Royal Bengal tigers and sloth bears in India's Kanha National Park. Chimps and gorillas in Uganda. Lemurs in Madagascar.
Close encounters with wild, often endangered animals in their actual homes imprints on more than just our zoom lens. It serves that greater, crucial reminder -- that we're all in this together.
14. Sample a wine country that's not Napa or Burgundy
Why voyage to some distant town hiding on the bottom of Africa, the far side of the Adriatic, or the foot of the Andes and beyond to drink wine that will often enough gladly come to you? For the same reason we wine hop through those must-sip spots in California and France.
It's not just about what's in the glass, but what's swirling out there all around you. Sometimes way out there. Mendoza, Argentina. Dubrovnik, Croatia. Walla Walla, Washington. Cape Town.
15. Have a one-of-a-kind aquatic experience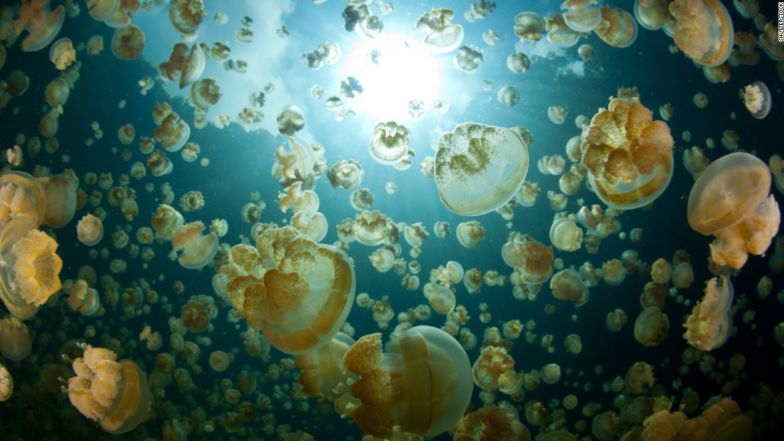 Water. It's everywhere. Covering 71% of the planet. Comprising at least 60% of our bodies. Supporting an entire whale-watching industry. Is there anything we can say about water that would further enhance your appreciation of this stuff?
Possibly, if you haven't had a truly off-the-deep-end waterborne experience yet.
Like, for example, peacefully and painlessly basking in a lake full of jellyfish in the Rock Islands of Palau. This is where millions of benign Mastigias papua etpisoni ("golden jellyfish") draw thousands of day-trip visitors to Jellyfish Lake from nearby Koror.
Or snorkeling with salmon on Vancouver Island's Campbell River where visitors can float past schools of pink, coho, Chinook and sockeye salmon making their amazing journey upstream during the heart of the salmon run.
16. Go to a wild and crazy party or festival
Just because you're only young once, it doesn't mean you have to experience Burning Man, attend a Full Moon Party or get pummeled with ripe tomatoes at late August's La Tomatina Festival in Buñol, Spain. But in a world full of one-of-a-kind life celebrations, there's a perfect one out there for each and every one of us.
Best done before you risk running into your kids at one of them.
17. Be a game show contestant
Many a game show has come and go
---