Education Minister, Dr Mathew Opoku-Prempeh says some unscrupulous people were contracted to cause confusion at the Black Star Square, following a process to secure placements for Junior High School (JHS) graduates.
Describing the incident as unfortunate, Dr Opoku-Prempeh noted that many of those who stormed the venue, were bused there to cause confusion.
He said the aim of such people is just to make the Akufo-Addo government unpopular as far as government's free Senior High School (SHS) policy is concerned.
"Some people are bent on destroying government's free SHS policy but it won't work. Unscrupulous selfish persons wanting to drag the name of the government in the mud are behind chaos at Independence [Black Star] Square," he told Osei Bonsu (O.B), host of Ekosii Sen on Asempa FM, Tuesday.
The Education Minister was speaking in reaction to the mayhem that characterised the placement system.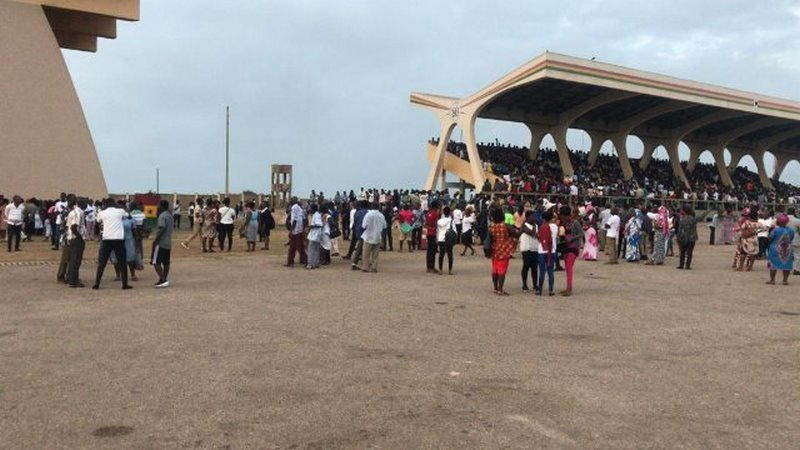 Some parents and pupils at the Independence Square
"People are jealous we are giving the poor education. We shall continue to serve the masses," he added.
The Computerised School Selection and Placement System (CSSPS) matches JHS graduates with SHSs they wish to attend based on criteria.
This, however, has been dotted with challenges with allegations of inappropriate placements.
However, 'NAPO', as he is affectionately called, said the CSSPS has had about 85 percent success rate this year, hence, it has been well managed.
He wondered why a process such as the CSSPS, which was introduced by the government 2005, has been hit with chaos when it has been smooth since its inception.
---