Boris Johnson flatly dismissed the calls for an official inquiry into Dominic Cummings today as he was grilled by senior MPs, saying the outcry was just a 'political ding dong'.
The PM said he 'totally understood public indignation' about the situation, but insisted some of the allegations about his chief aide were 'not correct' and urged people to 'move on'.
Pushed on whether the Cabinet Secretary should carry out a formal investigation, Mr Johnson said there had been plenty of 'autobiography' from Mr Cummings and it would not be a 'good use of official time' as everyone was working 'flat out' on the coronavirus response.
The comments came as Mr Johnson appeared before the Liaison Committee this afternoon, with the row over Mr Cummings' 260-mile trip to Durham during lockdown still threatening to tear the Tories to pieces.
The party's poll lead has been slashed by nine points in a week – thought to be the biggest drop in a decade. And despite the desperate plea for the focus to shift on to other subjects, nearly two-third say the story remains important.
The Tory civil war has been escalating again, with an MP accusing his colleagues of 'declaring no confidence' in the PM.
Devizes MP Danny Kruger said 'one wing' of the party was 'going bonkers' and comparing the alleged lockdown breach to 'the invasion of Suez'.
But in a sign of the depth of the devastating rift, former health secretary Jeremy Hunt has insisted Mr Cummings 'clearly' did break the rules.
A private conference call with government whips and the new intake of Conservative MPs today appears to have smoothed over matters somewhat, with no more outright calls for the adviser to quit.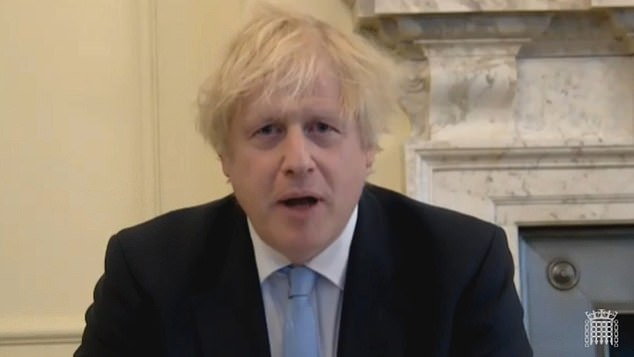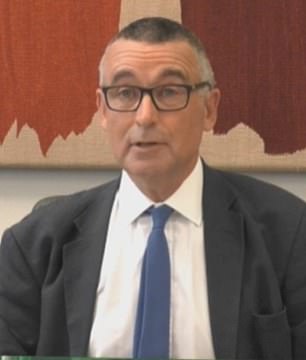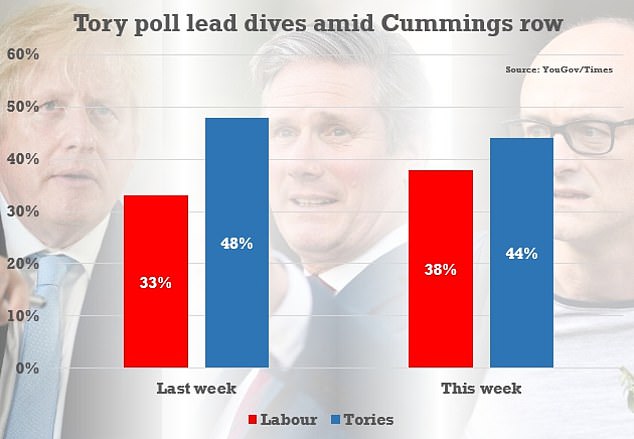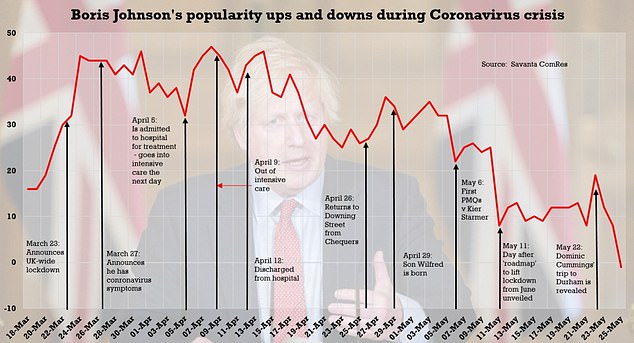 Amid fierce questioning from MPs at the committee hearing this afternoon, Mr Johnson was asked whether the government's 'moral authority' had been compromised.
'This has really been going on for several days now – in the media at least,' he said.
'I, of course, am deeply sorry for all the hurt and pain and anxiety that people have been going through throughout this period – this country has been going through a frankly most difficult time.
'We are asking people to do quite exceptionally tough things, separating them from their families.'
Mr Johnson said he would not be adding to his previous comments on Mr Cummings and said the public wanted politicians to focus on 'uniting our message' and 'focusing on their needs'.
Northern Ireland committee chair Simon Hoare – one of around 40 Tory MPs baying for Mr Cummings' resignation – warned the PM the nation will be 'far less energetic' about obeying future restrictions as 'a direct result of the activities of your senior adviser'.
Mr Hoare asked what MPs should tell constituents who ask 'if other people don't abide by it why on earth should we' because 'we know what your views are, frankly Prime Minister, I don't think anybody understands why you hold those views'.
Mr Johnson replied: 'I don't think that's true about how the British people will respond to the next phases, to how to work the test and trace system, I don't think that's how they responded at all throughout the crisis.
'If, just suppose for a second that you were right, which I don't accept, all the more reason now for us to be consistent and clear in our message driving those key messages.'
Mr Johnson said he had seen evidence to prove that some of the allegations made against Mr Cummings were false.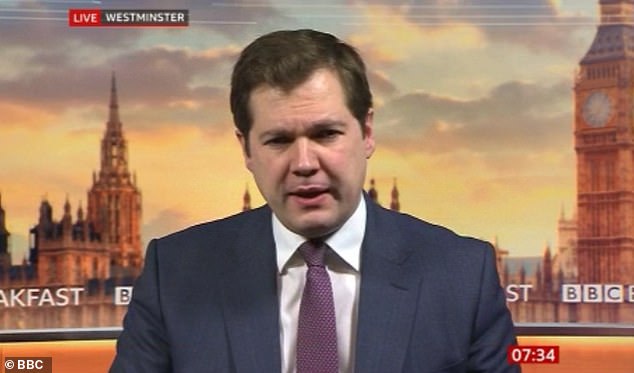 But asked by Labour MP Meg Hillier whether the Cabinet Secretary should also see that evidence, the PM said: 'I think actually that it would not be doing my job if I were now to shuffle this problem into the hands of officials who, believe me, Meg, are – as I think the public would want – working flat out to deal with coronavirus…
'I totally understand public indignation, I totally understand that, but I do think that as I understand things, and I've said what I've said about the whole business, I think it would be much better if we could now move on and focus on the next steps.'
Under fire from Home Affairs Committee chair Yvette Cooper, Mr Johnson said people could travel to get childcare during lockdown if there were 'exceptional' circumstances.
But Mrs Cooper demanded on the advice: 'What is it? Because it is not clear to me.'
Mr Johnson shot back: 'The clear advice is to stay at home unless you absolutely have to go to work to do your job.
'If you have exceptional problems with childcare then that may cause you to vary your arrangements.'
Mr Johnson went on to describe the row over Mr Cummings as a 'political ding dong', and said: 'A lot of the allegations that were made about that adviser were simply not correct.'
Housing Secretary Robert Jenrick was clearly frustrated this morning as he was forced to defend the adviser during a tetchy interview on BBC Radio 4's Today programme.
Mr Jenrick said people were entitled to 'do as Dominic Cummings chose to do' if they could not find childcare.
'If there are no other options, if you don't have ready access to childcare, you can do as Dominic Cummings chose to do,' he said.
'The guidelines say you must do your best, but they appreciate that family life poses particular challenges and in order to protect you children you are allowed to exercise degree of personal judgement.'
Mr Jenrick also confirmed that a review into whether fines could be cancelled for thousands of people who travelled distances during lockdown – floated by Health Secretary Matt Hancock last night – was not happening.
Dozens of Mr Johnson's own MPs have now joined opposition politicians to demand that Mr Cummings is sacked, but the premier has flatly dismissed the calls.
And Mr Kruger upped the ante by telling Newsnight that 'one wing of our party is going collectively bonkers by comparing a four year old's toilet break to the invasion of Suez'.
'Appreciate the inbox and press are horrific but the PM is signalling (as he did with the sacking of 21 MPs last year – which appalled the same people in the parly party) that he's serious.'
Mr Kruger said that Mr Johnson and Mr Cummings together were 'why we won the 2019 election'.
'An arguable minor infraction of lockdown rules is totally secondary to that,' he said.
'Also, No10 won't budge, so calling for (Mr Cummings) to go is basically declaring no confidence in PM.'
Senior ministers have publicly expressed public support for the defiant adviser but a number of Cabinet members are unhappy at the situation.