Dean of the Faculty of Law at the University of Professional Studies Accra (UPSA), has stated that most churches are not set to host their congregants due to the many guidelines that come with it.
According to Ernest Kofi Abotsi, it will be difficult for them to fully comply with the protocols of easing the restrictions.
Speaking on JoyNews' current affairs show, NewsFile June 6, he explained that the onus lies on religious institutions to implement government's directive to resume public gatherings
"The churches in particular are not in the habit of turning people away and so once you have a restricted number of people entering the church, you are asking the churches too come up with standard criteria for determining who should come in and who should not."
"I'm not sure the churches have been preparing for the interventions that need to be put in place," he told host of NewsFile, Samson Lardi Ayeninni.
Kofi Abotsi described the President's move as "sensible", stating that Covid-19 was will stay with us for a long time.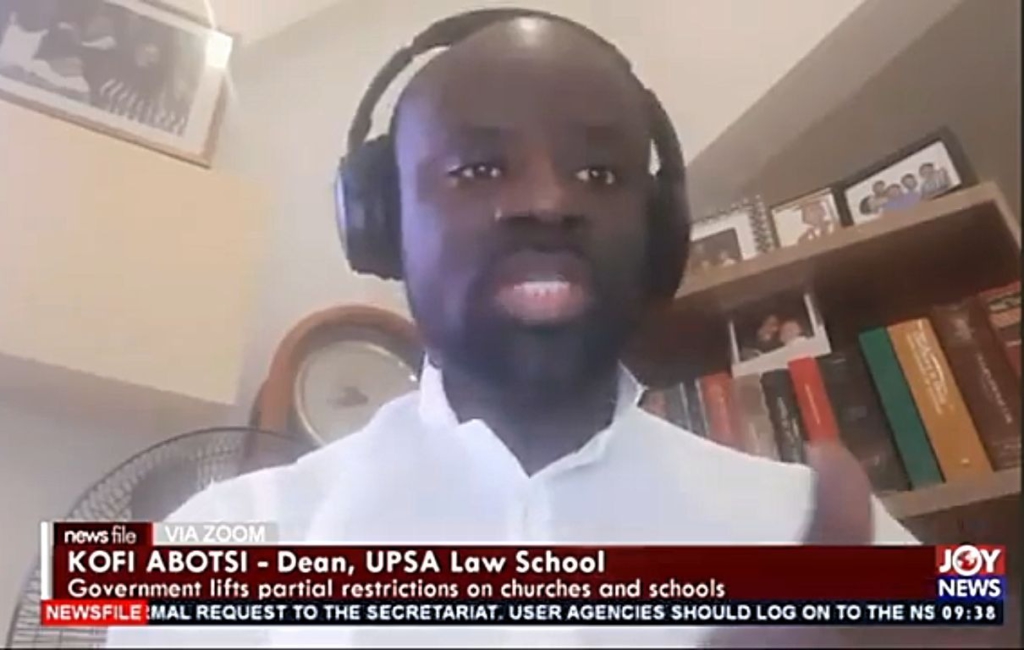 He added that safety protocols must be held in high regard to prevent the possible spread which will put more people at risk.
However, the UPSA Law Faculty admitted that there are practical challenges that will come with the spelt out protocols to guide the new development.
"I don't think our churches have the mechanisms to ensure that their members are safe and well protected.," Kofi Abotsi said.
On June 30, President Nana Akufo Addo called off the longstanding ban on selected social gatherings including religious gatherings and schools for final year students.
This comes after what according to him was engagement with various stakeholders.
Government outlined protocols which churches must adhere to as they are given the green light to worship with congregants.
However, following the easing of restrictions public gathering June 31, some churches and the Chief Imam have resisted the move by putting a hold on services.
They have advised their members to keep up their existing means of fellowship since the outbreak of coronavirus.