The lawyers of the family of musician, Bice Osei Kuffour, have asked for a autopsy report of the musician's late father, Nana Osei Boansi Kuffour.
Nana Osei Kufuor died at the Ridge Hospital on Friday after testing positive for coronavirus.
In a letter addressed to the Chief Executive Officer (CEO) of the Greater Accra Regional Hospital, the Smith and Adelaide Law firm demanded "an autopsy report confirming the cause of death of the deceased".
"We are informed by our client that since the death of the deceased, they have not received any communication from your outfit regarding the requisite procedures to be undertaken to ensure that the family is able to plan for the aftermath of his death," the letter said.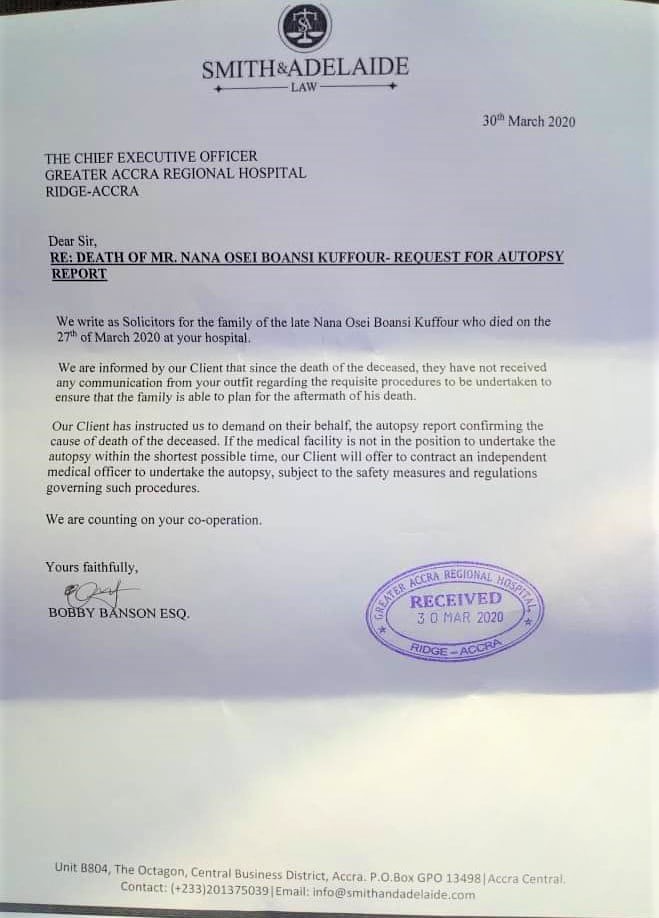 The lawyers offered to contract an "independent medical officer to undertake the autopsy" if the hospital is unable to conduct an autopsy.
Sources at the Hospital told JoyNews' Emefa Apawu that the deceased, Nana Osei Boansi Kuffour, was taken to the facility on Thursday, March 26 showing symptoms of the virus.
He was declared dead on March 27, 2020, after testing positive COVID-19
The death of Boasi Kuffour gained a lot of public attention following reports that his son, Obour, concealed his travel history from the health officials at the Accra Regional Hospital.
Meanwhile, the deceased is said to have come into contact with some health workers who may not have known of his infection earlier.
About 15 of the health workers who were on duty at the time are currently self-isolation and have been tested for coronavirus.
Hospital authorities also shut down the emergency centre for disinfection after the death of Nana Kufuor.