Lawyers for Ashaiman MP, Ernest Norgbey is today, Monday, June 29, making a last-minute request to a High Court to injunct the Electoral Commission's registration of voters.
They maintain the Supreme Court's decision allowing the exercise to go ahead in compliance with C.I 126 cannot be adequate on lawful basis.
They say C.I 126 does not provide for the compilation of a new register.
The Supreme Court in a unanimous decision on June 25 held that the EC can go ahead with the exercise in compliance with C.1 126.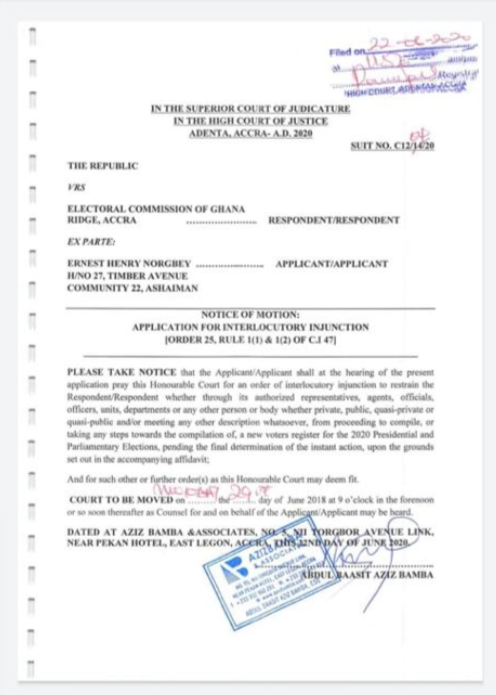 Dr. Abdul Baasit Bamba is representing NDC MP, Ernest Norgbey in the only case before the courts.
The case filed at the Adenta High Court is a Judicial Review asking the High Court to rule that C.I 126 which he amended to C.1 91 does not give the EC the power to compile a new register.
He told JoyNews' court correspondent Joseph Ackah-Blay in an interview that the EC cannot go ahead without a resolution of this case.
"The Electoral Commission does not have the legal mandate to compile a new register.
"There is an existing register compiled under C.I 91 which has not been revoked. If they go ahead, we will have two registers", he said.
Deputy Attorney General Godfred Yeboah Dame in an earlier interview with JoyNews said this case will not stop the EC from carrying out the exercise.
"No court has the option of electing whether to comply or obey this ruling. The Supreme Court has ordered in the exercise of its powers over all lower courts in the country that this decision is the final decision on the matter and must be complied with," Mr. Dame said.
On whether or not a hearing could take place at the High Court, Mr. Dame responded that the Supreme Court decision would have to be brought to the attention of the High Court Judge so it dismisses it.
"The court will not have to hear an injunction and come back and hear a substantive suit."
Dr. Bamba however disagrees with this view.
He argues the Deputy AG is not a party to his case.
"Don't put unnecessary pressure on the court. Allow the court to rule on this matter. I wish he had not spoken about a matter he knows very little about. The AG is not a party to this matter".
Dr. Bamba maintains the Supreme Court order that the ruling applies to all pending or cases to be filed on the same or similar issues does not apply to his case.
He explains they are questioning the lack of an enabling law governing the exercise.