B&FT
*Rotate auditors in accordance with Companies Act – Registrar General to companies
*Covid-19 throws manufacturing sector into shambles
*Gov't commits US$400m to cocoa rehabilitation, others
Business 24
*No room for further policy rate cuts in 2020 – EIU
*Works to begin on Yendi, Navrongo and Mole airstrips
*Gov't scores a victory in IPP talks, but more battles loom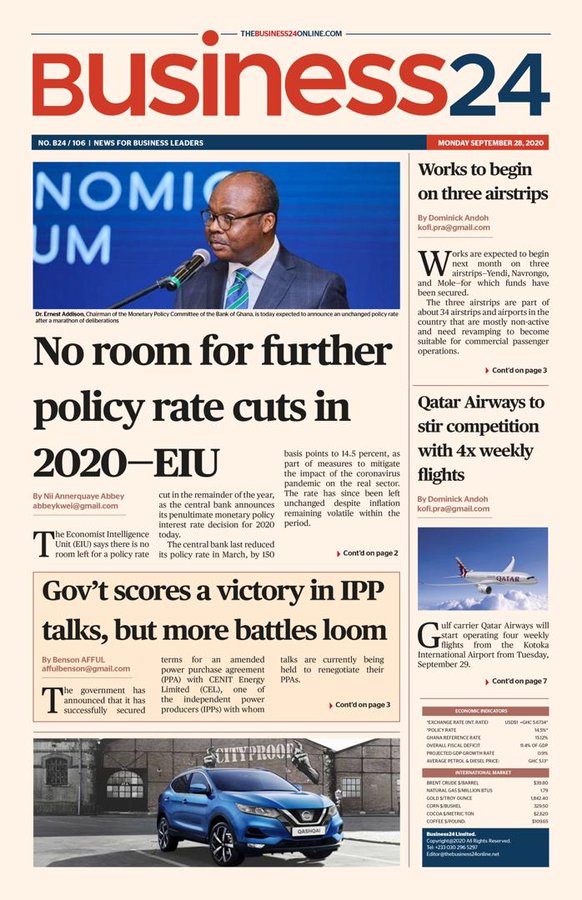 The Chronicle
*Soldiers retrieve 4 guts and police accoutrements but 10 AK47 rifles still missing.
*Volta Chiefs, National House of Chiefs condemn secession attempt
*I don't cut sod for projects without funding – Prez
*KGL, NLA & Lotto Coys set up fund to improve operations.
Ghanaian Times
*V/R chiefs fume at secessionist group.
*President cuts sod for construction of recycling plant at Aboanidua
* Ghana to receive Covid-19 financial support from 3 international organisations.
*KGL, NLA, sets up fund for marketing companies
Daily Graphic
*House of Chiefs condemns secessionists
*No intelligence failure – Oppong Nkrumah
*NACOC picks suspects in cocaine haul
Daily Guide
*Nana jabs Mahama – I cut sod with funds
*Blay warns NPP against complacency
*Gov't won't spare Volta 'rebels' – Oppong Nkrumah
*Audit service denies query
The Finder
*Actionable intelligence preventable dire attacks from secessionists – Oppong Nkrumah
*Funding secured for all projects president assures as he cuts sod for $111.2 Enchi to Elubo road
*Actionable intelligence prevented dire attacks from secessionists -Oppong Nkrumah
*Anlo, Gbi-Hohoe chiefs disown and condemn secessionist group
Economy Times
*Ghana's total public debt rises
*Revised Ghana's investment law postponed until 2021
*Give 75% shares to Ghanaians in Agyapa IPO – Finance Expert
The Daily Statesman
*Don't trust 'inconsistent' Mahama – Akufo-Addo cautions Ghanaians.
*Chief of Staff praises Akufo-Addo for his belief in women.
*Let's condemn & fight 'Western Togolanders' – Volta chiefs take opinion leaders to task.
The New Crusading Guide
*Akufo-Addo blasts Mahama for his inconsistency
*Ghana gets fund from UNDP, UNGC & ICC to help economy recover better from Covid-19 impact
*Chief of Staff praises Akufo-Addo for his conviction in women
The Ghanaian Observer
*Don't trust Mahama, he's inconsistent – Akufo-Addo.
*President cuts sod for €15m Western North Solid Waste Treatment Plant
*Chief of Staff lauds Akufo-Addo for promoting women empowerment