Generations of Ghanaian law students, legal practitioners, judges, policy-makers, and legislators have examined environmental law issues in Ghana. However, to date, they have done so without the guidance of a comprehensive domestic treatise on the subject. As with many areas of Ghanaian law, these individuals often resort to foreign legal texts that fail to capture the nuances of Ghana's socio-cultural and political contexts.
This state of affairs is no longer the case with the publication of Mr. George A. Sarpong's magnum opus – a book entitled Ghanaian Environmental Law - International and National Perspectives (London: Wildy, Simmons & Hill, 2018). Excluding the front matter, the book comprises 491 pages of 10 chapters and an extensive bibliography. As a former lecturer of the subject, seasoned legal practitioner, and consultant who has widely published and advised on environmental law issues in Ghana and abroad, Sarpong is uniquely qualified to fill this void on the Ghanaian jurisprudential landscape.
As Sarpong rightly notes, Ghanaians are bound by certain customary environmental norms. These customary norms regulate, among other things, the ownership and use of resources such as land and water. However, the phenomenal growth of the subject in the context of contemporary environmental challenges necessarily entails Ghana's adoption of international norms and treaties. These international treaties are implemented by using a host of domestic legislation and are complemented by the jurisprudence of the courts. It is for this reason that Sarpong is right to examine environmental law in Ghana from both Ghanaian and international perspectives – the title of the book appropriately captures the scope of the work.
The book engages with all sources of Ghanaian law that have environmental dimensions – from the exalted constitutional norms to the lowly by-laws of the District Assemblies. One of the greatest virtues of the book is the fact that the discussions are heavily foregrounded in primary materials – the Constitution of the Fourth Republic of Ghana, 1992, Acts of Parliament, statutory regulations, international conventions, case law, and government policy documents.
Sarpong, however, does not limit himself to legal analysis of primary materials; he also examines the policies that underpin certain laws and proposes reforms, where relevant. The book also admirably engages with comparative materials from foreign jurisdictions. In essence, the work is likely to become a "one-stop book" for anyone dealing with environmental law issues in Ghana.
The spectre of environmental problems that afflict humankind are too visible to miss. Following an interesting discussion on what constitutes "the environment", Sarpong outlines some of these environmental problems and situates them in the Ghanaian context. For example, he notes that, originally, forests covered 8.2 million hectares, about 36 percent (84,000 km2) of Ghana. This number was reduced by 23 percent by 1972, by 13.3 percent in 1990, and by 10.2 percent in 2000. Currently, less than 1.64 million hectares of forests remain. These losses can be attributed to economic policies, especially of the 1980s; massive timber concessions and the extraction of wood; mining; ineffective and inefficient agricultural practices; and bushfires.
Sarpong ominously predicts that at the current rate of exploitation, unless drastic and prudent measures are taken immediately to protect, sustain, and improve the environment, Ghana will become a net importer of timber. A similarly unfortunate story can certainly be told of other natural resources, including wildlife, which is both a primary source of food and a delicacy for many Ghanaians. From the discussion, it is clear that the human and financial consequences of the spectre of environmental problems are significant. Accordingly, concerted efforts and leadership are necessary at the domestic and international levels.
Ghana is a party to several international treaties focused on the environment. However, these treaties neither have the force of law nor confer rights on individuals in the Ghanaian legal system, except in respect of treaties that are incorporated into Ghanaian law by appropriate legislation. This state of affairs often creates a gap between international law and Ghanaian law on the same subject. The book identifies and discusses some of these gaps and suggests ways to bridge the divide.
The courts have a significant role as a potential medium for enhancing environmental rights in Ghana. While the jurisprudence of the Ghanaian courts in respect of fields such as constitutional law, family law, and commercial law are well-known and often discussed even outside legal circles, less known is the courts' jurisprudence on environmental law issues. The role of the courts in protecting the environment is particularly important in Ghana. Unlike in many Constitutions, including some in Africa, the Ghanaian Constitution does not expressly guarantee the right to a healthy environment.
Instead, the Constitution imposes an obligation on the state and on every citizen to protect and safeguard the environment. It is clear from Sarpong's discussion that, even though the case law is few (especially if one excludes the common law torts jurisprudence), the Ghanaian courts have been innovative in their jurisprudence. For instance, the courts have recognised the right to a healthy environment and the right of individuals and groups to take action against statutory bodies that are responsible for protecting the environment.
An interesting aspect of environmental law that Sarpong discusses is how very little use is made of the common law torts, such as negligence, nuisance, and trespass, to realise environmental rights or address environmental concerns. While acknowledging the limitations of the common law, Sarpong is right in noting that relying on the common law in environmental actions could be a valuable avenue for individuals, environmental pressure groups, and even enforcement agencies such as the Ghana Environmental Protection Agency. Given the minimal use of the common law to vindicate environmental rights, coupled with the low prosecution of the environmental crimes enshrined in the Criminal Code, it is little wonder that filth, noise, air pollution, and other common environmental ills have become commonplace in Ghana.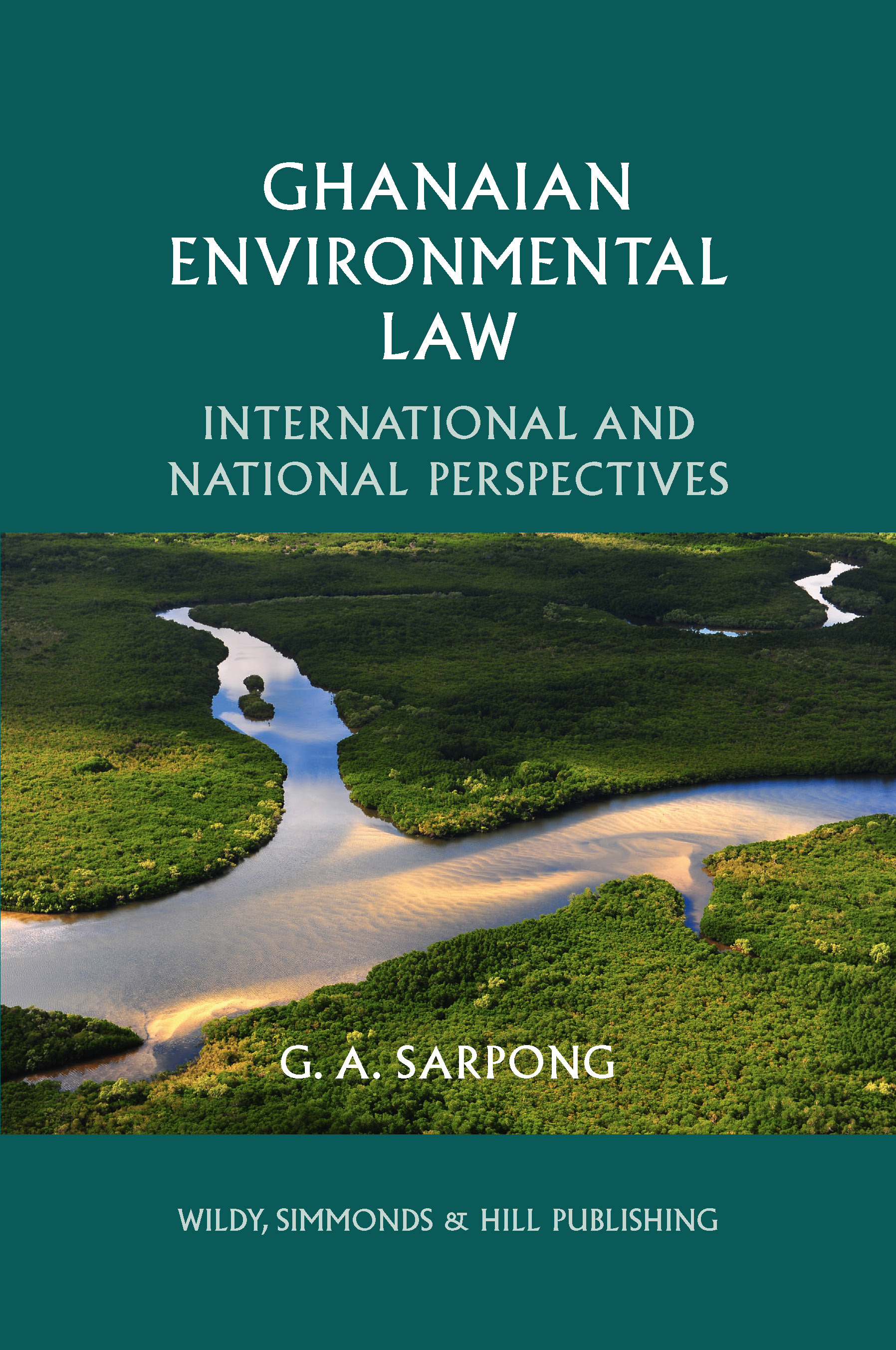 The time is ripe for stakeholders to utilise the avenues that the common law and criminal law present for ensuring environmental protection. It will be a great tribute to Sarpong if this one-stop book spurs on litigation as a means of safeguarding environmental rights in Ghana. It is certainly the case that, unlike in other jurisdictions, the regulatory powers of the common law and criminal law in environmental matters are yet to be fully realised.
As Sarpong rightly notes, even though Ghana's regulatory authorities have wide-ranging powers to enforce environmental laws, these powers are not unlimited – the regulators are not above the law. Rather, they are subject to the supervisory jurisdiction of the High Court. Accordingly, citizens and environmental groups/NGOs who feel aggrieved by the actions of these public authorities ought to have redress before the courts.
Also, while acknowledging that litigation may be beneficially deployed in respect of certain environmental causes, Sarpong perceptively cautions that it may not be appropriate in some situations. This is evident from his detailed discussion in chapter nine regarding the 2015 (and indeed on-going) Food Sovereignty Case, in which the applicants seek to restrain all genetically modified organisms' confined field trials in Ghana.
Chapters five, six, and seven of the book examine the roles of the numerous central and local governments as well as the public institutions charged with natural resource management and environmental enforcement functions in Ghana. These chapters also examine the options available to an individual who is aggrieved by a public institution's acts and omissions.
After engaging with the erudite discussions in chapters five, six, and seven, even the cursory reader will conclude that Ghana's environmental challenges are not caused by a lack of institutions, laws, or policies, or because of apathy towards international laws. To the contrary, there is a dizzying array of institutions, laws, and policies to address these challenges. Ghana has also signed a host of international conventions dealing with different aspects of the environment.
Rather, the problems seem to relate to the apparent lack of willingness or desire to strictly enforce existing laws; institutional conflicts and overlapping roles; the absence of collaboration and cooperation among government institutions; the wrongful exercise or abuse of discretionary powers; the lack of harmonisation or consolidation of the relevant laws to make them more accessible; the lack of awareness of existing legislation and of the importance of environmental and natural resource protection; under-capacity and a lack of personnel; and the lack of community involvement in the formulation and implementation of environmental laws. There is also the need for Parliament to expedite the enactment of a number of bills pending before it that have environmental law significance, such as the Wildlife Resources Management Bill and the Lands Bill.
An interesting aspect of the discussions in chapters five, six, and seven is what one may characterise as the centralisation of environmental and natural resource management. This is evident from the establishment of and functions assigned to various Commissions and Authorities charged with managing different natural resources, such as lands, water, minerals, forests, wildlife, marine life, and fishes. In all these areas, the role of traditional institutions has diminished, and that of the central government elevated. It is arguable whether this is sound policy. For example, with respect to water resources, Sarpong discusses how, by the stroke of legislative pen and policy intervention, proprietary and managerial rights which families, stools, and communities had held since time immemorial have been taken away from them, some of whom probably had no prior notice of such expropriation. There is certainly a need to rethink this state of affairs to ensure greater involvement of traditional institutions in the management and protection of environmental and natural resources in Ghana.
There is no gainsaying that many of the environmental challenges that currently afflict humankind can be overcome or ameliorated with scientific interventions. The discussion on biotechnology in chapter nine of the book reveals the redeeming potential of science and technology, as well as some of the controversies they can generate. Sarpong's call for more resources to be allocated to science, technology, and innovation is timely and appropriate, as greater investment will foster innovation in Ghana. In Sarpong's words, science, technology, and innovation hold the key to Ghana's socio-economic advancement and thus deserve the required attention. Sarpong also advocates for stronger linkages between the scientific community and industry, including the establishment of technology parks.
As a popular military barracks ballad proclaims, "old soldiers never die; they just fade away." I take a cue from this ballad to submit that the skills that Major George Agyemang Sarpong (Retired) learnt in the Ghana Armed Forces (and, of course, as a lawyer) never left him and have found a happy home in his magnum opus. The book displays careful attention to detail, strength of analysis, clarity in presentation, excellent organisation of ideas, and a quest to make an impact in the form of various proposals for reform. As if his contributions to Ghanaian legal training and education were not enough, Mr Sarpong has gifted to Ghanaian law an excellent piece of scholarship. Generations of Ghanaian law students, legal practitioners, judges, policy-makers, and legislators stand to benefit from this book.
Have your say
---
More

Opinion

Headlines
---