A Pakistan International Airlines (PIA) flight with more than 40 people on board has crashed in the north of the country.
Flight PK-661 "lost contact with the control tower on its way from Chitral to Islamabad", the airline said in a statement.
The army has recovered at least 21 bodies from the crash site, a military statement said.
The national carrier has been accused of safety failures in the past.
The plane came down in the Havelian area, about 70km (43 miles) north of Islamabad.
It took off from Chitral at about 10:00GMT (15:00 local time), losing contact 90 minutes later, shortly before it was due to arrive at its destination, local media report.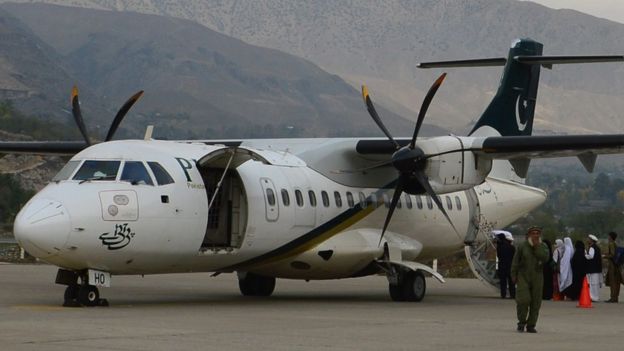 Image copyrightAFP
Image captionThe same model of PIA plane prepares to fly the Chitral-Islamabad route in 2015
A famous former pop singer turned Islamic preacher, Junaid Jamshed, and his wife were on the flight's passenger list, according to leading private news channel GEO TV.
Pakistani TV images showed a trail of wreckage engulfed in flames on a mountain slope.
The army has dispatched troops and helicopters to the location, national broadcaster Radio Pakistan reports.
Former cricketer turned leading Pakistani opposition politician, Imran Khan, tweeted his condolences:

Image copyrightTWITTER
The last major crash involving a PIA aircraft, in 2006, left 44 people dead.