With the contest for the next NPP parliamentary candidate for the Ayawaso West Wuogon over, contestants have been advised to unite for victory in the impending bye-election.
Deputy Chief Executive for the National Youth Authority (NYA), Richard Joojo Obeng, has urged the losers to rally behind the winner, Lydia Alhassan.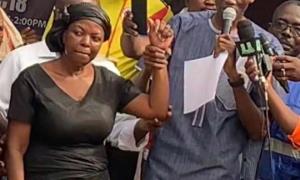 Photo: Lydia Alhassan is wife of the late NPP MP Emmanuel Agyarko
Lydia Alhassan polled 441 votes to beat her nearest contender, Ato Williams, who got 131 votes in the primaries held last Saturday.
Other competitors were Maame Yaa Gyemerah Aboagye who got 76 votes, Solomon Amankwa with 19 votes and Victoria Esinam Offie who got a single vote.
Richard Joojo Obeng who pulled out of the race wants to see the winner and losers pulling together in the same direction.
"The party has spoken, the party is our ship and no matter what happens, no one can survive outside the ship", he told moyjoyonline.com Monday.
"A loser in power is better than a winner in opposition," he said urging the contestants to bury any difference they may have following the contest.
He noted the Ayawaso West Wuogon constituency is a stronghold for the NPP because of its high concentration of intellectuals who are more likely to vote NPP.
The NPP, he said, can only lose the seat if the constituency falls prey to in-fighting and factionalism.
The seat became vacant following the death of Emmanuel Agyarko on November 21, after he had gone to the United States to seek medical care.
His wife, Lydia Alhassan is set on course keep the seat with the NPP as it has been since 2000.
Richard Obeng offered congratulations to Lydia Alhassan and remarked, "God has given her a great opportunity to continue the work of our beloved MP and husband Emmanuel Agyarko".
---