The Duke and Duchess of Cambridge have named their third child Louis Arthur Charles.
The couple's second son was born at 11:01 BST on Monday at the Lindo Wing of St Mary's Hospital in London, weighing 8lb 7oz.
A tweet from Kensington Palace confirmed the baby would be known as His Royal Highness Prince Louis of Cambridge.
The new prince is fifth in line to the throne.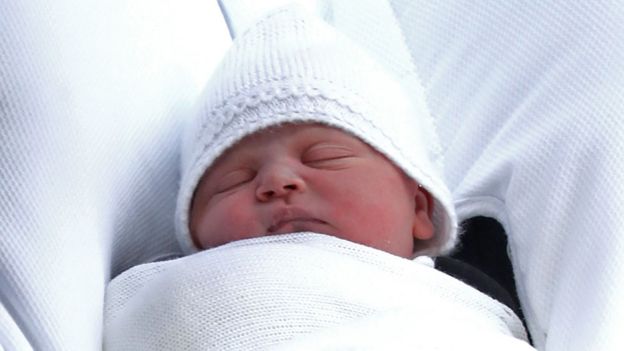 Prince Louis Arthur Charles on the day he was born
Louis is one of the middle names of Prince William and of the new prince's brother, George.
It was also the first name of Lord Mountbatten – his great-great-uncle – who was killed by the IRA in 1979.
Arthur is also one of the duke's middle names, and was a middle name of King George VI – the Queen's father.
'A family favourite'
By Sarah Campbell, BBC royal correspondent
The pool of names considered suitable for a prince is not large and yet, the wait between birth and public naming suggests there was some indecision about what to call the new baby.
It did give punters four days to place their bets, though – and most of them will be disappointed.
Louis certainly wasn't the front-runner as far as the bookies were concerned, but it is clearly a family favourite.
William and George both have it as a middle name.
But with its French and German origins, it will no doubt generate some eyebrow-raising, Brexit-related comment.
There will also no doubt be some confusion over the pronunciation (Loo-ee not Loo-iss).
What is certain is that we are unlikely to see much of Prince Louis of Cambridge in the coming months and years.
His parents remain determined to bring up all three of their children away from the public's gaze as much as is possible.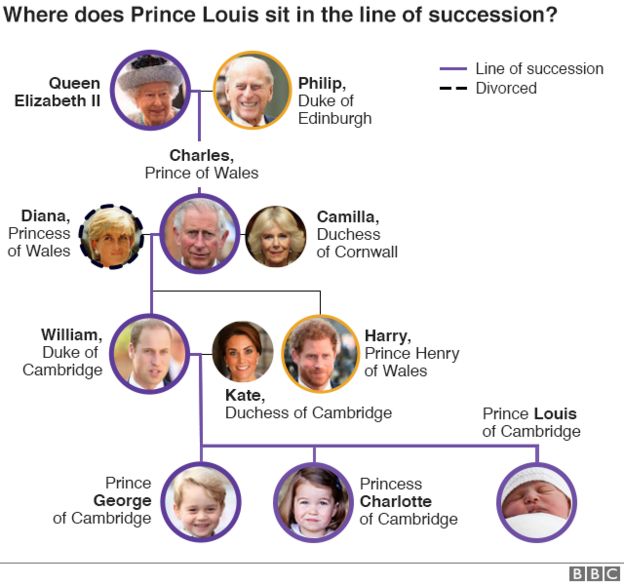 Bookmakers had Arthur as the favourite name for the prince, followed by James and Philip.
On Thursday evening, Prince William told reporters that they were still deciding on a name, saying: "I'm working on that."
Earlier in the week, he said Catherine and the baby were "in good form, luckily", and added: "Sleeping's going reasonably well so far, so he's behaving himself, which is good news."