A German-Kurdish footballer and well-known critic of the Turkish government has survived a suspected murder attempt while driving in western Germany.
At least two bullets fired from a passing car hit Deniz Naki's car on a motorway near Düren on Sunday night, German media say. He was not injured.
"I immediately ducked and then rolled right to the hard shoulder," he told Die Welt newspaper.
Naki plays for Amed SK in Turkey and previously played for German clubs.
Last April a Turkish judge gave Naki a suspended jail sentence of 18 months for "spreading terrorist propaganda for the PKK", the separatist Kurdistan Workers' Party.
In 2016 the Turkish Football Federation gave him a 12-match ban for "ideological propaganda" linked to the Kurdish conflict.
But there is no evidence that the shooting was directly linked to the Turkish state, and Turkey has not commented on it.
In an interview with Die Welt, Naki said two shots had been fired from a large black car. "One bullet struck a window, in the middle of my car, the other one hit near a tyre." Die Welt shows photos of the two bullet holes.
Police are investigating and treating the case as a murder attempt.
Naki grew up in Düren and played for the German clubs FC St. Pauli and SC Paderborn.
He said he believed it to be a politically motivated attack, possibly by the Turkish MIT secret service.
"I assume it was an MIT agent or somebody else who doesn't like my politics," he said.
He had not received specific threats recently, he said, "but I'm attacked on social media constantly".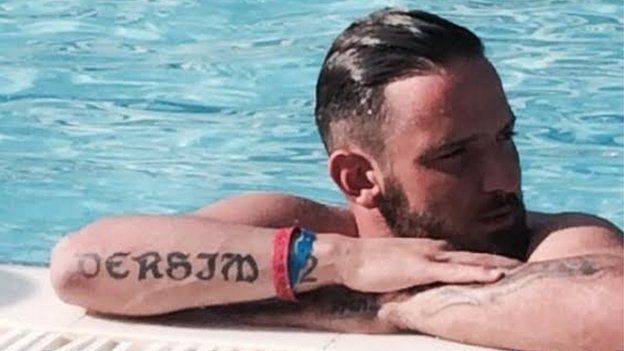 Naki's "Dersim 62" tattoo pays hoamge to Tuncell in mainly Kurdish eastern Turkey
Turkish forces have been battling the PKK in eastern Turkey since a ceasefire collapsed in July 2015. Turkey, the EU and US treat the PKK as a terrorist organisation.
Ethnic Turkish and Kurdish critics of the Turkish government living in Germany accuse Ankara of intimidating opponents at home and abroad. Germany has Europe's largest Turkish diaspora – an estimated three million.
Cansu Özdemir, a left-wing, ethnic Turkish politician in Hamburg, tweeted that the attack signalled a threat to opponents of Turkish President Recep Tayyip Erdogan in Germany.
"I fear Erdogan's hit squads will carry on until every intimidated person shuts up," she said. "This seriously menacing situation must not be played down any longer."