The September 30 grudge bout between Bukom Banku (Brimah Kamoko, 29-0 and Bastie Samir threatens a massive overflow of fans in the 4,000-seater Bukom Boxing Arena (Trust Sports Emporium) in Accra.
This was after about 2000 people turned up for the news conference for the bout being bout together by Accra-based promoter Alex Ntiamoah of Box Office Promotions.
The fans arrived in big groups of Bukom Banku-biased fans and Samir loyalists who took turns to do processions in the compound of the multi-purpose facility.
This combined with the procession-like arrival of the two boxers delayed the start of the event by two hours. But patrons and journalists alike did not mind because the atmosphere and many different happenings at every corner of the Trust Sports Emporium made up with exciting drama.
Bukom Banku, who is now looking trim and a complete opposite of his almost chubby physique some two months ago.
Addressing the charged crowd, Box Office Promotions CEO, urged fans to ensure an incident free build up to the bout considering that it's a tough rivalry between the two boxers has sometimes led to semi-violent episodes.
"We are breaking our backs to ensure that the sport grows in leaps and bounds in this country and we require all stakeholders to be part of the effort and not bring it down. The fans must be of the best sportsmanly behavior around this period so we can sell a good fight to the rest of the continent," he said.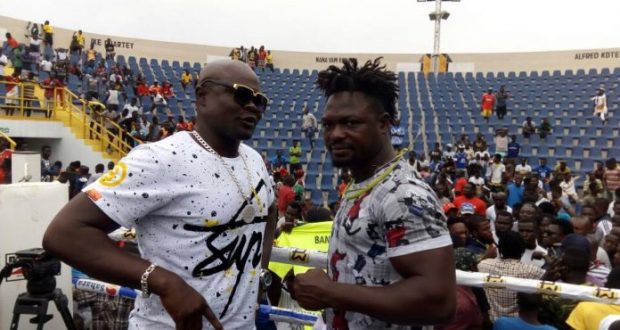 "As promoters we want to sell the best quality fights to the rest of the world considering that we have produced big names and world champions of high repute. I look forward to a great fight. Considering the numbers expected we would have moved this bout out of this facility but considering the great relationship we have grown with the Bukom Arena and its strategic placing in our community we will stage this fight right here," he said.
The enthusiastic fans who were packed in the Azumah Nelson, Ike Quartey and Alfred Kotey stands took turns to cheer or taunt each other with both boxers intermittently working up the fans to either chant slogans or cheer songs.
Bukom Banku who was spotting a white t-shirt with a pair of shorts to match promised a good fight, a sixth round knockout and thanked the opposing fans for what he termed the push to train even more. I am training very hard for this fight because I want to silence all the critics and place Batsie where he truly belongs," he said.
Bukom Banku who is chasing a 30th straight win has also extended an invitation to the President Akufo-Addo and ex-President Mahama to be at ring side for this all important bout.
Bastie Samir, with a very confident addressed the crowd in the local dialect Ga, English and Hausa.
"I am ready for this fight. I will cause a big upset here. I urge all our fans to support us responsibly. Boxing is a gentleman's sport and we have every reason to keep it that way. I am grateful to the fans for the big support and I need more of it as I prepare to deliver on September 30," he said.
Bukom Banku's record of 29 wins with 22 of them coming by knockout has built a good image in the ring with annexing a major world title, the only element missing in his success story so far.
The Ghanaian boxer has had his fair share of chicken outs by big name boxers and champions refusing to give him a shot to challenge for the title – one of them being Nathan Cleverly. At light heavyweight, Banku annexed the Africa and the WBO Africa titles. He has also annexed the WBO Africa Cruiserweight title as well.
Samir a 2008 Olympian, Captained Ghana's Amateur Boxing team the Black Bombers to many tournaments including the African Championships and the AIBA World Championships. He has gone 16 fights undefeated with one ending in a draw. He is yet to annex a major title.
Have your say
---
More

Sports

Headlines
---