He is Ghana's very first man to win any global silverware of any sort following his annexation of the coveted WBC featherweight title in 1975.
Unlike most of his colleague legends and champions, who had to go through the amateur system, D.K Poison a.k.a David Kotei had a direct leap.
D.K. Poison did not have to participate in any amateur competitions or big multi-sport platforms like the Commonwealth and Olympic Games, which champions his calibre were used to.
He revealed this and many other hallmarks of his career in an upcoming Joy News and Joy Sports Hotline Documentary titled – The Boxing Loan. It celebrates his 45th anniversary of annexing the title and delves into the circumstances around a loan he is said to have advanced to the state from his fight purse.
D.K. Poison gave away part of his purse of 75,000 USD from his second title defense against Shigefumi Fukuyama, to be used to purchase mackerel for the people of Ghana at a time when economic challenges had affected the availability of foreign exchange.  
The legend says that he was destined to be a boxer and a great one at that – probably the reason why he had a smooth passage into the professional ranks where he is now a marquee name.
"I was destined to be a boxer. When I look at my story and the way things happened I knew I was destined to be a boxer."
The septuagenarian with his strands of grey hair and wearing a short sleeved shirt with a pair of blue denim pants leaned backwards in a chair as he reminisced the happenings of yesteryear.
David Kotei, who originally hails from the Greater Accra Region of Ghana is of Ga-Dangme extraction and grew up in Adabraka, a suburb of Accra.
"When I went to the gym to train, I met the likes of Joe Tetteh who was the national featherweight champion and Mike Korley Anonagba who was the number one contender at bantamweight. Tei Dovi and the like were all professionals. I didn't know whether to tell the trainer and manager whether I should fight as an amateur."
"I was matched with a boxer called Famous Lartey over six rounds and I won and that was it. In 1966, I continued winning till I reached the limelight.
I erected poles in our back yard. I bought a medicine ball and stuffed it with sand. My family initially objected and said I was educated and wanted to indulge in this 'vagabond business' so I had to leave the house to stay with a friend," he narrated.
The legend further narrated that he once met a newspaper vendor during his early days in the sport, who said he was on his way to supply Joe Tetteh, then the national featherweight champion, with newspapers.
"I took advantage of that to meet him. When I met Joe Tetteh he assessed me and drew an 'L' on the ground for me to move on. I passed two other subsequent tests. They hardly believed I was not yet a pro boxer. Joe Tetteh had to travel out of the country at a point and I had to move up to his weight otherwise I would have stayed at bantamweight because I liked it there," he added.
"I've been telling people that it's my destiny. Boxers may have done better than what I did but mine was just natural," he told Joy Sports.
His left uppercut
D.K. Poison also admitted that he had a 'deadly' left uppercut which no boxer has ever had in Ghana.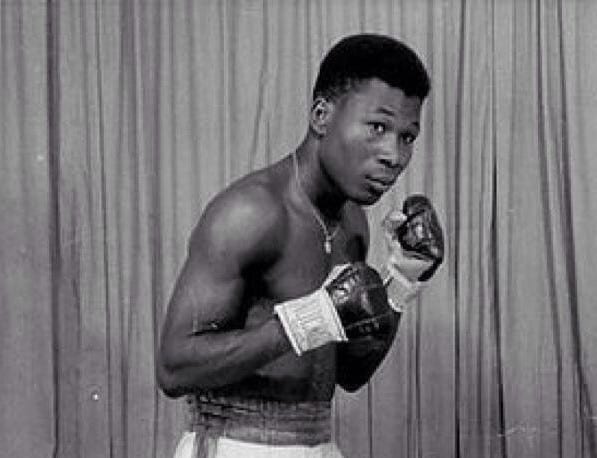 "I remember when I was going to train for the world title, I met a gentleman called Dean Fragata. So during the final week while I was training in the gym in New York, my brother, who was then a diplomat, brought me a message from Dean Fragata who I had hardly met anywhere. The message was that I use my left hook and uppercut because that would win me the title."
According to D.K. Poison, he was very surprised because he had hardly met this man anywhere before.
Replicating the example
Two more of Ghana's 10 boxing world champions also replicated this trend. First was Richard Commey who won the IBF lightweight title after knocking out Russia's Isa Chaniev in two rounds in February 2019. Commey made some modest achievements as a kickboxer and switched to the pugilistic sport afterwards.
Boxing rescued former IBO lightweight champion, Emmanuel 'Game Boy' Tagoe from armed robbery. He revealed to Joy Sports in an earlier interview that he started exploring his talent in the sport while serving a three month jail sentence at the Ussher Fort Prison in James Town Accra.
Body movement sparring and punching came to him naturally. Just like D.K. Poison, Emmanuel Tagoe sees the sport as his destiny.
International Boxing Hall of Fame Inductee Joey Giardello (Carmine Orlando Tilelli) who held the WBC and WBA middleweight titles between 1963 and 1965 is also said to have had no amateur experience.
He built his professional career on the back of hundreds of street fights, one of which landed him in trouble with the law.
D.K. Poison's 45th Milestone of world title annexation falls on Sunday, September 20, 2020. He retired on a record of 49 wins eight losses and three draws, with 31 of his wins coming through knockouts.
—