Jose Mourinho's Tottenham Hotspurs failed to impress at home as they succumbed to a 1-0 defeat against Everton in their first game of the Premier League season.
The Toffees got the win thanks to a second-half header by Dominic Calvert-Lewin.
Below is a detailed rating of the players' performances.
Tottenham hotspurs
CROWN: Son Heung Min
The brightest spark in a very flat Spurs team today. He had Seamus Coleman watching over his shoulder for the 90 minutes. Son created one of the best Spurs opportunities in the first half with a pass to Dele Alli, who could not convert the opportunity. His runs in behind the Everton defence, albeit not as often as expected, was a reminder of how dangerous he can be.
CLOWN: Eric Dier
Dier recently stated in an interview that his preferred role is back in the defence rather than in midfield. If the performance against Everton is anything to go by, it would be safe to say he does not know his strongest position. Eric Dier started off slow and gave the ball away in his half but Richarlison was unable to convert after rounding Lloris and having an open goal to knock the ball into. Eric Dier lost his marker as Digne's cross connected with Calvert-Lewin's head to give Everton the lead. Dier almost gave Everton another goal with sloppy defending.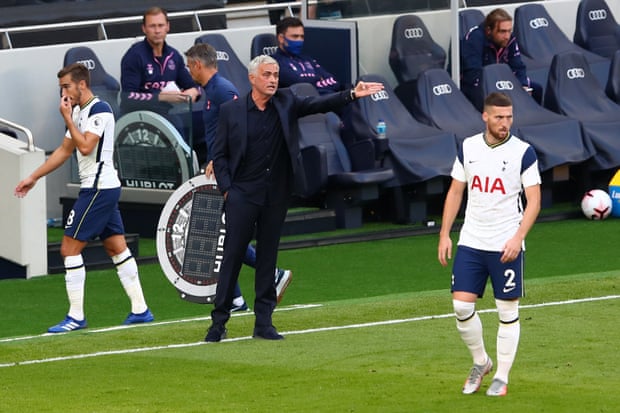 NEXT FIXTURE: Southampton (A)
Tottenham have suffered their first defeat on the opening match of a top-flght season since 2015/16 (0-1 vs Man Utd) and their 11th overall. Only West Ham (14) have kicked off more Premier League campaigns with a defeat than Spurs. Jose's men will be looking to record their first win of the season away at Saint Mary's. Davison Sanchez will definitely be a man to get a chance back in the starting XI at the expense of Dier. Spurs need to move their balls quicker around the pitch against a very well organized and pressing minded Southampton side.
Everton fc
CROWN: Debutants
Everton have managed to secure their first Premier League win in London in nine games (D4 L4), with this only their second top-flight win in the capital in their last 20 matches (2-0 vs West Ham in March 2019). Carlo Ancelotti's new men have made a good case for why he got them in this opener. This Everton side was balanced from defence all the way to attack.
Allan
He hardly put a foot wrong and always got himself in the right place to break up and occasionally starting off attacks when possible. He made it impossible for Dele Alli or Harry Winks to get a sniff. He covered his full-backs very well and gave Everton the foundation to attack freely.
Doucoure
A signing most PL Top 6 clubs could have done with. He was immense with his runs from box to box. He offered an extra body in both defensive and attacking phases. He pretty much epitomized what Ancelotti wants from his middle men. A great start to another PL season for Doucoure.
Rodriguez
James was key instigator for Everton; often opening up the pitch with his cross-field passes and occupying half spaces that kept Dier and Davies occupied for most of the game. He had the freedom to come in narrow to allow Seamus Coleman to push up and further box Spurs in. He created 5 opportunities for his teammates; a PL debut high since Alexis Sanchez in 2014 (5 v Crystal Palace).
CLOWN: Richarlison
Everton won but it could have been a different story altogether if Calvert-Lewin's goal had been chalked off. Richarlison had bulk of Everton's opportunities; the most obvious one coming when he beat Alderweireld for speed and rounded Lloris only to locate Row Z instead of the goal from 10 yards out. He was a constant threat but very wasteful. He would be tasked to improve if Everton's ambition to be in Europe will be fulfilled.
KING OF THE DAY: James Rodriguez
Rodriguez played as though he had been in the PL since 2015. His adaptability and quality has every fan wondering why he could not get a look into the Real Madrid squad regularly. His calmness and vision created opportunities and space for other midfielders against a somewhat disorganized Mourinho side. The PL is going to enjoy having a player of his calibre and quality this season.
NEXT FIXTURE: West Brom (H)
After managing their first away win at a top 6 side in 40 attempts, Everton can be confident of handling matters at home. Hosting West Brom will provide a different test for Everton but the energy, quality and nature of discipline that was on display at the new Tottenham Stadium will encourage Evertonians that this team can handle whatever is thrown at them.
—