St Mary's Senior High School's Old Girls Association has presented a cheque valued at GH₵30,000 to the management of the Cardiothoracic Centre of the Korle-Bu Teaching Hospital at a ceremony in Accra.
The donation was in line with the association's annual charity program Dubbed Feast Day , where they feed children and give support in diverse ways to the needy.
The amount which will be used to support the treatment of children with heart-related diseases at the centre was raised by members of the association and its development partners.
Presenting the cheque, the National President of the Association Mrs Linda Dede Graham said the gesture is a long-standing tradition of the Association designed to celebrate the festive season with vulnerable children.
Madam Graham said that due to the Covid-19 pandemic they have been unable to maintain the tradition of previous years where they shared food, drinks, toiletries among other at the children ward.
That notwithstanding, the group decided to donate money to support the treatment of children suffering from various heart conditions.
Some of the Executive members who witnessed the presentation including,
Amanda Adu- Amankwah – National Vice President '82, Sitso Tamakloe – National Org. Sec. '90, Sonia Holman – National Fin. Sec. '89, Mary Halm – National Treasurer '65/'70, Sarah Garshong Asst. Headmistress – '91 (Rep. Sch. Mgt.), Benedicta Nutsugah – '81 (Rep, Asor Fleischer-Djoleto – '92 President, Christie Armah – '89 President, Jane Okyere-Aduachie – '93 President, Josephine Dodoo – '93 SS President, Selasie Doku -'94 President Joyce Dodoo – '82 President Awo Asare – '77 President and Cleotha Mends Buah- Rep '95 President.
Receiving the cheque, Dr Kow Entsua Mensah, a Surgeon at the Cardiothoracic Centre expressed his deep appreciation to the association for their kind gesture, which according to the doctor will help save the lives of some children battling with heart diseases..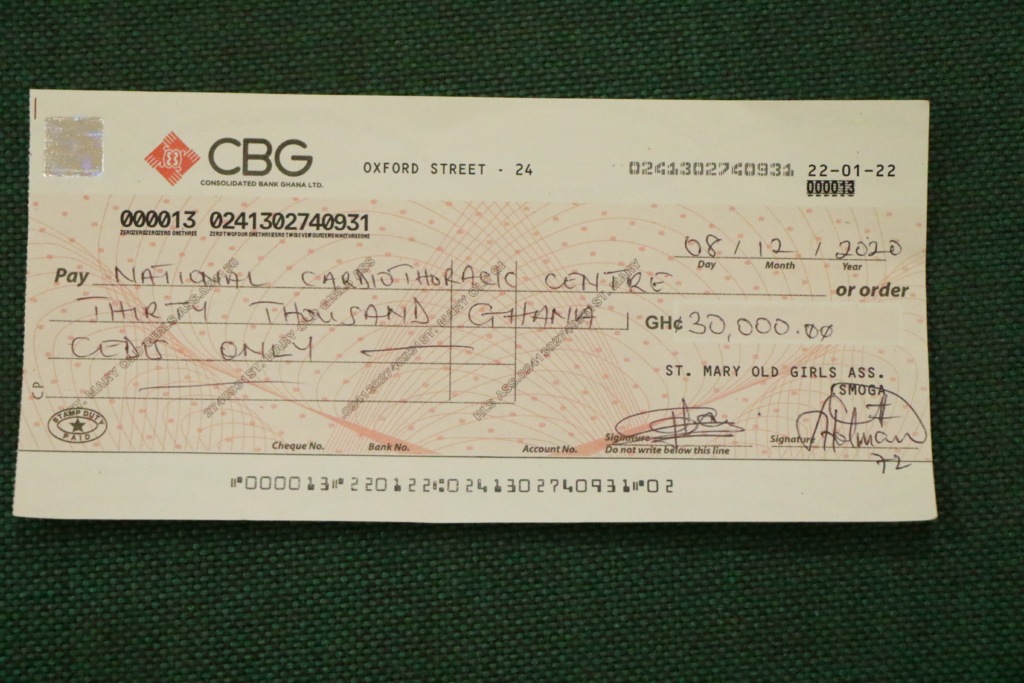 Dr Entsua Mensah noted that currently, there are a lot of children at the Cardio Centre who need financial assistance to enable them to undergo surgery.
He revealed that the high cost of heart treatment makes it difficult for many families to afford it, as such the donation by the Old Girl's Association will go a long way to support many of the children who need heart surgeries .
Dr Entsua took the opportunity to advise the general public especially pregnant women to engage in regular health checks or report any unusual health conditions to the nearest health facility for examination.