Sunda International, dealers in fast-moving consumer goods and their subsidiary ceramics manufacturing company, Keda Ghana Ceramics, have donated GH¢500,000 in cash and GH¢100,000 worth of Personal Protective Equipment (PPEs), to the National Covid-19 Trust Fund.
At a brief ceremony at the Jubilee House to make the presentation at the office of the Chief of Staff Akosua Frema Osei Opare, Victor Zhang, Managing Director of Sunda International, Ghana, said his outfit is impressed with Government's handling of the Covid-19 pandemic so far.
He indicated that his company is committed to supporting government in every way possible in the Covid-19 struggle.
"In our effort to support the government in bringing the situation under control, we are making a cash donation of up to GH₵ 500,000 and goods of up to GH₵100,000 to the COVID-19 Trust Fund established by the President to aid in the purchase of necessary equipment, PPEs and to help restrain the spread of the virus for the protection of our front-line health workers," Victor Zhang said.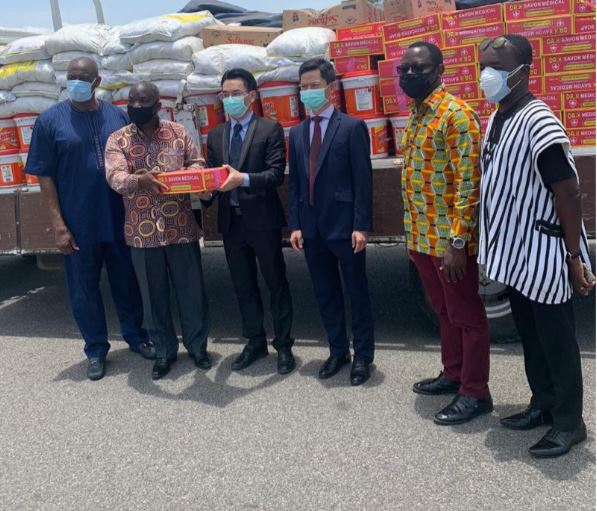 Lele Group/ Cimaf Cement
Other companies also came through the Jubilee House to make their donations towards the fund to support government efforts. Mohammed Bennis, General Manager of Cimaf Cement Ghana Limited presented a cheque of GH¢250,000 Mr. Jacob Gbati, the Group Chairman of Lele Group, also presented a cheque of GH¢100,000.00 to the fund.
A & C Mall
The management of A & C Mall, led by their Chief Executive Officer,
Andrew Asamoah, , presented their cheque of one hundred thousand Ghana Cedis (Ghc 100,000.00) as their contribution to the fund.
DE SIMONE/ CBI Ghana
DE SIMONE Limited, through their Managing Director, Federico Simone,
and CBI Ghana Limited, also through their Managing Director, Frederic Albrecht, Presented two separate cheques of GH¢50,000 each and Medical equipment and PPEs worth GH¢200,000.00 each towards the country's fight against Covid-19.
Chief of Staff Akosua Frema Osei Opare, thanked the various donating institutions for their thoughtfulness and kind gesture.
She indicated that the Covid-19 Trust Fund will have its offices operational within the Jubilee House soon and they will ensure the proper use of all resources available to them for the benefit of the needy and vulnerable in the country.