Apple has become the world's first public company to be worth $1 trillion.
The iPhone maker's market value reached the figure in late morning trading in New York as its shares rose to a new record high above $207.
The stock has been rising since Tuesday when it reported better than expected results for the three months to June.
Apple's stock has risen more than 50,000% since it first listed in 1980 - far higher than the 2,000% increase for the S&P 500 over the same period.
Since the iPhone first went on sale in 2007, Apple shares have soared by 1,100% and have jumped almost a third in the past 12 months.
Apple began in the garage of co-founder Steve Jobs in 1976 and was initially best known for its Mac personal computers before its smartphone paved the way for the app economy.
Mr Jobs died in 2011 and was succeeded as chief executive by Tim Cook.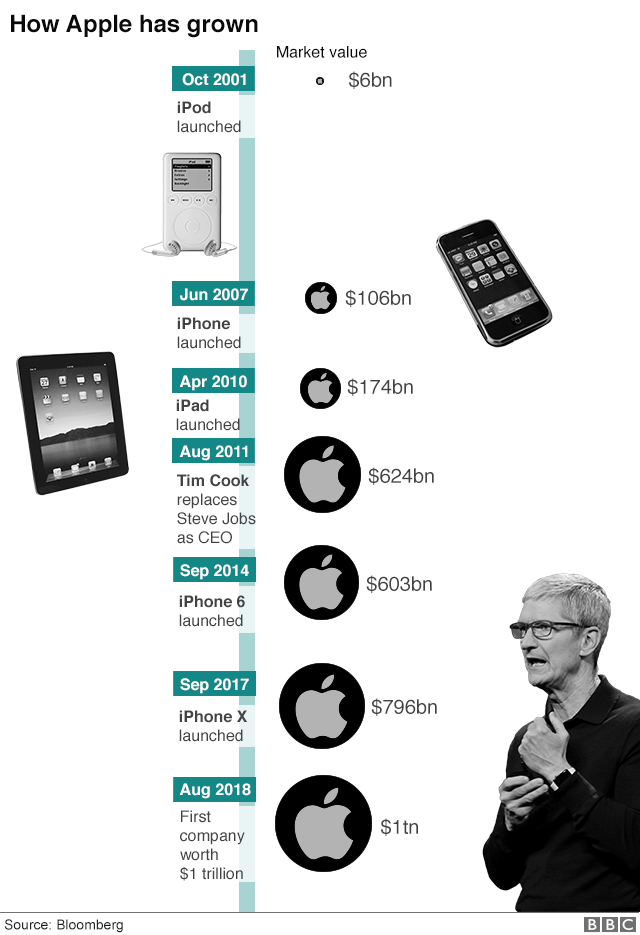 Mr Jobs, who died in 2011 and was succeeded as chief executive by Tim Cook, oversaw the development of the iPhone, which transformed Apple's fortunes.
In 2006 the company had sales of less than $20bn and posted profits of almost $2bn.
Last year its sales hit $229bn, with profits of $48.4bn, making it the most profitable listed US company.
PetroChina was briefly worth about $1.1 trillion after floating in Shanghai in 2007, although most of its shares were held by the Chinese government. It is now worth about $220bn.
Adjusted for inflation, numerous US companies from General Electric to Microsoft have been worth more than Apple is today.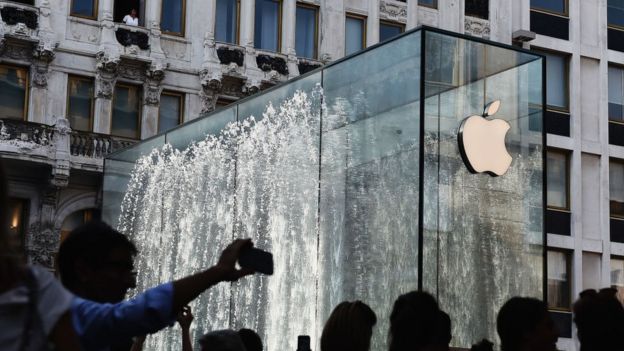 Apple opened a store in Milan last week
Analysis
By Dave Lee, North America technology reporter
It may have been the vision of Steve Jobs that hurtled Apple towards this milestone, but it was the business acumen of Tim Cook that tipped them over.
While other tech stocks have struggled, Apple has soared ahead. The surge in its shares has been driven by two key factors.
It is selling fewer iPhones, but by releasing a more expensive version last year, it is making more money per device.
Apple has also diversified the sources of its profits. It now makes about $10bn every three months from services such as selling apps, cloud storage and music streaming.
The firm told investors this week that it expected a very strong end to the year helped, naturally, by the release of yet another new iPhone.
Stock markets are volatile, and a small but growing threat from Chinese smartphone makers might eat into Apple's margins in the coming years.
But no matter what your view of the company and its products, Apple devices have changed the world - and today made financial history as well.
Have your say
---
More

Technology

Headlines
---