Who should Facebook most fear as it battles a series of scandals about its handling of user data and its role in spreading fake news? US politicians perhaps, or maybe German privacy campaigners and EU regulators?
No, my nominee is the member of parliament for Folkestone and Hythe, Damian Collins.
As chairman of the Digital, Culture, Media and Sports Select Committee, Mr Collins has transformed what started as quite a limited and unfocused fake news inquiry into a forensic investigation of the conduct of Facebook.
It is this committee that has provided a platform for whistleblowers such as Christopher Wylie and Brittany Kaiser, published all kinds of documents relating to the Cambridge Analytica data scandal and demanded - so far without success - that Facebook founder Mark Zuckerberg appear before it.
This weekend, Damian Collins showed just how far he was prepared to go in taking on a company he felt had shown an arrogant contempt for the British Parliament.
He sent the House of Commons serjeant-at-arms to seize documents from an American businessman involved in a legal dispute with Facebook.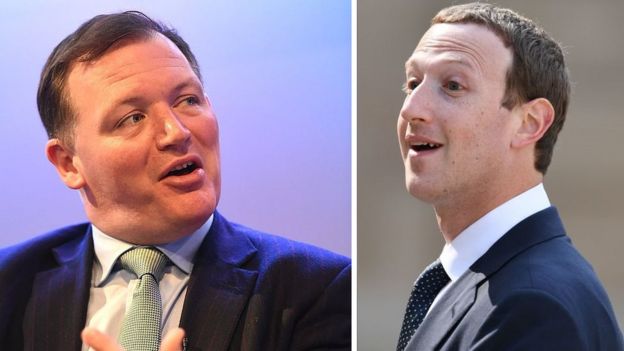 Damian Collins has repeatedly requested Mark Zuckerberg testify to MPs
That case dates back to 2015 and involves a developer, Six4Three, which was behind an app used to highlight photos of women in bikinis.
The company was angry about changes in Facebook's rules, which restricted its access to user data, and the documents were provided to it as part of the disclosure process.
We don't know what is in them - the US courts had ordered that they be sealed, preserving confidentiality during the case.
But Mr Collins seems convinced they will prove relevant to the DCMS committee's inquiry into how another developer - Dr Aleksandr Kogan - was allowed to get access to data he handed to Cambridge Analytica. And he is considering whether to publish them.
Facebook is saying first that Six4Three's case is without merit and second that for the UK Parliament to publish documents sealed by the US courts would be hasty and wrong.
In a waspish reply to Facebook's European public policy chief, Richard Allan, Damian Collins pointed out that "as a member of Parliament yourself" he should be familiar with its powers to order the production of documents and publish them with the protection of parliamentary privilege.
Mr Allan is actually Lord Allan, a former Liberal Democrat MP given a peerage by Nick Clegg, who in a strange turn of events has now become Facebook's global public-relations and policy chief.
The member for Folkestone and Hythe seems confident in his powers and on Monday afternoon DCMS committee members will meet in private to consider publishing the documents.
On Tuesday, they hold a public hearing where Lord Allan, of Facebook, will be one of the witnesses and could face cross-examination about information the American legal system says should remain private.
So has Damian Collins overreached himself this time?
Taking on the American courts, using arcane procedures that have not been employed in living memory and getting involved in a case where a plaintiff seems to be arguing that Facebook was too strict about the use of data certainly seems risky.
But do not underestimate the MP's determination to show a global social media giant that it is not above local laws.
Have your say
---
More

Technology

Headlines
---